PLEASE NOTE: This e-teaching is not appropriate for children, preadolescents, and many adolescents.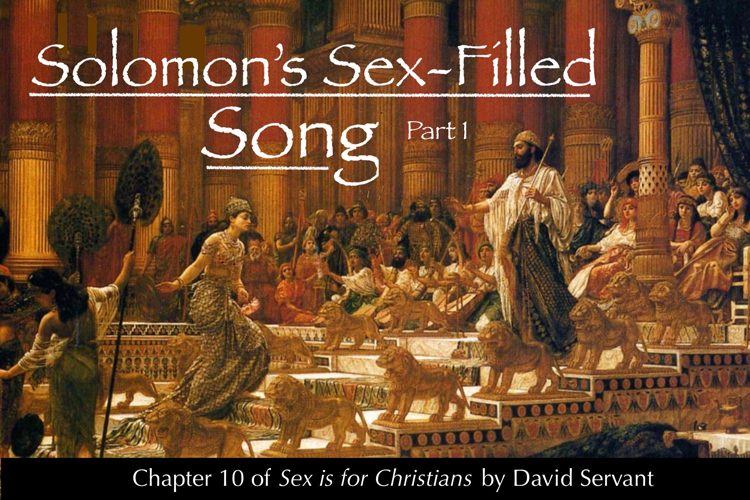 How beautiful and how delightful you are,
My love, with all your charms!
Your stature is like a palm tree,
And your breasts are like its clusters.
I said, "I will climb the palm tree,
I will take hold of its fruit stalks."
Oh, may your breasts be like clusters of the vine,
And the fragrance of your breath like apples,
And your mouth like the best wine! (Song 7:6-9a).
Many people wonder how the Song of Solomon ever made it into the Jewish and Christian Bible. The usual explanation is that it was likely authored by Solomon (although no one knows for sure) who, according to 1 Kings 4:32, famously authored 1,005 songs. Beyond that, some theologians say that the sensuous scenes described in its chapters are actually allegories of God's love for Israel or, prophetically, of Jesus' love for His bride, the church.
It is certainly possible that a prolific polygamist and songwriter could have authored the Song of Songs, as it is alternatively called. Is it, however, an allegory for God's love? No such claim is made anywhere within the Song of Solomon or elsewhere in the Bible. And I can't resist asking: Is God's love for His people truly analogous to a man admiring a woman's breasts? Moreover, was Israel's reciprocated love towards God of equal magnitude to His love for them, as is depicted between the lovers in Solomon's song? Has the church's reciprocated love been of equal magnitude? If God wanted to describe His devotion to Israel or the church with a marital metaphor, wouldn't it seem more appropriate if He focused on His covenantal relationship and redemptive sacrifice, as He unmistakably did in other places in Scripture (for example, Is. 54:5-7; Hos. 2:19-20; Eph. 5:25-27)?