Thanksgiving Day is an American and Canadian national holiday that commemorates the harvest and blessings of the preceding year. Thanksgiving is thought to be based on a harvest feast shared by the English colonists (Pilgrims) of Plymouth and the native Wampanoag people.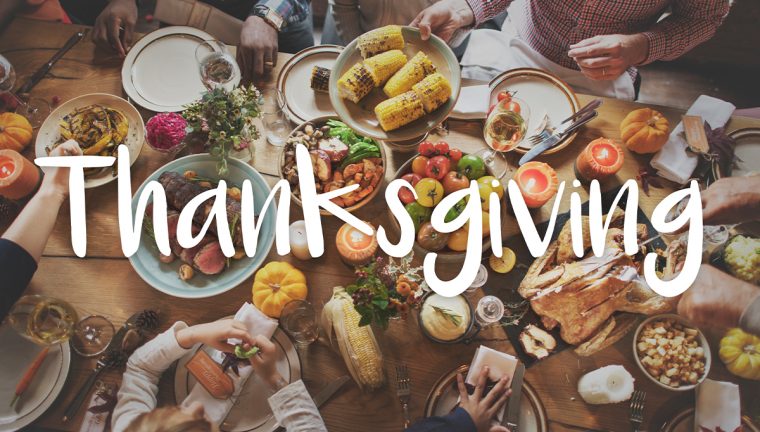 Christians recognize that God is the Provider who bestows all blessings on us, both great and small. For those who believe this, Thanksgiving Day is a wonderful opportunity to collectively celebrate God's faithful provision and to give thanks to Him.
Below are several Bible verses to inspire you on this special holiday.
Inspiring Bible Verses for Thanksgiving Day
We should always be thankful to our God who has created all things. This holiday is a reminder to be grateful for all of the bountiful blessings that we have received.
For everything created by God is good, and nothing is to be rejected if it is received with gratitude; for it is sanctified by means of the word of God and prayer. – 1 Timothy 4:4-5
Devote yourselves to prayer, keeping alert in it with an attitude of thanksgiving; – Colossians 4:2
What the Bible Says About Thanksgiving
Thanking the Lord should be part of our daily lives. In all things, we are to give thanks for He is our mighty Creator and the Rock of our salvation.
I will praise the name of God with song,
And exalt Him with thanksgiving. – Psalm 69:30
Come, let's sing for joy to the Lord,
Let's shout joyfully to the rock of our salvation.
Let's come before His presence with a song of thanksgiving,
Let's shout joyfully to Him in songs with instruments.
For the Lord is a great God
And a great King above all gods, – Psalm 95:1-3
Enter His gates with thanksgiving,
And His courtyards with praise.
Give thanks to Him, bless His name. – Psalm 100:4
Bible Verses That Will Fill You With Gratitude
As you reflect on the verses below, may you be filled with gratitude towards God.
Therefore, as you have received Christ Jesus the Lord, so walk in Him, having been firmly rooted and now being built up in Him and established in your faith, just as you were instructed, and overflowing with gratitude. – Colossians 2:6-7
Let the peace of Christ, to which you were indeed called in one body, rule in your hearts; and be thankful. Let the word of Christ richly dwell within you, with all wisdom teaching and admonishing one another with psalms, hymns, and spiritual songs, singing with thankfulness in your hearts to God. Whatever you do in word or deed, do everything in the name of the Lord Jesus, giving thanks through Him to God the Father. – Colossians 3:15-17
Every Mention of the Word "Thanksgiving" in the Bible
We've included all mentions of the word "thanksgiving" in the NASB below. We hope reflecting on these verses will deepen your knowledge of God's Word!
Bible Verses About Thanksgiving in Leviticus
If he offers it by way of thanksgiving, then along with the sacrifice of thanksgiving he shall offer unleavened cakes mixed with oil, and unleavened wafers spread with oil, and cakes of well stirred fine flour mixed with oil. – Leviticus 7:12
With the sacrifice of his peace offerings for thanksgiving, he shall present his offering with cakes of leavened bread. – Leviticus 7:13
'Now as for the flesh of the sacrifice of his thanksgiving peace offerings, it shall be eaten on the day of his offering; he shall not leave any of it over until morning. – Leviticus 7:15
When you sacrifice a sacrifice of thanksgiving to the Lord, you shall sacrifice it so that you may be accepted. – Leviticus 22:29
Bible Verses About Thanksgiving in 2 Chronicles
Then Hezekiah said, "Now that you have consecrated yourselves to the Lord, come forward and bring sacrifices and thanksgiving offerings to the house of the Lord." So the assembly brought sacrifices and thanksgiving offerings, and everyone who was willing brought burnt offerings. – 2 Chronicles 29:31
He set up the altar of the Lord and sacrificed peace offerings and thanksgiving offerings on it; and he ordered Judah to serve the Lord God of Israel. – 2 Chronicles 33:16
Bible Verses About Thanksgiving in Nehemiah
and Mattaniah the son of Mica, the son of Zabdi, the son of Asaph, who was the leader in beginning the thanksgiving at prayer, and Bakbukiah, the second among his kinsmen; and Abda the son of Shammua, the son of Galal, the son of Jeduthun. – Nehemiah 11:17
And the Levites were Jeshua, Binnui, Kadmiel, Sherebiah, Judah, and Mattaniah who was in charge of the songs of thanksgiving, he and his brothers. – Nehemiah 12:8
Now at the dedication of the wall of Jerusalem they sought out the Levites from all their places, to bring them to Jerusalem so that they could celebrate the dedication with joy, with songs of thanksgiving and with songs to the accompaniment of cymbals, harps, and lyres. – Nehemiah 12:27
For in the days of David and Asaph, in ancient times, there were leaders of the singers, songs of praise and songs of thanksgiving to God. – Nehemiah 12:46
Bible Verses About Thanksgiving in Psalms
That I may proclaim with the voice of thanksgiving And declare all Your wonders. – Psalm 26:7
I remember these things and pour out my soul within me. For I used to go over with the multitude and walk them to the house of God, With a voice of joy and thanksgiving, a multitude celebrating a festival. – Psalm 42:4
Offer God a sacrifice of thanksgiving And pay your vows to the Most High; – Psalm 50:14
He who offers a sacrifice of thanksgiving honors Me; And to him who sets his way properly I will show the salvation of God." – Psalm 50:23
Your vows are binding upon me, God; I will render thanksgiving offerings to You. – Psalm 56:12
I will praise the name of God with song, And exalt Him with thanksgiving. – Psalm 69:30
I will meditate on all Your work, And on Your deeds with thanksgiving. – Psalm 77:12
Let's come before His presence with a song of thanksgiving, Let's shout joyfully to Him in songs with instruments. – Psalm 95:2
A Psalm for thanksgiving.
Shout joyfully to the Lord, all the earth. – Psalm 100:1
Enter His gates with thanksgiving, And His courtyards with praise. Give thanks to Him, bless His name. – Psalm 100:4
They shall also offer sacrifices of thanksgiving, And tell of His works with joyful singing. – Psalm 107:22
I will offer You a sacrifice of thanksgiving, And call upon the name of the Lord. – Psalm 116:17
Sing to the Lord with thanksgiving; Sing praises to our God on the lyre; – Psalm 147:7
Bible Verses About Thanksgiving in Isaiah
Indeed, the Lord will comfort Zion; He will comfort all her ruins. And He will make her wilderness like Eden, And her desert like the garden of the Lord. Joy and gladness will be found in her, thanksgiving and the sound of a melody. – Isaiah 51:3
Bible Verses About Thanksgiving in Jeremiah
They will come in from the cities of Judah and from the areas surrounding Jerusalem, from the land of Benjamin, from the lowland, from the hill country, and from the Negev, bringing burnt offerings, sacrifices, grain offerings, and frankincense, and bringing sacrifices of thanksgiving to the house of the Lord. – Jeremiah 17:26
From them will come a song of thanksgiving And the voices of those who celebrate; And I will multiply them and they will not decrease; I will honor them and they will not be insignificant. – Jeremiah 30:19
the voice of joy and the voice of gladness, the voice of the groom and the voice of the bride, the voice of those who say, "Give thanks to the Lord of armies, For the Lord is good, For His mercy is everlasting," as they bring a thanksgiving offering into the house of the Lord. For I will restore the fortunes of the land as they were at first,' says the Lord. – Jeremiah 33:11
Bible Verses About Thanksgiving in Amos
Offer a thanksgiving offering also from that which is leavened, And proclaim voluntary offerings, make them known. For so you love to do, you sons of Israel," Declares the Lord God. – Amos 4:5
Bible Verses About Thanksgiving in Jonah
But I will sacrifice to You With a voice of thanksgiving. That which I have vowed I will pay. Salvation is from the Lord." – Jonah 2:9
Bible Verses About Thanksgiving in 2 Corinthians
For all things are for your sakes, so that grace, having spread to more and more people, will cause thanksgiving to overflow to the glory of God. – 2 Corinthians 4:15
you will be enriched in everything for all liberality, which through us is producing thanksgiving to God. – 2 Corinthians 9:11
For the ministry of this service is not only fully supplying the needs of the saints, but is also overflowing through many thanksgivings to God. – 2 Corinthians 9:12
Bible Verses About Thanksgiving in Philippians
Do not be anxious about anything, but in everything by prayer and pleading with thanksgiving let your requests be made known to God. – Philippians 4:6
Bible Verses About Thanksgiving in Colossians
Devote yourselves to prayer, keeping alert in it with an attitude of thanksgiving; – Colossians 4:2
Bible Verses About Thanksgiving in 1 Timothy
First of all, then, I urge that requests, prayers, intercession, and thanksgiving be made in behalf of all people, – 1 Timothy 2:1
Bible Verses About Thanksgiving in Revelation
saying, "Amen, blessing, glory, wisdom, thanksgiving, honor, power, and might belong to our God forever and ever. Amen." – Revelation 7:12