The Bible is full of verses about the subject of trust. We must trust in Jesus and His sacrifice for salvation. And we must trust God for our daily, basic needs. God's Word contains promises and stories to teach us to trust Him more deeply.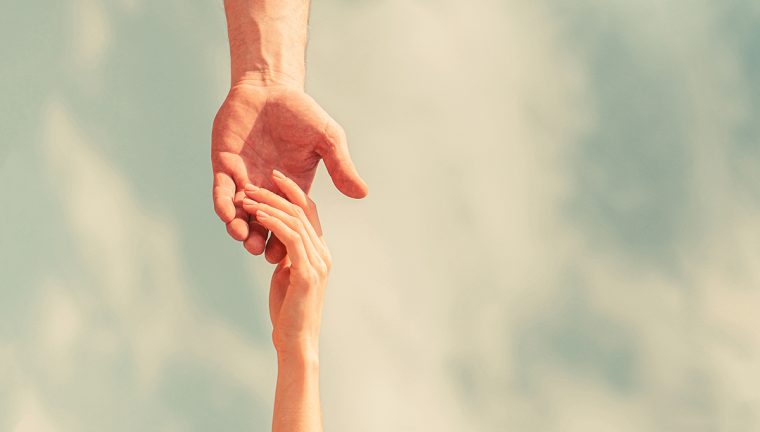 We hope that the verses below will help you trust God better as you study this subject.
What the Bible Says About Trusting in God
Scripture encourages us to trust God wholeheartedly and not to lean on our own understanding.
Trust in the Lord with all your heart
And do not lean on your own understanding.
In all your ways acknowledge Him,
And He will make your paths straight. – Proverbs 3:5-6
Our soul waits for the Lord;
He is our help and our shield.
For our heart rejoices in Him,
Because we trust in His holy name.
Let Your favor, Lord, be upon us,
Just as we have waited for You. – Psalm 33:20-22
The steadfast of mind You will keep in perfect peace,
Because he trusts in You.
Trust in the Lord forever,
For in God the Lord, we have an everlasting Rock. – Isaiah 26:3-4
What the Bible Says About Trusting God For Our Future
When you feel uncertain about the future, you can leave tomorrow in His hands.
For I know the plans that I have for you,' declares the Lord, 'plans for prosperity and not for disaster, to give you a future and a hope. – Jeremiah 29:11
Look at the birds of the sky, that they do not sow, nor reap, nor gather crops into barns, and yet your heavenly Father feeds them. Are you not much more important than they? – Matthew 6:26
The thief comes only to steal and kill and destroy; I came so that they would have life, and have it abundantly. – John 10:10
How To Trust God When Bad Things Happen
When we encounter trials, it can be challenging to trust God to take care of us. Below are promises to help encourage our faith when life feels overwhelming.
He brought me up out of the pit of destruction, out of the mud;
And He set my feet on a rock, making my footsteps firm.
3 He put a new song in my mouth, a song of praise to our God;
Many will see and fear
And will trust in the Lord. – Psalm 40:2-3
Beloved, do not be surprised at the fiery ordeal among you, which comes upon you for your testing, as though something strange were happening to you; but to the degree that you share the sufferings of Christ, keep on rejoicing, so that at the revelation of His glory you may also rejoice and be overjoyed. – 1 Peter 4:12-13
Can a woman forget her nursing child
And have no compassion on the son of her womb?
Even these may forget, but I will not forget you. – Isaiah 49:15
Every Mention of the Word "Trust" in the Bible
We've included all mentions of the word "trust" in the NASB below. We hope reflecting on these verses will deepen your knowledge of God's Word!
Bible Verses About Trust in Genesis
And he said, "Blessed be the Lord, the God of my master Abraham, who has not abandoned His kindness and His trustworthiness toward my master; as for me, the Lord has guided me in the way to the house of my master's brothers." – Genesis 24:27
Bible Verses About Trust in Exodus
Then the Lord said to Moses, "Behold, I will come to you in a thick cloud, so that the people may hear when I speak with you and may also trust in you forever." Then Moses told the words of the people to the Lord. – Exodus 19:9
For every breach of trust, whether it is for ox, for donkey, for sheep, for clothing, or for any lost thing about which one says, 'This is it,' the case of both parties shall come before the judges; he whom the judges condemn shall pay double to his neighbor. – Exodus 22:9
Bible Verses About Trust in Numbers
But the Lord said to Moses and Aaron, "Since you did not trust in Me, to treat Me as holy in the sight of the sons of Israel, for that reason you shall not bring this assembly into the land which I have given them." – Numbers 20:12
Bible Verses About Trust in Deuteronomy
Yet in spite of all this, you did not trust the Lord your God, – Deuteronomy 1:32
And when the Lord sent you from Kadesh-barnea, saying, 'Go up and take possession of the land which I have given you,' you rebelled against the command of the Lord your God; you neither trusted Him nor listened to His voice. – Deuteronomy 9:23
and if it is reported to you and you have heard about it, then you shall investigate thoroughly. And if it is true and the report is trustworthy that this detestable thing has been done in Israel, – Deuteronomy 17:4
And it will besiege you in all your towns until your high and fortified walls in which you trusted come down throughout your land, and it will besiege you in all your towns throughout your land which the Lord your God has given you. – Deuteronomy 28:52
Bible Verses About Trust in Judges
Now Gaal the son of Ebed came with his relatives, and crossed over into Shechem; and the leaders of Shechem trusted him. – Judges 9:26
But Sihon did not trust Israel to pass through his territory; so Sihon gathered all his people and camped in Jahaz, and fought with Israel. – Judges 11:20
Bible Verses About Trust in 2 Kings
He trusted in the Lord, the God of Israel; and after him there was no one like him among all the kings of Judah, nor among those who came before him. – 2 Kings 18:5
However, if you say to me, 'We have trusted in the Lord our God,' is it not He whose high places and whose altars Hezekiah has removed, and has said to Judah and to Jerusalem, 'You shall worship before this altar in Jerusalem'? – 2 Kings 18:22
And do not let Hezekiah lead you to trust in the Lord by saying, "The Lord will certainly save us, and this city will not be handed over to the king of Assyria." – 2 Kings 18:30
"This is what you shall say to Hezekiah king of Judah: 'Do not let your God in whom you trust deceive you by saying, "Jerusalem will not be handed over to the king of Assyria." – 2 Kings 19:10
Bible Verses About Trust in 1 Chronicles
They were helped against them, and the Hagrites and all who were with them were handed over to them; for they cried out to God in the battle, and He answered their prayers because they trusted in Him. – 1 Chronicles 5:20
Bible Verses About Trust in 2 Chronicles
The sons of Israel were subdued at that time, and the sons of Judah conquered because they trusted in the Lord, the God of their fathers. – 2 Chronicles 13:18
Then Asa called to the Lord his God and said, "Lord, there is no one besides You to help in the battle between the powerful and those who have no strength; help us, Lord our God, for we trust in You, and in Your name have come against this multitude. Lord, You are our God; do not let man prevail against You." – 2 Chronicles 14:11
They rose early in the morning and went out to the wilderness of Tekoa; and when they went out, Jehoshaphat stood and said, "Listen to me, Judah and inhabitants of Jerusalem: Put your trust in the Lord your God and you will endure. Put your trust in His prophets, and succeed." – 2 Chronicles 20:20
"This is what Sennacherib king of Assyria says: 'On what are you trusting that you are staying in Jerusalem under siege? – 2 Chronicles 32:10
Bible Verses About Trust in Job
He puts no trust even in His servants; And He accuses His angels of error. – Job 4:18
They were put to shame, for they had trusted, They came there and were humiliated. – Job 6:20
His confidence is fragile, And his trust is a spider's web. – Job 8:14
Then you would trust, because there is hope; And you would look around and rest securely. – Job 11:18
He deprives the trusted ones of speech, And takes away the discernment of the elders. – Job 12:20
Behold, He has no trust in His holy ones, And the heavens are not pure in His sight; – Job 15:15
Let him not trust in emptiness, deceiving himself; For his reward will be emptiness. – Job 15:31
"If I have put my confidence in gold, And called fine gold my trust, – Job 31:24
Will you trust him because his strength is great, And leave your labor to him? – Job 39:11
It came about after the Lord had spoken these words to Job, that the Lord said to Eliphaz the Temanite, "My wrath is kindled against you and against your two friends, because you have not spoken of Me what is trustworthy, as My servant Job has. – Job 42:7
Now therefore, take for yourselves seven bulls and seven rams, and go to My servant Job, and offer up a burnt offering for yourselves, and My servant Job will pray for you. For I will accept him so as not to do with you as your foolishness deserves, because you have not spoken of Me what is trustworthy, as My servant Job has." – Job 42:8
Bible Verses About Trust in Psalm
Offer the sacrifices of righteousness, And trust in the Lord. – Psalm 4:5
For there is nothing trustworthy in their mouth; Their inward part is destruction itself. Their throat is an open grave; They flatter with their tongue. – Psalm 5:9
And those who know Your name will put their trust in You, For You, Lord, have not abandoned those who seek You. – Psalm 9:10
But I have trusted in Your faithfulness; My heart shall rejoice in Your salvation. – Psalm 13:5
For the king trusts in the Lord, And through the faithfulness of the Most High he will not be shaken. – Psalm 21:7
In You our fathers trusted; They trusted and You rescued them. – Psalm 22:4
To You they cried out and they fled to safety; In You they trusted and were not disappointed. – Psalm 22:5
Yet You are He who brought me forth from the womb; You made me trust when upon my mother's breasts. – Psalm 22:9
My God, in You I trust, Do not let me be ashamed; Do not let my enemies rejoice over me. – Psalm 25:2
A Psalm of David.
Vindicate me, Lord, for I have walked in my integrity, And I have trusted in the Lord without wavering. – Psalm 26:1
A Psalm of David.
The Lord is my light and my salvation; Whom should I fear? The Lord is the defense of my life; Whom should I dread? – Psalm 27:1
The Lord is my strength and my shield; My heart trusts in Him, and I am helped; Therefore my heart triumphs, And with my song I shall thank Him. – Psalm 28:7
I hate those who devote themselves to worthless idols, But I trust in the Lord. – Psalm 31:6
But as for me, I trust in You, Lord, I say, "You are my God." – Psalm 31:14
The sorrows of the wicked are many, But the one who trusts in the Lord, goodness will surround him. – Psalm 32:10
For our heart rejoices in Him, Because we trust in His holy name. – Psalm 33:21
trust in the Lord and do good; Live in the land and cultivate faithfulness. – Psalm 37:3
Commit your way to the Lord, trust also in Him, and He will do it. – Psalm 37:5
He put a new song in my mouth, a song of praise to our God; Many will see and fear And will trust in the Lord. – Psalm 40:3
How blessed is the man who has made the Lord his trust, And has not turned to the proud, nor to those who become involved in falsehood. – Psalm 40:4
Even my close friend in whom I trusted, Who ate my bread, Has lifted up his heel against me. – Psalm 41:9
For I will not trust in my bow, Nor will my sword save me. – Psalm 44:6
Those who trust in their wealth And boast in the abundance of their riches? – Psalm 49:6
"Behold, the man who would not make God his refuge, But trusted in the abundance of his riches And was strong in his evil desire." – Psalm 52:7
But as for me, I am like a green olive tree in the house of God; I trust in the faithfulness of God forever and ever. – Psalm 52:8
But You, God, will bring them down to the pit of destruction; Men of bloodshed and deceit will not live out half their days. But I will trust in You. – Psalm 55:23
When I am afraid, I will put my trust in You. – Psalm 56:3
In God, whose word I praise, In God I have put my trust; I shall not be afraid. What can mere mortals do to me? – Psalm 56:4
In God I have put my trust, I shall not be afraid. What can mankind do to me? – Psalm 56:11
trust in Him at all times, you people; Pour out your hearts before Him; God is a refuge for us. Selah – Psalm 62:8
Do not trust in oppression, And do not vainly rely on robbery; If wealth increases, do not set your heart on it. – Psalm 62:10
By awesome deeds You answer us in righteousness, God of our salvation, You who are the trust of all the ends of the earth and the farthest sea; – Psalm 65:5
Because they did not believe in God And did not trust in His salvation. – Psalm 78:22
Lord of armies, Blessed is the person who trusts in You! – Psalm 84:12
Protect my soul, for I am godly; You my God, save Your servant who trusts in You. – Psalm 86:2
I will say to the Lord, "My refuge and my fortress, My God, in whom I trust!" –
Psalm 91:2
The works of His hands are truth and justice; All His precepts are trustworthy. – Psalm 111:7
He will not fear bad news; His heart is steadfast, trusting in the Lord. – Psalm 112:7
Those who make them will become like them, Everyone who trusts in them. – Psalm 115:8
Israel, trust in the Lord; He is their help and their shield. – Psalm 115:9
House of Aaron, trust in the Lord; He is their help and their shield. – Psalm 115:10
You who fear the Lord, trust in the Lord; He is their help and their shield. – Psalm 115:11
It is better to take refuge in the Lord Than to trust in people. – Psalm 118:8
It is better to take refuge in the Lord Than to trust in noblemen. – Psalm 118:9
So that I will have an answer for one who taunts me, For I trust in Your word. – Psalm 119:42
A Song of Ascents.
Those who trust in the Lord Are like Mount Zion, which cannot be moved but remains forever. – Psalm 125:1
Those who make them will become like them, Yes, everyone who trusts in them. – Psalm 135:18
Let me hear Your faithfulness in the morning, For I trust in You; Teach me the way in which I should walk; For to You I lift up my soul. – Psalm 143:8
Do not trust in noblemen, In mortal man, in whom there is no salvation. – Psalm 146:3
Bible Verses About Trust in Proverbs
trust in the Lord with all your heart And do not lean on your own understanding. – Proverbs 3:5
One who goes about as a slanderer reveals secrets, But one who is trustworthy conceals a matter. – Proverbs 11:13
One who trusts in his riches will fall, But the righteous will flourish like the green leaf. – Proverbs 11:28
A trustworthy witness will not lie, But a false witness declares lies. – Proverbs 14:5
One who pays attention to the word will find good, And blessed is one who trusts in the Lord. – Proverbs 16:20
Many a person proclaims his own loyalty, But who can find a trustworthy person? – Proverbs 20:6
A wise person scales the city of the mighty And brings down the stronghold in which they trust. – Proverbs 21:22
So that your trust may be in the Lord, I have taught you today, you indeed. – Proverbs 22:19
An arrogant person stirs up strife, But one who trusts in the Lord will prosper. –
Proverbs 28:25
One who trusts in his own heart is a fool, But one who walks wisely will flee to safety. – Proverbs 28:26
The fear of man brings a snare, But one who trusts in the Lord will be protected. – Proverbs 29:25
The heart of her husband trusts in her, And he will have no lack of gain. – Proverbs 31:11
Bible Verses About Trust in Isaiah
Behold, God is my salvation, I will trust and not be afraid; For the Lord God is my strength and song, And He has become my salvation." – Isaiah 12:2
A throne will be established in faithfulness, And a judge will sit on it in trustworthiness in the tent of David; Moreover, he will seek justice, And be prompt in righteousness. – Isaiah 16:5
The steadfast of mind You will keep in perfect peace, Because he trusts in You. – Isaiah 26:3
trust in the Lord forever, For in God the Lord, we have an everlasting Rock. – Isaiah 26:4
Therefore this is what the Holy One of Israel says: "Since you have rejected this word And have put your trust in oppression and crookedness, and have relied on them, – Isaiah 30:12
For this is what the Lord God, the Holy One of Israel, has said: "In repentance and rest you will be saved, In quietness and trust is your strength." But you were not willing, – Isaiah 30:15
Woe to those who go down to Egypt for help And rely on horses, And trust in chariots because they are many And in horsemen because they are very strong, But they do not look to the Holy One of Israel, nor seek the Lord! – Isaiah 31:1
But if you say to me, 'We trust in the Lord our God,' is it not He whose high places and whose altars Hezekiah has taken away and has said to Judah and to Jerusalem, 'You shall worship before this altar'? – Isaiah 36:7
"This is what you shall say to Hezekiah king of Judah: 'Do not let your God in whom you trust deceive you by saying, "Jerusalem will not be handed over to the king of Assyria." – Isaiah 37:10
They will be turned back and be utterly put to shame, Who trust in idols, Who say to cast metal images, "You are our gods." – Isaiah 42:17
Who is among you who fears the Lord, Who obeys the voice of His servant, Who walks in darkness and has no light? Let him trust in the name of the Lord and rely on his God. – Isaiah 50:10
No one sues righteously and no one pleads honestly. They trust in confusion and speak lies; They conceive trouble and give birth to disaster. – Isaiah 59:4
Bible Verses About Trust in Jeremiah
From this place as well you will go out With your hands on your head; For the Lord has rejected those in whom you trust, And you will not prosper with them." – Jeremiah 2:37
They will devour your harvest and your food; They will devour your sons and your daughters; They will devour your flocks and your herds; They will devour your vines and your fig trees; They will demolish your fortified cities, in which you trust, with the sword. – Jeremiah 5:17
Do not trust in deceptive words, saying, 'This is the temple of the Lord, the temple of the Lord, the temple of the Lord.' – Jeremiah 7:4
"Behold, you are trusting in deceptive words to no avail. – Jeremiah 7:8
therefore I will do to the house which is called by My name, in which you trust, and to the place which I gave you and your fathers, just as I did to Shiloh. – Jeremiah 7:14
And you shall say to them, 'This is the nation that did not obey the voice of the Lord their God or accept discipline; trustworthiness has perished and has been eliminated from their mouth. – Jeremiah 7:28
"Let everyone be on guard against his neighbor, And do not trust any brother; Because every brother utterly betrays, And every neighbor goes about as a slanderer. – Jeremiah 9:4
This is your lot, the portion measured to you From Me," declares the Lord, "Because you have forgotten Me And trusted in falsehood. – Jeremiah 13:25
This is what the Lord says: "Cursed is the man who trusts in mankind And makes flesh his strength, And whose heart turns away from the Lord. – Jeremiah 17:5
Blessed is the man who trusts in the Lord, And whose trust is the Lord. – Jeremiah 17:7
For I have heard the whispering of many, "Terror on every side! Denounce him; let's denounce him!" All my trusted friends, Watching for my fall, say: "Perhaps he will be persuaded, so that we may prevail against him And take our revenge on him." – Jeremiah 20:10
Then Jeremiah the prophet said to Hananiah the prophet, "Listen now, Hananiah: the Lord has not sent you, and you have made this people trust in a lie. – Jeremiah 28:15
"Send word to all the exiles, saying, 'This is what the Lord says concerning Shemaiah the Nehelamite: "Because Shemaiah has prophesied to you, although I did not send him, and he has made you trust in a lie," – Jeremiah 29:31
For I will assuredly rescue you, and you will not fall by the sword; but you will have your own life as plunder, because you have trusted in Me," declares the Lord.'" – Jeremiah 39:18
The Lord of armies, the God of Israel says: "Behold, I am going to punish Amon of Thebes, and Pharaoh, and Egypt along with her gods and her kings, indeed, Pharaoh and those who trust in him. – Jeremiah 46:25
For because of your trust in your own achievements and treasures, You yourself will also be captured; And Chemosh will go off into exile Together with his priests and his leaders. – Jeremiah 48:7
How you boast about the valleys! Your valley is flowing away, You backsliding daughter Who trusts in her treasures, saying, 'Who can come against me?' – Jeremiah 49:4
Leave your orphans behind, I will keep them alive; And let your widows trust in Me." – Jeremiah 49:11
Bible Verses About Trust in Ezekiel
"But you trusted in your beauty and became unfaithful because of your fame, and you poured out your obscene practices on every passer-by to whom it might be tempting. – Ezekiel 16:15
When I say to the righteous that he will certainly live, and he so trusts in his righteousness that he commits injustice, none of his righteous deeds will be remembered; but for that same injustice of his which he has committed he will die. – Ezekiel 33:13
Bible Verses About Trust in Daniel
Just as you saw that a stone was broken off from the mountain without hands, and that it crushed the iron, the bronze, the clay, the silver, and the gold, the great God has made known to the king what will take place in the future; so the dream is certain and its interpretation is trustworthy." – Daniel 2:45
Nebuchadnezzar responded and said, "Blessed be the God of Shadrach, Meshach, and Abed-nego, who has sent His angel and rescued His servants who put their trust in Him, violating the king's command, and surrendered their bodies rather than serve or worship any god except their own God. – Daniel 3:28
Then the commissioners and satraps began trying to find a ground of accusation against Daniel regarding government affairs; but they could find no ground of accusation or evidence of corruption, because he was trustworthy, and no negligence or corruption was to be found in him. – Daniel 6:4
Then the king was very glad and gave orders for Daniel to be lifted up out of the den. So Daniel was lifted up out of the den, and no injury whatever was found on him, because he had trusted in his God. – Daniel 6:23
Bible Verses About Trust in Hosea
Ephraim will become a desolation in the day of rebuke; Among the tribes of Israel I make known what is trustworthy. – Hosea 5:9
You have plowed wickedness, you have harvested injustice, You have eaten the fruit of lies. Because you have trusted in your way, in your many warriors, – Hosea 10:13
Bible Verses About Trust in Micah
Do not trust in a neighbor; Do not have confidence in a close friend. Guard your lips From her who lies in your arms. – Micah 7:5
Bible Verses About Trust in Habakkuk
"What benefit is a carved image when its maker has carved it, Or a cast metal image, a teacher of falsehood? For its maker trusts in his own handiwork When he fashions speechless idols. – Habakkuk 2:18
Bible Verses About Trust in Zephaniah
She obeyed no voice, She accepted no discipline. She did not trust in the Lord, She did not approach her God. – Zephaniah 3:2
Bible Verses About Trust in Matthew
He has trusted in God; let God rescue Him now, if He takes pleasure in Him; for He said, 'I am the Son of God.'" – Matthew 27:43
Bible Verses About Trust in Luke
Now He also told this parable to some people who trusted in themselves that they were righteous, and viewed others with contempt: – Luke 18:9
Bible Verses About Trust in 1 Corinthians
In this case, moreover, it is required of stewards that one be found trustworthy. – 1 Corinthians 4:2
Now concerning virgins, I have no command of the Lord, but I am offering direction as one who by the mercy of the Lord is trustworthy. – 1 Corinthians 7:25
Bible Verses About Trust in 2 Corinthians
Indeed, we had the sentence of death within ourselves so that we would not trust in ourselves, but in God who raises the dead, – 2 Corinthians 1:9
Bible Verses About Trust in Philippians
and that most of the brothers and sisters, trusting in the Lord because of my imprisonment, have far more courage to speak the word of God without fear. – Philippians 1:14
and I trust in the Lord that I myself will also be coming shortly. – Philippians 2:24
Bible Verses About Trust in 1 Timothy
It is a trustworthy statement, deserving full acceptance, that Christ Jesus came into the world to save sinners, among whom I am foremost. – 1 Timothy 1:15
It is a trustworthy statement: if any man aspires to the office of overseer, it is a fine work he desires to do. – 1 Timothy 3:1
It is a trustworthy statement deserving full acceptance. – 1 Timothy 4:9
Bible Verses About Trust in 2 Timothy
The statement is trustworthy: For if we died with Him, we will also live with Him; – 2 Timothy 2:11
Bible Verses About Trust in Titus
This statement is trustworthy; and concerning these things I want you to speak confidently, so that those who have believed God will be careful to engage in good deeds. These things are good and beneficial for people. – Titus 3:8
Bible Verses About Trust in Hebrews
And again, "I will put My trust in Him." And again, "Behold, I and the children whom God has given Me." – Hebrews 2:13