"Let the one who is taught the word share all good things with him who teaches" (Gal. 6:6)
Every month, tens of thousands of people around the world, like you, are being touched by David Servant's teaching ministry. Pastors in third-world countries who cannot afford biblical teaching… Persecuted Christians in restricted nations who are in need of encouragement… Viewers and readers with personal struggles and questions… David's teaching continues to change lives and build up the body of Christ. And this is not possible without your support.
As David continues to teach and travel around the world, he relies on faithful supporters like yourself who believe in his ministry and are willing to stand behind him
. Your generous donation today will play a huge role in getting David's Biblical teaching into the hearts of those who are hungry for truth and want to grow spiritually.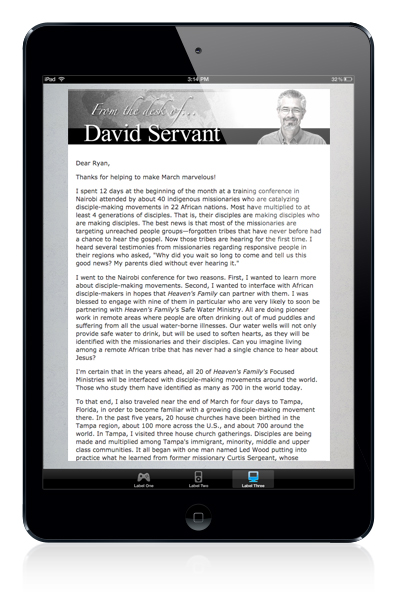 As you support David's teaching ministry, you'll also be signed up to receive David's monthly personal newsletter that is sent exclusively to special supporters like yourself. That way you can stay abreast on some of the exciting ministry work around the world you are making possible. Every month you'll receive an exciting report of how the Lord is working in David's life and ministry and of the fruit that is resulting from your faithful gifts.
Any size gift will make a huge difference. Please, consider making your donation a monthly gift so that you can be a part of this exciting ministry all year round! Thank you for your invaluable support.
*Your donations are fully tax-deductible in the U.S.