Sometimes life's challenges can feel like more than we can handle in our own strength. The Bible is full of verses about God's promise to give us strength when we are weak. In Scripture, we learn that God's strength is "made perfect in weakness." We are encouraged to "be strong and courageous" in the face of difficulty.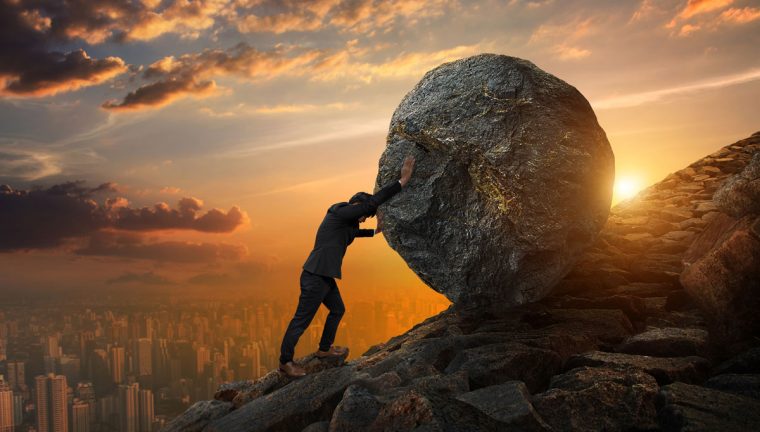 If you are feeling overwhelmed by life's circumstances, take some time to read what God's Word says about finding the strength to carry on. We hope the collection of verses below will strengthen you as you choose to trust in Him. (All verses are taken from the New American Standard Version of the Bible.)
What the Bible Says About Looking to God for Strength
It can be tempting to rely on ourselves or others for strength. But God's Word encourages and challenges us to recognize our weakness and to rely only on Him.
The Lord is my strength and song,
And He has become my salvation;
This is my God, and I will praise Him;
My father's God, and I will exalt Him. – Exodus 15:2
Seek the Lord and His strength;
Seek His face continually. – 1 Chronicles 16:11
What the Bible Says About Strength in Weakness
Sometimes it can be tempting to resent our weaknesses. But the Apostle Paul actually boasted in his weakness, claiming that he found his strength in weakness!
And He has said to me, "My grace is sufficient for you, for power is perfected in weakness." Most gladly, therefore, I will rather boast about my weaknesses, so that the power of Christ may dwell in me. – 2 Corinthians 12:9
Yet those who wait for the Lord
Will gain new strength;
They will mount up with wings like eagles,
They will run and not get tired,
They will walk and not become weary. – Isaiah 40:31
What the Bible Says About Finding Strength During Challenging Times
During seasons of intense trial, it can be tempting to give up. But God's Word provides the encouragement to push through the challenges you're facing.
The righteous cry out, and the Lord hears
And rescues them from all their troubles.
18 The Lord is near to the brokenhearted
And saves those who are crushed in spirit.

19 The afflictions of the righteous are many,
But the Lord rescues him from them all.
20 He protects all his bones,
Not one of them is broken. – Psalm 34:17-20
He gives strength to the weary,
And to the one who lacks might He increases power. – Isaiah 40:29
Every Mention of the Word "Strength" in the Bible
We've included 255 mentions of the word "strength" in the NASB below. We hope reflecting on these verses will deepen your knowledge of God's Word!
Bible Verses About Strength in Genesis
When you cultivate the ground, it will no longer yield its strength to you; you will be a wanderer and a drifter on the earth." – Genesis 4:12
You know that I have served your father with all my strength. – Genesis 31:6
When it was told to Jacob, "Behold, your son Joseph has come to you," Israel collected his strength and sat up in the bed. – Genesis 48:2
"Reuben, you are my firstborn, My might and the beginning of my strength, Preeminent in dignity and preeminent in power. – Genesis 49:3
Bible Verses About Strength in Exodus
The Lord is my strength and song, And He has become my salvation; This is my God, and I will praise Him; My father's God, and I will exalt Him. – Exodus 15:2
In Your faithfulness You have led the people whom You have redeemed; In Your strength You have guided them to Your holy habitation. – Exodus 15:13
Bible Verses About Strength in Leviticus
Your strength will be consumed uselessly, for your land will not yield its produce and the trees of the land will not yield their fruit. – Leviticus 26:20
They will then stumble over each other as if running from the sword, although no one is pursuing; and you will have no strength to stand before your enemies. – Leviticus 26:37
Bible Verses About Strength in Numbers
But Moses said to the Lord, "Then the Egyptians will hear of it, for by Your strength You brought this people up from their midst, – Numbers 14:13
Bible Verses About Strength in Deuteronomy
But commission Joshua and encourage him and strengthen him, for he shall go across leading this people, and he will give to them, as an inheritance, the land which you will see.' – Deuteronomy 3:28
And you shall love the Lord your God with all your heart and with all your soul and with all your strength. – Deuteronomy 6:5
Otherwise, you may say in your heart, 'My power and the strength of my hand made me this wealth.' – Deuteronomy 8:17
On the contrary, he shall acknowledge the firstborn, the son of the unloved wife, by giving him a double portion of everything that he owns, for he was the beginning of his strength; to him belongs the right of the firstborn. – Deuteronomy 21:17
For the Lord will vindicate His people, And will have compassion on His servants, When He sees that their strength is gone, And there is none remaining, bond or free. – Deuteronomy 32:36
Lord, bless his strength, And accept the work of his hands; Smash the hips of those who rise up against him, And those who hate him, so that they do not rise again." – Deuteronomy 33:11
Your bars will be iron and bronze, And as your days, so will your strength be. – Deuteronomy 33:25
Bible Verses About Strength in Joshua
I am still as strong today as I was on the day Moses sent me; as my strength was then, so my strength is now, for war and for going out and coming in. – Joshua 14:11
Bible Verses About Strength in Judges
Now the sons of Israel again did evil in the sight of the Lord. So the Lord strengthened Eglon the king of Moab against Israel, because they had done evil in the sight of the Lord. – Judges 3:12
The torrent of Kishon swept them away, The ancient torrent, the torrent Kishon. My soul, march on with strength! – Judges 5:21
And the Lord looked at him and said, "Go in this strength of yours and save Israel from the hand of Midian. Have I not sent you?" – Judges 6:14
Then Zebah and Zalmunna said, "Rise up yourself, and attack us; for as the man, so is his strength." So Gideon arose and killed Zebah and Zalmunna, and took the crescent amulets which were on their camels' necks. – Judges 8:21
But God split the hollow place that is in Lehi so that water came out of it. When he drank, his strength returned and he revived. Therefore he named it En-hakkore, which is in Lehi to this day. – Judges 15:19
So the governors of the Philistines came up to her and said to her, "Entice him, and see where his great strength lies and how we can overpower him so that we may bind him to humble him. Then we will each give you 1,100 pieces of silver." – Judges 16:5
So Delilah said to Samson, "Please tell me where your great strength lies, and how you can be bound to humble you." – Judges 16:6
Now she had men prepared for an ambush in an inner room. And she said to him, "The Philistines are upon you, Samson!" But he tore the tendons to pieces just like a thread of flax is torn apart when it comes too close to fire. So his strength was not discovered. – Judges 16:9
Then she said to him, "How can you say, 'I love you,' when your heart is not with me? You have toyed with me these three times and have not told me where your great strength is." – Judges 16:15
So he told her all that was in his heart and said to her, "A razor has never come on my head, for I have been a Nazirite to God from my mother's womb. If I am shaved, then my strength will leave me and I will become weak and be like any other man." – Judges 16:17
And she made him sleep on her knees, and called for a man and had him shave off the seven locks of his head. Then she began to humble him, and his strength left him. – Judges 16:19
Then Samson called to the Lord and said, "Lord God, please remember me and please strengthen me just this time, O God, that I may at once take vengeance on the Philistines for my two eyes." – Judges 16:28
Now on the fourth day they got up early in the morning, and he prepared to go; but the girl's father said to his son-in-law, " strengthen yourself with a piece of bread, and afterward you may go." – Judges 19:5
Now on the fifth day he got up to go early in the morning, but the girl's father said, "Please strengthen yourself, and wait until late afternoon"; so both of them ate. – Judges 19:8
Bible Verses About Strength in 1 Samuel
The bows of the mighty are broken to pieces, But those who have stumbled strap on strength. – 1 Samuel 2:4
Those who contend with the Lord will be terrified; Against them He will thunder in the heavens, The Lord will judge the ends of the earth; And He will give strength to His king, And will exalt the horn of His anointed." – 1 Samuel 2:10
Behold, the days are coming when I will eliminate your strength and the strength of your father's house, so that there will not be an old man in your house. – 1 Samuel 2:31
Then Saul immediately fell full length to the ground and was very afraid because of Samuel's words; there was no strength in him either, because he had eaten no food all day and all night. – 1 Samuel 28:20
So now you too, please listen to the voice of your servant, and let me serve you a piece of bread, and eat it, so that you will have strength when you go on your way." – 1 Samuel 28:22
Then David and the people who were with him raised their voices and wept until there was no strength in them to weep. – 1 Samuel 30:4
Also, David was in great distress because the people spoke of stoning him, for all the people were embittered, each one because of his sons and his daughters. But David felt strengthened in the Lord his God. – 1 Samuel 30:6
Bible Verses About Strength in 2 Samuel
Now it happened that while there was war between the house of Saul and the house of David, Abner was strengthening himself in the house of Saul. – 2 Samuel 3:6
And David was dancing before the Lord with all his strength, and David was wearing a linen ephod. – 2 Samuel 6:14
Ahithophel said to Absalom, "Have relations with your father's concubines, whom he has left behind to take care of the house; then all Israel will hear that you have made yourself repulsive to your father. The hands of all who are with you will also be strengthened." – 2 Samuel 16:21
For You have encircled me with strength for battle; You have forced those who rose up against me to bow down under me. – 2 Samuel 22:40
Bible Verses About Strength in 1 Kings
So he arose and ate and drank, and he journeyed in the strength of that food for forty days and forty nights to Horeb, the mountain of God. – 1 Kings 19:8
Bible Verses About Strength in 2 Kings
Then Jehu drew his bow with his full strength and shot Joram between his arms; and the arrow went through his heart, and he sank in his chariot. – 2 Kings 9:24
Pul, the king of Assyria, came against the land, and Menahem gave Pul a thousand talents of silver so that his hand might be with him to strengthen the kingdom under his rule. – 2 Kings 15:19
You say—but they are only empty words—'I have a plan and strength for the war.' Now on whom have you relied, that you have revolted against me? – 2 Kings 18:20
And they said to him, "This is what Hezekiah says: 'This day is a day of distress, rebuke, and humiliation; for children have come to the point of birth, and there is no strength to deliver them. – 2 Kings 19:3
Bible Verses About Strength in 1 Chronicles
Seek the Lord and His strength; Seek His face continually. – 1 Chronicles 16:11
Splendor and majesty are before Him, strength and joy are in His place. – 1 Chronicles 16:27
Ascribe to the Lord, you families of the peoples, Ascribe to the Lord glory and strength. – 1 Chronicles 16:28
All these were of the sons of Obed-edom; they and their sons and relatives were able men with strength for the service, sixty-two from Obed-edom. – 1 Chronicles 26:8
Both riches and honor come from You, and You rule over all, and in Your hand is power and might; and it lies in Your hand to make great and to strengthen everyone. – 1 Chronicles 29:12
Bible Verses About Strength in 2 Chronicles
He also strengthened the fortresses and put officers in them and supplies of food, oil, and wine. – 2 Chronicles 11:11
He put shields and spears in every city and strengthened them greatly. So he held Judah and Benjamin. – 2 Chronicles 11:12
They strengthened the kingdom of Judah and supported Rehoboam the son of Solomon for three years, for they walked in the way of David and Solomon for three years. – 2 Chronicles 11:17
Jeroboam did not again recover strength in the days of Abijah; and the Lord struck him and he died. – 2 Chronicles 13:20
Then Asa called to the Lord his God and said, "Lord, there is no one besides You to help in the battle between the powerful and those who have no strength; help us, Lord our God, for we trust in You, and in Your name have come against this multitude. Lord, You are our God; do not let man prevail against You." – 2 Chronicles 14:11
So the workmen labored, and the repair work progressed in their hands, and they restored the house of God according to its specifications and strengthened it. – 2 Chronicles 24:13
So Tilgath-pilneser king of Assyria came against him and afflicted him instead of strengthening him. – 2 Chronicles 28:20
And he resolutely set to work and rebuilt all of the wall that had been broken down and erected towers on it, and built another outside wall and strengthened the Millo in the city of David, and made weapons and shields in great numbers. – 2 Chronicles 32:5
Bible Verses About Strength in Ezra
and has extended favor to me before the king and his counselors and before all the king's mighty officials. So I was strengthened according to the hand of the Lord my God that was upon me, and I gathered leading men from Israel to go up with me. – Ezra 7:28
Bible Verses About Strength in Nehemiah
And so in Judah it was said: "The strength of the burden bearers is failing, Yet there is much rubble; And we ourselves are unable To rebuild the wall." – Nehemiah 4:10
For all of them were trying to frighten us, thinking, "They will become discouraged with the work and it will not be done." But now, God, strengthen my hands. – Nehemiah 6:9
Bible Verses About Strength in Job
Behold, you have taught many, And you have strengthened weak hands. – Job 4:3
Your words have helped the stumbling to stand, And you have strengthened feeble knees. – Job 4:4
What is my strength, that I should wait? And what is my end, that I should endure? – Job 6:11
Is my strength the strength of stones, Or is my flesh bronze? – Job 6:12
Wise in heart and mighty in strength, Who has defied Him without harm? – Job 9:4
strength and sound wisdom are with Him. One who goes astray and one who leads astray belong to Him. – Job 12:16
Or I could strengthen you with my mouth, And the condolence of my lips could lessen your pain. – Job 16:5
His strength is famished, And disaster is ready at his side. – Job 18:12
His bones are full of his youthful strength, But it lies down with him in the dust. – Job 20:11
One dies in his full strength, Being wholly undisturbed and at ease; – Job 21:23
You have sent widows away empty, And the strength of orphans has been crushed. – Job 22:9
"What a help you are to the weak! You have saved the arm without strength! – Job 26:2
Indeed, what good was the strength of their hands to me? Vigor had perished from them. – Job 30:2
You have become cruel to me; With the strength of Your hand You persecute me. – Job 30:21
Behold, God is mighty but does not reject anyone; He is mighty in strength of understanding. – Job 36:5
Will your cry for help keep you from distress, Or all the exertions of your strength? – Job 36:19
Will you trust him because his strength is great, And leave your labor to him? – Job 39:11
He paws in the valley, and rejoices in his strength; He goes out to meet the battle. – Job 39:21
Behold, his strength in his waist, And his power in the muscles of his belly. – Job 40:16
"I will not be silent about his limbs, Or his mighty strength, or his graceful frame. – Job 41:12
In his neck dwells strength, And dismay leaps before him. – Job 41:22
Bible Verses About Strength in Psalm
From the mouths of infants and nursing babies You have established strength Because of Your enemies, To do away with the enemy and the revengeful. – Psalm 8:2
Lord, You have heard the desire of the humble; You will strengthen their heart, You will make Your ear attentive – Psalm 10:17
For the music director. A Psalm of David, the servant of the Lord, who spoke to the Lord the words of this song on the day that the Lord rescued him from the hand of all his enemies and from the hand of Saul. And he said,
"I love You, Lord, my strength." – Psalm 18:1
The God who encircles me with strength, And makes my way blameless? – Psalm 18:32
For You have encircled me with strength for battle; You have forced those who rose up against me to bow down under me. – Psalm 18:39
Now I know that the Lord saves His anointed; He will answer him from His holy heaven With the saving strength of His right hand. – Psalm 20:6
For the music director. A Psalm of David.
Lord, in Your strength the king will be glad, And in Your salvation how greatly he will rejoice! – Psalm 21:1
Be exalted, Lord, in Your strength; We will sing and praise Your power. – Psalm 21:13
My strength is dried up like a piece of pottery, And my tongue clings to my jaws; And You lay me in the dust of death. – Psalm 22:15
The Lord is my strength and my shield; My heart trusts in Him, and I am helped; Therefore my heart triumphs, And with my song I shall thank Him. – Psalm 28:7
The Lord is their strength, And He is a refuge of salvation to His anointed. – Psalm 28:8
A Psalm of David.
Ascribe to the Lord, sons of the mighty, Ascribe to the Lord glory and strength. – Psalm 29:1
The Lord will give strength to His people; The Lord will bless His people with peace. – Psalm 29:11
Incline Your ear to me, rescue me quickly; Be a rock of strength for me, A stronghold to save me. – Psalm 31:2
You will pull me out of the net which they have secretly laid for me, For You are my strength. – Psalm 31:4
For my life is spent with sorrow And my years with sighing; My strength has failed because of my guilt, And my body has wasted away. – Psalm 31:10
The king is not saved by a mighty army; A warrior is not rescued by great strength. – Psalm 33:16
A horse is a false hope for victory; Nor does it rescue anyone by its great strength. – Psalm 33:17
But the salvation of the righteous is from the Lord; He is their strength in time of trouble. – Psalm 37:39
My heart throbs, my strength fails me; And the light of my eyes, even that has gone from me. – Psalm 38:10
For You are the God of my strength; why have You rejected me? Why do I go about mourning because of the oppression of the enemy? – Psalm 43:2
For the music director. A Psalm of the sons of Korah, set to Alamoth. A Song.
God is our refuge and strength, A very ready help in trouble. – Psalm 46:1
Because of his strength I will watch for You, For God is my refuge. – Psalm 59:9
But as for me, I will sing of Your strength; Yes, I will joyfully sing of Your faithfulness in the morning, For You have been my refuge And a place of refuge on the day of my distress. – Psalm 59:16
My strength, I will sing praises to You; For God is my refuge, the God who shows me favor. – Psalm 59:17
For You have been a refuge for me, A tower of strength against the enemy. – Psalm 61:3
My salvation and my glory rest on God; The rock of my strength, my refuge is in God. – Psalm 62:7
Who establishes the mountains by His strength, Who is encircled with might; – Psalm 65:6
Your God has commanded your strength; Show Yourself strong, God, You who acted in our behalf. – Psalm 68:28
Ascribe strength to God; His majesty is over Israel, And His strength is in the skies. – Psalm 68:34
God, You are awesome from Your sanctuary. The God of Israel Himself gives strength and power to the people. Blessed be God! – Psalm 68:35
Do not cast me away at the time of my old age; Do not abandon me when my strength fails. – Psalm 71:9
And even when I am old and gray, God, do not abandon me, Until I declare Your strength to this generation, Your power to all who are to come. – Psalm 71:18
My flesh and my heart may fail, But God is the strength of my heart and my portion forever. – Psalm 73:26
You divided the sea by Your strength; You broke the heads of the sea monsters in the waters. – Psalm 74:13
You are the God who works wonders; You have made known Your strength among the peoples. – Psalm 77:14
And He gave up His strength to captivity And His glory into the hand of the enemy. – Psalm 78:61
The shoot which Your right hand has planted, And of the son whom You have strengthened for Yourself. – Psalm 80:15
For the music director; on the Gittith. A Psalm of Asaph.
Sing for joy to God our strength; Shout joyfully to the God of Jacob. – Psalm 81:1
Blessed is the person whose strength is in You, In whose heart are the roads to Zion! – Psalm 84:5
They go from strength to strength, Every one of them appears before God in Zion. – Psalm 84:7
Turn to me, and be gracious to me; Grant Your strength to Your servant, And save the son of Your maidservant. – Psalm 86:16
I am counted among those who go down to the pit; I have become like a man without strength, – Psalm 88:4
For You are the glory of their strength, And by Your favor our horn is exalted. – Psalm 89:17
With whom My hand will be established; My arm also will strengthen him. – Psalm 89:21
As for the days of our life, they contain seventy years, Or if due to strength, eighty years, Yet their pride is only trouble and tragedy; For it quickly passes, and we disappear. – Psalm 90:10
The Lord reigns, He is clothed with majesty; The Lord has clothed and encircled Himself with strength. Indeed, the world is firmly established; it will not be moved. – Psalm 93:1
Splendor and majesty are before Him, strength and beauty are in His sanctuary. – Psalm 96:6
Ascribe to the Lord, you families of the peoples, Ascribe to the Lord glory and strength. – Psalm 96:7
The strength of the King loves justice; You have established order; You have executed justice and righteousness in Jacob. – Psalm 99:4
He has broken my strength in the way; He has shortened my days. – Psalm 102:23
Bless the Lord, you His angels, Mighty in strength, who perform His word, Obeying the voice of His word! – Psalm 103:20
Seek the Lord and His strength; Seek His face continually. – Psalm 105:4
The Lord is my strength and song, And He has become my salvation. – Psalm 118:14
My soul weeps because of grief; strengthen me according to Your word. – Psalm 119:28
Arise, Lord, to Your resting place, You and the ark of Your strength. – Psalm 132:8
On the day I called, You answered me; You made me bold with strength in my soul. – Psalm 138:3
God the Lord, the strength of my salvation, You have covered my head on the day of battle. – Psalm 140:7
Great is our Lord and abundant in strength; His understanding is infinite. – Psalm 147:5
He does not delight in the strength of the horse; He does not take pleasure in the legs of a man. – Psalm 147:10
For He has strengthened the bars of your gates; He has blessed your sons among you. – Psalm 147:13
Bible Verses About Strength in Proverbs
And strangers will be filled with your strength, And your hard-earned possessions will go to the house of a foreigner; – Proverbs 5:10
Where there are no oxen, the manger is clean; But much revenue comes by the strength of the ox. – Proverbs 14:4
The glory of young men is their strength, And the honor of old men is their gray hair. – Proverbs 20:29
If you show yourself lacking courage on the day of distress, Your strength is meager. – Proverbs 24:10
Do not give your strength to women, Or your ways to that which destroys kings. – Proverbs 31:3
She surrounds her waist with strength And makes her arms strong. – Proverbs 31:17
strength and dignity are her clothing, And she smiles at the future. – Proverbs 31:25
Bible Verses About Strength in Ecclesiastes
Wisdom strengthens a wise person more than ten rulers who are in a city. – Ecclesiastes 7:19
So I said, "Wisdom is better than strength." But the wisdom of the poor man is despised, and his words are ignored. – Ecclesiastes 9:16
If the axe is dull and he does not sharpen its edge, then he must exert more strength. Wisdom has the advantage of bringing success. – Ecclesiastes 10:10
Blessed are you, land whose king is of nobility, and whose princes eat at the appropriate time—for strength and not for drunkenness. – Ecclesiastes 10:17
Bible Verses About Strength in Isaiah
He gives strength to the weary, And to the one who lacks might He increases power. – Isaiah 40:29
The Spirit of the Lord will rest on Him, The spirit of wisdom and understanding, The spirit of counsel and strength, The spirit of knowledge and the fear of the Lord. – Isaiah 11:2
Behold, God is my salvation, I will trust and not be afraid; For the Lord God is my strength and song, And He has become my salvation." – Isaiah 12:2
A spirit of justice for him who sits in judgment, A strength to those who repel the onslaught at the gate. – Isaiah 28:6
For this is what the Lord God, the Holy One of Israel, has said: "In repentance and rest you will be saved, In quietness and trust is your strength." But you were not willing, – Isaiah 30:15
Lord, be gracious to us; we have waited for You. Be their strength every morning, Our salvation also in the time of distress. – Isaiah 33:2
strengthen the exhausted, and make the feeble strong. – Isaiah 35:3
I say, 'Your plan and strength for the war are only empty words.' Now on whom have you relied, that you have revolted against me? – Isaiah 36:5
And they said to him, "This is what Hezekiah says: 'This day is a day of distress, rebuke, and humiliation; for children have come to the point of birth, and there is no strength to deliver them. – Isaiah 37:3
Raise your eyes on high And see who has created these stars, The One who brings out their multitude by number, He calls them all by name; Because of the greatness of His might and the strength of His power, Not one of them is missing. – Isaiah 40:26
He gives strength to the weary, And to the one who lacks might He increases power. – Isaiah 40:29
Yet those who wait for the Lord Will gain new strength; They will mount up with wings like eagles, They will run and not get tired, They will walk and not become weary. – Isaiah 40:31
"Listen to Me in silence, you coastlands, And let the peoples gain new strength; Let them come forward, then let them speak; Let's come together for judgment. – Isaiah 41:1
Do not fear, for I am with you; Do not be afraid, for I am your God. I will strengthen you, I will also help you, I will also uphold you with My righteous right hand.' – Isaiah 41:10
The craftsman of iron shapes a cutting tool and does his work over the coals, fashioning it with hammers and working it with his strong arm. He also gets hungry and his strength fails; he drinks no water and becomes weary. – Isaiah 44:12
They will say of Me, 'Only in the Lord are righteousness and strength.' People will come to Him, And all who were angry at Him will be put to shame. – Isaiah 45:24
But I said, "I have labored in vain, I have spent My strength for nothing and futility; Nevertheless, the justice due to Me is with the Lord, And My reward is with My God." – Isaiah 49:4
And now says the Lord, who formed Me from the womb to be His Servant, To bring Jacob back to Him, so that Israel might be gathered to Him (For I am honored in the sight of the Lord, And My God is My strength), – Isaiah 49:5
Awake, awake, put on strength, O arm of the Lord; Awake as in the days of old, the generations of long ago. Was it not You who cut Rahab in pieces, Who pierced the dragon? – Isaiah 51:9
Awake, awake, Clothe yourself in your strength, Zion; Clothe yourself with your beautiful garments, Jerusalem, the holy city; For the uncircumcised and the unclean Will no longer come into you. – Isaiah 52:1
"Enlarge the place of your tent; Stretch out the curtains of your dwellings, do not spare them; Lengthen your ropes And strengthen your pegs. – Isaiah 54:2
You were tired out by the length of your road, Yet you did not say, 'It is hopeless!' You found renewed strength, Therefore you did not faint. – Isaiah 57:10
And the Lord will continually guide you, And satisfy your desire in scorched places, And give strength to your bones; And you will be like a watered garden, And like a spring of water whose waters do not fail. – Isaiah 58:11
Who is this who comes from Edom, With garments of glowing colors from Bozrah, This One who is majestic in His apparel, Marching in the greatness of His strength? "It is I, the One who speaks in righteousness, mighty to save."
– Isaiah 63:1
Bible Verses About Strength in Jeremiah
Lord, my strength and my stronghold, And my refuge in the day of distress, To You the nations will come From the ends of the earth and say, "Our fathers have inherited nothing but falsehood, Futility, and things of no benefit." – Jeremiah 16:19
This is what the Lord says: "Cursed is the man who trusts in mankind And makes flesh his strength, And whose heart turns away from the Lord. – Jeremiah 17:5
Also among the prophets of Jerusalem I have seen a horrible thing: The committing of adultery and walking in deceit; And they strengthen the hands of evildoers, So that no one has turned back from his wickedness. All of them have become to Me like Sodom, And her inhabitants like Gomorrah. – Jeremiah 23:14
"In the shadow of Heshbon The fugitives stand without strength; For a fire has spread out from Heshbon And a flame from the midst of Sihon, And it has devoured the forehead of Moab And the scalps of the loud revelers. – Jeremiah 48:45
The warriors of Babylon have ceased fighting, They stay in the strongholds; Their strength is exhausted, They are becoming like women; Their homes are set on fire, The bars of her gates are broken. – Jeremiah 51:30
Bible Verses About Strength in Lamentations
All of her splendor Is gone from the daughter of Zion; Her leaders have become like deer That have found no pasture, And they have fled without strength From the pursuer. – Lamentations 1:6
The yoke of my wrongdoings is bound; By His hand they are woven together. They have come upon my neck; He has made my strength fail. The Lord has handed me over To those against whom I am not able to stand. – Lamentations 1:14
I called to my lovers, but they deserted me; My priests and my elders perished in the city While they sought food to restore their strength themselves. – Lamentations 1:19
In fierce anger He has cut off All the strength of Israel; He has pulled back His right hand From the enemy. And He has burned in Jacob like a flaming fire Consuming on all sides. – Lamentations 2:3
So I say, "My strength has failed, And so has my hope from the Lord." – Lamentations 3:18
Bible Verses About Strength in Ezekiel
Say, 'This is what the Lord God says: "Will it thrive? Will he not pull up its roots and cut off its fruit, so that it withers—so that all its sprouting shoots wither? And neither by great strength nor by many people can it be raised from its roots again. – Ezekiel 17:9
For I will strengthen the arms of the king of Babylon and put My sword in his hand; and I will break the arms of Pharaoh, so that he will groan before him with the groans of a wounded man. – Ezekiel 30:24
So I will strengthen the arms of the king of Babylon, but the arms of Pharaoh will fail. Then they will know that I am the Lord, when I put My sword into the hand of the king of Babylon and he reaches out with it against the land of Egypt. – Ezekiel 30:25
They also went down with it to Sheol to those who were slain by the sword; and those who were its strength lived in its shade among the nations. – Ezekiel 31:17
Those who are sickly you have not strengthened, the diseased you have not healed, the broken you have not bound up, the scattered you have not brought back, nor have you searched for the lost; but with force and with violence you have dominated them. – Ezekiel 34:4
"I will seek the lost, bring back the scattered, bind up the broken, and strengthen the sick; but the fat and the strong I will eliminate. I will feed them with judgment. – Ezekiel 34:16
Bible Verses About Strength in Daniel
You, O king, are the king of kings, to whom the God of heaven has given the kingdom, the power, the strength, and the honor; – Daniel 2:37
And I saw him come up beside the ram, and he was enraged at him; and he struck the ram and smashed his two horns, and the ram had no strength to withstand him. So he hurled him to the ground and trampled on him, and there was no one to rescue the ram from his power. – Daniel 8:7
So I was left alone and saw this great vision; yet no strength was left in me, for my complexion turned to a deathly pallor, and I retained no strength. – Daniel 10:8
And behold, one who resembled a human was touching my lips. Then I opened my mouth and spoke and said to him who was standing before me, "My lord, due to the vision anguish has come upon me, and I have retained no strength. –
Daniel 10:16 –
For how can such a servant of my lord talk with such as my lord? As for me, there remains just now no strength in me, nor has any breath been left in me." – Daniel 10:17
Then this one with human appearance touched me again and strengthened me. – Daniel 10:18
And he said, "You who are treasured, do not be afraid. Peace be to you; take courage and be courageous!" Now as soon as he spoke to me, I felt strengthened and said, "May my lord speak, for you have strengthened me." – Daniel 10:19
Then the king of the North will come, pile up an assault ramp, and capture a well-fortified city; and the forces of the South will not stand their ground, not even their choicest troops, for there will be no strength to make a stand. – Daniel 11:15
And he will stir up his strength and courage against the king of the South with a large army; so the king of the South will mobilize an extremely large and mighty army for war; but he will not stand, because schemes will be devised against him. – Daniel 11:25
Bible Verses About Strength in Hosea
Strangers devour his strength, Yet he does not know it; Gray hairs also are sprinkled on him, Yet he does not know it. – Hosea 7:9
Although I trained and strengthened their arms, Yet they devise evil against Me. – Hosea 7:15
In the womb he took his brother by the heel, And in his mature strength he contended with God. – Hosea 12:3
Bible Verses About Strength in Amos
Refuge will be lost from the swift, And the strong will not strengthen his power, Nor the warrior save his life. – Amos 2:14
You who rejoice in Lodebar, And say, "Have we not by our own strength taken Karnaim for ourselves?" – Amos 6:13
Bible Verses About Strength in Micah
And He will arise and shepherd His flock In the strength of the Lord, In the majesty of the name of the Lord His God. And they will remain, Because at that time He will be great To the ends of the earth. – Micah 5:4
Bible Verses About Strength in Nahum
This is what the Lord says: "Though they are at full strength and so they are many, So also they will be cut off and pass away. Though I have afflicted you, I will afflict you no longer. – Nahum 1:12
The one who scatters has come up against you. Keep watch over the fortress, watch the road; Bind up your waist, summon all your strength. – Nahum 2:1
Draw for yourself water for a siege! strengthen your fortifications! Go into the clay and tread the mortar! Take hold of the brick mold! – Nahum 3:14
Bible Verses About Strength in Habakkuk
Then they fly along like the wind and pass on. But they will be held guilty, They whose strength is their god." – Habakkuk 1:11
The Lord God is my strength, And He has made my feet like deer's feet, And has me walk on my high places. For the choir director, on my stringed instruments. – Habakkuk 3:19
Bible Verses About Strength in Zechariah
And I will strengthen the house of Judah, And I will save the house of Joseph, And I will bring them back, Because I have had compassion on them; And they will be as though I had not rejected them, For I am the Lord their God and I will answer them. – Zechariah 10:6
And I will strengthen them in the Lord, And in His name they will walk," declares the Lord. – Zechariah 10:12
Bible Verses About Strength in Mark
and you shall love the Lord your God with all your heart, and with all your soul, and with all your mind, and with all your strength.' – Mark 12:30
and to love Him with all the heart, and with all the understanding, and with all the strength, and to love one's neighbor as oneself, is much more than all the burnt offerings and sacrifices." – Mark 12:33
Bible Verses About Strength in Luke
And he answered, "You shall love the Lord your God with all your heart, and with all your soul, and with all your strength, and with all your mind; and your neighbor as yourself." – Luke 10:27
But stay alert at all times, praying that you will have strength to escape all these things that are going to take place, and to stand before the Son of Man." – Luke 21:36
but I have prayed for you, that your faith will not fail; and you, when you have turned back, strengthen your brothers." – Luke 22:32
[Now an angel from heaven appeared to Him, strengthening Him. – Luke 22:43
Bible Verses About Strength in Acts
And grasping him by the right hand, he raised him up; and immediately his feet and his ankles were strengthened. – Acts 3:7
And on the basis of faith in His name, it is the name of Jesus which has strengthened this man whom you see and know; and the faith which comes through Him has given him this perfect health in the presence of you all. – Acts 3:16
But Saul kept increasing in strength and confounding Jews who lived in Damascus by proving that this Jesus is the Christ. – Acts 9:22
strengthening the souls of the disciples, encouraging them to continue in the faith, and saying, "It is through many tribulations that we must enter the kingdom of God." – Acts 14:22
Judas and Silas, also being prophets themselves, encouraged and strengthened the brothers and sisters with a lengthy message. – Acts 15:32
And he was traveling through Syria and Cilicia, strengthening the churches. – Acts 15:41
So the churches were being strengthened in the faith, and were increasing in number daily. – Acts 16:5
And after spending some time there, he left and passed successively through the Galatian region and Phrygia, strengthening all the disciples. – Acts 18:23
Bible Verses About Strength in Romans
Now we who are strong ought to bear the weaknesses of those without strength, and not just please ourselves. – Romans 15:1
Bible Verses About Strength in 1 Corinthians
For if someone sees you, the one who has knowledge, dining in an idol's temple, will his conscience, if he is weak, not be strengthened to eat things sacrificed to idols? – 1 Corinthians 8:10
Bible Verses About Strength in 2 Corinthians
For we do not want you to be unaware, brothers and sisters, of our affliction which occurred in Asia, that we were burdened excessively, beyond our strength, so that we despaired even of life. – 2 Corinthians 1:8
Bible Verses About Strength in Ephesians
and what is the boundless greatness of His power toward us who believe. These are in accordance with the working of the strength of His might – Ephesians 1:19
that He would grant you, according to the riches of His glory, to be strengthened with power through His Spirit in the inner self, – Ephesians 3:16
Finally, be strong in the Lord and in the strength of His might. – Ephesians 6:10
Bible Verses About Strength in Philippians
I can do all things through Him who strengthens me. – Philippians 4:13
Bible Verses About Strength in Colossians
strengthened with all power, according to His glorious might, for the attaining of all perseverance and patience; joyously – Colossians 1:11
Bible Verses About Strength in 1 Thessalonians
and we sent Timothy, our brother and God's fellow worker in the gospel of Christ, to strengthen and encourage you for the benefit of your faith, – 1 Thessalonians 3:2
Bible Verses About Strength in 2 Thessalonians
comfort and strengthen your hearts in every good work and word. – 2 Thessalonians 2:17
But the Lord is faithful, and He will strengthen and protect you from the evil one. – 2 Thessalonians 3:3
Bible Verses About Strength in 1 Timothy
I thank Christ Jesus our Lord, who has strengthened me, because He considered me faithful, putting me into service, – 1 Timothy 1:12
Bible Verses About Strength in 2 Timothy
But the Lord stood with me and strengthened me, so that through me the proclamation might be fully accomplished, and that all the Gentiles might hear; and I was rescued out of the lion's mouth. – 2 Timothy 4:17
Bible Verses About Strength in Hebrews
Therefore, strengthen the hands that are weak and the knees that are feeble, – Hebrews 12:12
Do not be misled by varied and strange teachings; for it is good for the heart to be strengthened by grace, not by foods, through which those who were so occupied were not benefited. – Hebrews 13:9
Bible Verses About Strength in James
You too be patient; strengthen your hearts, for the coming of the Lord is near. – James 5:8
Bible Verses About Strength in 1 Peter
Whoever speaks is to do so as one who is speaking actual words of God; whoever serves is to do so as one who is serving by the strength which God supplies; so that in all things God may be glorified through Jesus Christ, to whom belongs the glory and dominion forever and ever. Amen. – 1 Peter 4:11
After you have suffered for a little while, the God of all grace, who called you to His eternal glory in Christ, will Himself perfect, confirm, strengthen, and establish you. – 1 Peter 5:10
Bible Verses About Strength in Revelation
In His right hand He held seven stars, and out of His mouth came a sharp two-edged sword; and His face was like the sun shining in its strength. – Revelation 1:16
Be constantly alert, and strengthen the things that remain, which were about to die; for I have not found your deeds completed in the sight of My God. – Revelation 3:2
he also will drink of the wine of the wrath of God, which is mixed in full strength in the cup of His anger; and he will be tormented with fire and brimstone in the presence of the holy angels and in the presence of the Lamb. – Revelation 14:10