The Bible is full of verses about joy. From feeling joy in the happier moments of life to choosing joy in the more difficult seasons, God's Word is full of promises to help us live truly joyful lives.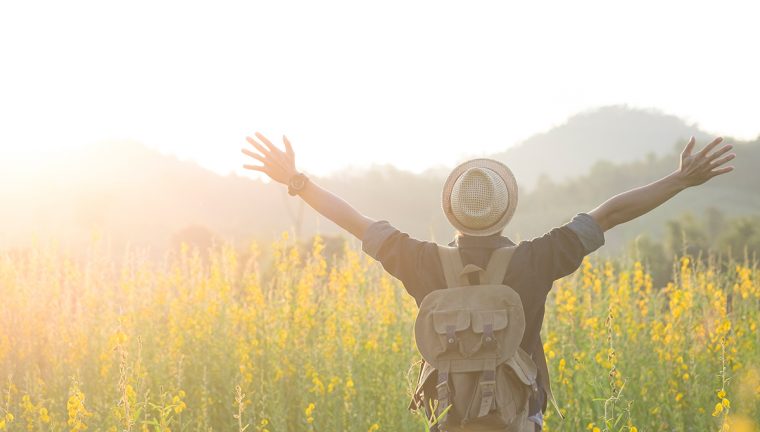 We hope that the verses from the Old Testament and New Testament below will be an encouragement to you as you study what Scripture has to say about this subject.
What the Bible Says About Joy
God not only encourages us to have joy in life, He commands it! Below are a few examples.
This is the day which the Lord has made;
Let's rejoice and be glad in it. – Psalm 118:24
Rejoice in the Lord always; again I will say, rejoice! – Philippians 4:4
Rejoice always, pray without ceasing, in everything give thanks; for this is the will of God for you in Christ Jesus. – 1 Thessalonians 5:16-18
What the Bible Says About Joy During Difficult Times
Even when life is very challenging, we can still find joy in God and our relationship with Him.
Consider it all joy, my brothers and sisters, when you encounter various trials, knowing that the testing of your faith produces endurance. – James 1:2-3
When my anxious thoughts multiply within me,
Your comfort delights my soul. – Psalm 94:19
Even if the fig tree does not blossom,
And there is no fruit on the vines,
If the yield of the olive fails,
And the fields produce no food,
Even if the flock disappears from the fold,
And there are no cattle in the stalls,
18 Yet I will triumph in the Lord,
I will rejoice in the God of my salvation. – Habakkuk 3:17-18
What the Bible Says About the Joy in Serving God
A life of serving God is a life of joy. Below are a couple of verses that give a glimpse of this joyful life.
Shout joyfully to the Lord, all the earth.
Serve the Lord with jubilation;
Come before Him with rejoicing. – Psalm 100:1–2
Only fear the Lord and serve Him in truth with all your heart; for consider what great things He has done for you. – 1 Samuel 12:24
Every Mention of Joy in the Bible
We've included all mentions of the word "joy" in the NASB below. We hope reflecting on these verses will deepen your knowledge of God's Word!
Bible Verses About Joy in Genesis
Why did you flee secretly and deceive me, and did not tell me, so that I might have sent you away with joy and with songs, with tambourine and with lyre; – Genesis 31:27
Bible Verses About Joy in Numbers
Also on the day of your joy and at your appointed feasts, and on the first days of your months, you shall blow the trumpets over your burnt offerings, and over the sacrifices of your peace offerings; and they shall be as a reminder of you before your God. I am the Lord your God." – Numbers 10:10
He has not looked at misfortune in Jacob; Nor has He seen trouble in Israel; The Lord his God is with him, And the joyful shout of a king is among them. – Numbers 23:21
Bible Verses About Joy in Deuteronomy
For seven days you shall celebrate a feast to the Lord your God in the place which the Lord chooses, because the Lord your God will bless you in all your produce and in all the work of your hands, so that you will be altogether joyful. – Deuteronomy 16:15
"Since you did not serve the Lord your God with joy and a cheerful heart, in gratitude for the abundance of all things, – Deuteronomy 28:47
Bible Verses About Joy in Judges
so if you have acted with honesty and integrity toward Jerubbaal and his house this day, be joyful about Abimelech, and may he also be joyful about you. – Judges 9:19
Bible Verses About Joy in 1 Samuel
Now it happened as they were coming, when David returned from killing the Philistine, that the women came out of all the cities of Israel, singing and dancing, to meet King Saul, with tambourines, with joy and with other musical instruments. – 1 Samuel 18:6
Bible Verses About Joy in 2 Samuel
Now it was reported to King David, saying, "The Lord has blessed the house of Obed-edom and all that belongs to him, on account of the ark of God." So David went and brought the ark of God up from the house of Obed-edom to the city of David with joy. – 2 Samuel 6:12
So David and all the house of Israel were bringing up the ark of the Lord with joyful shouting and the sound of the trumpet. – 2 Samuel 6:15
Bible Verses About Joy in 1 Kings
And all the people went up after him, and the people were playing on flutes and rejoicing with great joy, so that the earth shook at their noise. – 1 Kings 1:40
On the eighth day he dismissed the people, and they blessed the king. Then they went to their tents joyful and with happy hearts for all the goodness that the Lord had shown to David His servant, and to Israel His people. – 1 Kings 8:66
Jezebel his wife said to him, "Do you now reign over Israel? Arise, eat bread, and let your heart be joyful; I will give you the vineyard of Naboth the Jezreelite." – 1 Kings 21:7
Bible Verses About Joy in 2 Kings
And she looked, and behold, the king was standing by the pillar according to the custom, with the captains and the trumpeters beside the king; and all the people of the land were joyful and were blowing trumpets. Then Athaliah tore her clothes and cried out, "Conspiracy! Conspiracy!" – 2 Kings 11:14
Bible Verses About Joy in 1 Chronicles
Moreover, those who were near to them, as far as Issachar, Zebulun, and Naphtali, brought food on donkeys, camels, mules, and on oxen, great quantities of flour cakes, fig cakes and bunches of raisins, wine, oil, oxen, and sheep. There was joy indeed in Israel. – 1 Chronicles 12:40
Then David spoke to the chiefs of the Levites to appoint their relatives as the singers, with musical instruments, harps, lyres, and cymbals, playing to raise sounds of joy. – 1 Chronicles 15:16
So it was David, with the elders of Israel and the captains of thousands, who went to bring up the ark of the covenant of the Lord from the house of Obed-edom with joy. – 1 Chronicles 15:25
Boast in His holy name; Let the heart of those who seek the Lord be joyful. – 1 Chronicles 16:10
Splendor and majesty are before Him, Strength and joy are in His place. – 1 Chronicles 16:27
Let the heavens be joyful, and the earth rejoice; And let them say among the nations, "The Lord reigns." – 1 Chronicles 16:31
Then the trees of the forest will sing for joy in the presence of the Lord; For He is coming to judge the earth. – 1 Chronicles 16:33
Since I know, my God, that You put the heart to the test and delight in uprightness, I, in the integrity of my heart, have willingly offered all these things; so now with joy I have seen Your people, who are present here, make their offerings willingly to You. – 1 Chronicles 29:17
Bible Verses About Joy in 2 Chronicles
Every man of Judah and Jerusalem returned, with Jehoshaphat at their head, returning to Jerusalem with joy, for the Lord had helped them to rejoice over their enemies. – 2 Chronicles 20:27
Moreover, King Hezekiah and the officials ordered the Levites to sing praises to the Lord with the words of David and Asaph the seer. So they sang praises with joy, and bowed down and worshiped. – 2 Chronicles 29:30
The sons of Israel present in Jerusalem celebrated the Feast of Unleavened Bread for seven days with great joy, and the Levites and the priests were praising the Lord day after day with loud instruments to the Lord. – 2 Chronicles 30:21
Then the whole assembly decided to celebrate the feast another seven days, so they celebrated the seven days with joy. – 2 Chronicles 30:23
So there was great joy in Jerusalem, because there was nothing like this in Jerusalem since the days of Solomon the son of David, king of Israel. – 2 Chronicles 30:26
Bible Verses About Joy in Ezra
And they sang, praising and giving thanks to the Lord, saying, "For He is good, for His favor is upon Israel forever." And all the people shouted with a great shout of joy when they praised the Lord, because the foundation of the house of the Lord was laid. – Ezra 3:11
Yet many of the priests and Levites and heads of fathers' households, the old men who had seen the first temple, wept with a loud voice when the foundation of this house was laid before their eyes, while many shouted aloud for joy, – Ezra 3:12
so that the people could not distinguish the sound of the shout of joy from the sound of the weeping of the people, because the people were shouting with a loud shout, and the sound was heard far away. – Ezra 3:13
And the sons of Israel, the priests, the Levites, and the rest of the exiles, celebrated the dedication of this house of God with joy. – Ezra 6:16
And they held the Feast of Unleavened Bread for seven days with joy, because the Lord had made them happy, and had turned the heart of the king of Assyria toward them to encourage them in the work of the house of God, the God of Israel. – Ezra 6:22
Bible Verses About Joy in Nehemiah
Then he said to them, "Go, eat the festival foods, drink the sweet drinks, and send portions to him who has nothing prepared; for this day is holy to our Lord. Do not be grieved, for the joy of the Lord is your refuge." – Nehemiah 8:10
Now at the dedication of the wall of Jerusalem they sought out the Levites from all their places, to bring them to Jerusalem so that they could celebrate the dedication with joy, with songs of thanksgiving and with songs to the accompaniment of cymbals, harps, and lyres. – Nehemiah 12:27
and on that day they offered great sacrifices and rejoiced because God had given them great joy, and the women and children rejoiced as well, so that the joy of Jerusalem was heard from far away. – Nehemiah 12:43
Bible Verses About Joy in Esther
Then Haman went out that day joyful and pleased of heart; but when Haman saw Mordecai at the king's gate and that he did not stand up or tremble before him, Haman was filled with anger against Mordecai. – Esther 5:9
Then Zeresh his wife and all his friends said to him, "Have a wooden gallows fifty cubits high made, and in the morning ask the king to have Mordecai hanged on it; then go joyfully with the king to the banquet." And the advice pleased Haman, so he had the wooden gallows made. – Esther 5:14
For the Jews there was light, joy, jubilation, and honor. – Esther 8:16
In each and every province and in each and every city, wherever the king's commandment and his decree arrived, there was joy and jubilation for the Jews, a feast and a holiday. And many among the peoples of the land became Jews, because the dread of the Jews had fallen on them. – Esther 8:17
because on those days the Jews rid themselves of their enemies, and it was a month which was turned for them from grief into joy, and from mourning into a holiday; that they were to make them days of feasting and rejoicing, and sending portions of food to one another, and gifts to the poor. – Esther 9:22
Bible Verses About Joy in Job
Behold, may that night be barren; May no joyful shout enter it. – Job 3:7
Behold, this is the joy of His way; And out of the dust others will spring. – Job 8:19
He will yet fill your mouth with laughter, And your lips with joyful shouting. – Job 8:21
That the rejoicing of the wicked is short, And the joy of the godless momentary? – Job 20:5
The blessing of the one who was about to perish came upon me, And I made the widow's heart sing for joy. – Job 29:13
Then he will pray to God, and He will accept him, So that he may see His face with joy, And He will restore His righteousness to that person. – Job 33:26
When the morning stars sang together And all the sons of God shouted for joy? – Job 38:7
"The wings of the ostrich flap joyously, With the pinion and feathers of love, – Job 39:13
Bible Verses About Joy in Psalm
You have put joy in my heart, More than when their grain and new wine are abundant. – Psalm 4:7
But rejoice, all who take refuge in You, Sing for joy forever! And may You shelter them, That those who love Your name may rejoice in You. – Psalm 5:11
You will make known to me the way of life; In Your presence is fullness of joy; In Your right hand there are pleasures forever. – Psalm 16:11
We will sing for joy over your victory, And in the name of our God we will set up our banners. May the Lord fulfill all your desires. – Psalm 20:5
For You make him most blessed forever; You make him joyful with the joy of Your presence. – Psalm 21:6
And now my head will be lifted up above my enemies around me, And I will offer sacrifices in His tent with shouts of joy; I will sing, yes, I will sing praises to the Lord. – Psalm 27:6
For His anger is but for a moment, His favor is for a lifetime; Weeping may last for the night, But a shout of joy comes in the morning. – Psalm 30:5
You have turned my mourning into dancing for me; You have untied my sackcloth and encircled me with joy, – Psalm 30:11
Be glad in the Lord and rejoice, you righteous ones; And shout for joy, all you who are upright in heart. – Psalm 32:11
Sing for joy in the Lord, you righteous ones; Praise is becoming to the upright. – Psalm 33:1
Sing to Him a new song; Play skillfully with a shout of joy. – Psalm 33:3
May those shout for joy and rejoice, who take delight in my vindication; And may they say continually, "The Lord be exalted, Who delights in the prosperity of His servant." – Psalm 35:27
I remember these things and pour out my soul within me. For I used to go over with the multitude and walk them to the house of God, With a voice of joy and thanksgiving, a multitude celebrating a festival. – Psalm 42:4
Then I will go to the altar of God, To God my exceeding joy; And I will praise You on the lyre, God, my God. – Psalm 43:4
You have loved righteousness and hated wickedness; Therefore God, Your God, has anointed You With the oil of joy above Your companions. – Psalm 45:7
All Your garments are fragrant with myrrh, aloes, and cassia; From ivory palaces stringed instruments have made You joyful. – Psalm 45:8
They will be brought with joy and rejoicing; They will enter into the King's palace. – Psalm 45:15
For the music director. A Psalm of the sons of Korah.
Clap your hands, all you peoples; Shout to God with a voice of joy. – Psalm 47:1
Beautiful in elevation, the joy of the whole earth, Is Mount Zion in the far north, The city of the great King. – Psalm 48:2
Let me hear joy and gladness, Let the bones You have broken rejoice. – Psalm 51:8
Restore to me the joy of Your salvation, And sustain me with a willing spirit. – Psalm 51:12
Save me from the guilt of bloodshed, God, the God of my salvation; Then my tongue will joyfully sing of Your righteousness. – Psalm 51:14
But as for me, I will sing of Your strength; Yes, I will joyfully sing of Your faithfulness in the morning, For You have been my refuge And a place of refuge on the day of my distress. – Psalm 59:16
My soul is satisfied as with fat and fatness, And my mouth offers praises with joyful lips. – Psalm 63:5
For You have been my help, And in the shadow of Your wings I sing for joy. – Psalm 63:7
They who dwell at the ends of the earth stand in awe of Your signs; You make the sunrise and the sunset shout for joy. – Psalm 65:8
The meadows are clothed with flocks And the valleys are covered with grain; They shout for joy, yes, they sing. – Psalm 65:13
For the music director. A Song. A Psalm.
Shout joyfully to God, all the earth; – Psalm 66:1
May the nations be glad and sing for joy; For You will judge the peoples with fairness And guide the nations on the earth. Selah – Psalm 67:4
But the righteous will be joyful; they will rejoice before God; Yes, they will rejoice with gladness. – Psalm 68:3
My lips will shout for joy when I sing praises to You; And my soul, which You have redeemed. – Psalm 71:23
For the music director; on the Gittith. A Psalm of Asaph.
Sing for joy to God our strength; Shout joyfully to the God of Jacob. – Psalm 81:1
My soul longed and even yearned for the courtyards of the Lord; My heart and my flesh sing for joy to the living God. – Psalm 84:2
Make the soul of Your servant joyful, For to You, Lord, I lift up my soul. – Psalm 86:4
Then those who sing as well as those who play the flutes will say, "All my springs of joy are in you." – Psalm 87:7
The north and the south, You have created them; Tabor and Hermon shout for joy at Your name. – Psalm 89:12
Blessed are the people who know the joyful sound! Lord, they walk in the light of Your face. – Psalm 89:15
Satisfy us in the morning with Your graciousness, That we may sing for joy and rejoice all our days. – Psalm 90:14
For You, Lord, have made me joyful by what You have done, I will sing for joy over the works of Your hands. – Psalm 92:4
Come, let's sing for joy to the Lord, Let's shout joyfully to the rock of our salvation. – Psalm 95:1
Let's come before His presence with a song of thanksgiving, Let's shout joyfully to Him in songs with instruments. – Psalm 95:2
May the heavens be joyful, and may the earth rejoice; May the sea roar, and all it contains; – Psalm 96:11
May the field be jubilant, and all that is in it. Then all the trees of the forest will sing for joy – Psalm 96:12
The Lord reigns, may the earth rejoice; May the many islands be joyful. – Psalm 97:1
Zion heard this and was joyful, And the daughters of Judah have rejoiced Because of Your judgments, Lord. – Psalm 97:8
Be joyful in the Lord, you righteous ones, And praise the mention of His holy name. – Psalm 97:12
Shout joyfully to the Lord, all the earth; Be cheerful and sing for joy and sing praises. – Psalm 98:4
With trumpets and the sound of the horn Shout joyfully before the King, the Lord. – Psalm 98:6
May the rivers clap their hands, May the mountains sing together for joy – Psalm 98:8
A Psalm for Thanksgiving.
Shout joyfully to the Lord, all the earth. – Psalm 100:1
Boast in His holy name; May the heart of those who seek the Lord be joyful. – Psalm 105:3
And He led out His people with joy, His chosen ones with a joyful shout. – Psalm 105:43
So that I may see the prosperity of Your chosen ones, That I may rejoice in the joy of Your nation, That I may boast with Your inheritance. – Psalm 106:5
They shall also offer sacrifices of thanksgiving, And tell of His works with joyful singing. – Psalm 107:22
He has the infertile woman live in the house As a joyful mother of children. Praise the Lord! – Psalm 113:9
The sound of joyful shouting and salvation is in the tents of the righteous; The right hand of the Lord performs valiantly. – Psalm 118:15
I have inherited Your testimonies forever, For they are the joy of my heart. – Psalm 119:111
Then our mouth was filled with laughter And our tongue with joyful shouting; Then they said among the nations, "The Lord has done great things for them." – Psalm 126:2
The Lord has done great things for us; We are joyful. – Psalm 126:3
Those who sow in tears shall harvest with joyful shouting. – Psalm 126:5
One who goes here and there weeping, carrying his bag of seed, Shall indeed come again with a shout of joy, bringing his sheaves with him. – Psalm 126:6
May Your priests be clothed with righteousness, And may Your godly ones sing for joy. – Psalm 132:9
I will also clothe her priests with salvation, And her godly ones will sing aloud for joy. – Psalm 132:16
May my tongue cling to the roof of my mouth If I do not remember you, If I do not exalt Jerusalem Above my chief joy. – Psalm 137:6
They will burst forth in speaking of Your abundant goodness, And will shout joyfully of Your righteousness. – Psalm 145:7
Israel shall be joyful in his Maker; The sons of Zion shall rejoice in their King. – Psalm 149:2
The godly ones shall be jubilant in glory; They shall sing for joy on their beds. – Psalm 149:5
Bible Verses About Joy in Proverbs
When things go well for the righteous, the city rejoices, And when the wicked perish, there is joyful shouting. – Proverbs 11:10
Deceit is in the heart of those who devise evil, But counselors of peace have joy. – Proverbs 12:20
The heart knows its own bitterness, And a stranger does not share its joy. – Proverbs 14:10
Even in laughter the heart may be in pain, And the end of joy may be grief. – Proverbs 14:13
A joyful heart makes a cheerful face, But when the heart is sad, the spirit is broken. – Proverbs 15:13
Foolishness is joy to one who lacks sense, But a person of understanding walks straight. – Proverbs 15:21
A person has joy in an apt answer, And how delightful is a timely word! – Proverbs 15:23
He who fathers a fool does so to his sorrow, And the father of a fool has no joy. – Proverbs 17:21
A joyful heart is good medicine, But a broken spirit dries up the bones. – Proverbs 17:22
The exercise of justice is joy for the righteous, But terror to those who practice injustice. – Proverbs 21:15
Bible Verses About Joy in Ecclesiastes
For to a person who is good in His sight, He has given wisdom and knowledge and joy, while to the sinner He has given the task of gathering and collecting so that he may give to one who is good in God's sight. This too is futility and striving after wind. – Ecclesiastes 2:26
For he will not often call to mind the years of his life, because God keeps him busy with the joy of his heart. – Ecclesiastes 5:20
So I commended pleasure, for there is nothing good for a person under the sun except to eat, drink, and be joyful, and this will stand by him in his labor throughout the days of his life which God has given him under the sun. – Ecclesiastes 8:15
People prepare a meal for enjoyment, wine makes life joyful, and money is the answer to everything. – Ecclesiastes 10:19
Bible Verses About Joy in Song of Solomon
Draw me after you and let's run together! The king has brought me into his chambers."
The Chorus
"We will rejoice in you and be joyful; We will praise your love more than wine. Rightly do they love you." – Song of Solomon 1:4
Go out, you daughters of Zion, And look at King Solomon with the crown With which his mother has crowned him On the day of his wedding, And on the day of the joy of his heart." – Song of Solomon 3:11
Bible Verses About Joy in Isaiah
You will multiply the nation, You will increase their joy; They will rejoice in Your presence As with the joy of harvest, As people rejoice when they divide the spoils. – Isaiah 9:3
Therefore you will joyously draw water From the springs of salvation. – Isaiah 12:3
Rejoice and shout for joy, you inhabitant of Zion, For great in your midst is the Holy One of Israel. – Isaiah 12:6
The whole earth is at rest and is quiet; They break forth into shouts of joy. – Isaiah 14:7
Gladness and joy are taken away from the fruitful field; In the vineyards also there will be no cries of joy or jubilant shouting, No treader treads out wine in the presses, For I have made the shouting to cease. – Isaiah 16:10
Instead, there is joy and jubilation, Killing of cattle and slaughtering of sheep, Eating of meat and drinking of wine: "Let's eat and drink, for tomorrow we may die." – Isaiah 22:13
The new wine mourns, The vine decays, All the joyful-hearted sigh. – Isaiah 24:7
The joy of tambourines ceases, The noise of revelers stops, The joy of the harp ceases. – Isaiah 24:8
There is an outcry in the streets concerning the wine; All joy turns to gloom. The joy of the earth is banished. – Isaiah 24:11
They raise their voices, they shout for joy; They cry out from the west concerning the majesty of the Lord. – Isaiah 24:14
Your dead will live; Their corpses will rise. You who lie in the dust, awake and shout for joy, For your dew is as the dew of the dawn, And the earth will give birth to the departed spirits. – Isaiah 26:19
The afflicted also will increase their joy in the Lord, And the needy of mankind will rejoice in the Holy One of Israel. – Isaiah 29:19
For the land of my people in which thorns and briars will come up; Indeed, for all the joyful houses and for the jubilant city. – Isaiah 32:13
The wilderness and the desert will rejoice, And the desert will shout for joy and blossom; Like the crocus – Isaiah 35:1
It will blossom profusely And rejoice with joy and jubilation. The glory of Lebanon will be given to it, The majesty of Carmel and Sharon. They will see the glory of the Lord, The majesty of our God. – Isaiah 35:2
Then those who limp will leap like a deer, And the tongue of those who cannot speak will shout for joy. For waters will burst forth in the wilderness, And streams in the desert. – Isaiah 35:6
And the redeemed of the Lord will return And come to Zion with joyful shouting, And everlasting joy will be on their heads. They will obtain gladness and joy, And sorrow and sighing will flee away. – Isaiah 35:10
Let the wilderness and its cities raise their voices, The settlements which Kedar inhabits. Let the inhabitants of Sela sing aloud, Let them shout for joy from the tops of the mountains. – Isaiah 42:11
Shout for joy, you heavens, for the Lord has done it! Shout joyfully, you lower parts of the earth; Break into a shout of jubilation, you mountains, Forest, and every tree in it; For the Lord has redeemed Jacob, And in Israel He shows His glory. – Isaiah 44:23
Go out from Babylon! Flee from the Chaldeans! Declare with the sound of joyful shouting, proclaim this, Send it out to the end of the earth; Say, "The Lord has redeemed His servant Jacob." – Isaiah 48:20
Shout for joy, you heavens! And rejoice, you earth! Break forth into joyful shouting, mountains! For the Lord has comforted His people And will have compassion on His afflicted. – Isaiah 49:13
Indeed, the Lord will comfort Zion; He will comfort all her ruins. And He will make her wilderness like Eden, And her desert like the garden of the Lord. joy and gladness will be found in her, Thanksgiving and the sound of a melody. – Isaiah 51:3
And the redeemed of the Lord will return And come to Zion with joyful shouting, And everlasting joy will be on their heads. They will obtain gladness and joy, And sorrow and sighing will flee away. – Isaiah 51:11
Listen! Your watchmen raise their voices, They shout joyfully together; For they will see with their own eyes When the Lord restores Zion. – Isaiah 52:8
Be cheerful, shout joyfully together, You ruins of Jerusalem; For the Lord has comforted His people, He has redeemed Jerusalem. – Isaiah 52:9
"Shout for joy, infertile one, you who have not given birth to any child; Break forth into joyful shouting and cry aloud, you who have not been in labor; For the sons of the desolate one will be more numerous Than the sons of the married woman," says the Lord. – Isaiah 54:1
For you will go out with joy And be led in peace; The mountains and the hills will break into shouts of joy before you, And all the trees of the field will clap their hands. – Isaiah 55:12
Even those I will bring to My holy mountain, And make them joyful in My house of prayer. Their burnt offerings and their sacrifices will be acceptable on My altar; For My house will be called a house of prayer for all the peoples." – Isaiah 56:7
"Whereas you have been forsaken and hated With no one passing through, I will make you an object of pride forever, A joy from generation to generation. – Isaiah 60:15
Instead of your shame you will have a double portion, And instead of humiliation they will shout for joy over their portion. Therefore they will possess a double portion in their land, Everlasting joy will be theirs. – Isaiah 61:7
I will rejoice greatly in the Lord, My soul will be joyful in my God; For He has clothed me with garments of salvation, He has wrapped me with a robe of righteousness, As a groom puts on a turban, And as a bride adorns herself with her jewels. – Isaiah 61:10
Behold, My servants will shout joyfully with a glad heart, But you will cry out from a painful heart, And you will wail from a broken spirit. – Isaiah 65:14
Hear the word of the Lord, you who tremble at His word: "Your brothers who hate you, who exclude you on account of My name, Have said, 'Let the Lord be glorified, so that we may see your joy.' But they will be put to shame. – Isaiah 66:5
"Be joyful with Jerusalem and rejoice for her, all you who love her; Be exceedingly glad with her, all you who mourn over her, – Isaiah 66:10
Bible Verses About Joy in Jeremiah
Then I will eliminate from the cities of Judah and from the streets of Jerusalem the voice of joy and the voice of gladness, the voice of the groom and the voice of the bride; for the land will become a site of ruins. – Jeremiah 7:34
Your words were found and I ate them, And Your words became a joy to me and the delight of my heart; For I have been called by Your name, Lord God of armies. – Jeremiah 15:16
For this is what the Lord of armies, the God of Israel says: "Behold, I am going to eliminate from this place, before your eyes and in your time, the voice of rejoicing and the voice of joy, the voice of the groom and the voice of the bride. – Jeremiah 16:9
Moreover, I will eliminate from them the voice of jubilation and the voice of joy, the voice of the groom and the voice of the bride, the sound of the millstones and the light of the lamp. – Jeremiah 25:10
For this is what the Lord says: "Sing aloud with joy for Jacob, And be joyful with the chief of the nations; Proclaim, give praise, and say, 'Lord, save Your people, The remnant of Israel!' – Jeremiah 31:7
"They will come and shout for joy on the height of Zion, And they will be radiant over the bounty of the Lord— Over the grain, the new wine, the oil, And over the young of the flock and the herd. And their life will be like a watered garden, And they will never languish again. – Jeremiah 31:12
Then the virgin will rejoice in the dance, And the young men and the old together; For I will turn their mourning into joy And comfort them, and give them joy for their sorrow. – Jeremiah 31:13
It will be to Me a name of joy, praise, and glory before all the nations of the earth, which will hear of all the good that I do for them, and they will be frightened and tremble because of all the good and all the peace that I make for it.' – Jeremiah 33:9
the voice of joy and the voice of gladness, the voice of the groom and the voice of the bride, the voice of those who say, "Give thanks to the Lord of armies, For the Lord is good, For His mercy is everlasting," as they bring a thanksgiving offering into the house of the Lord. For I will restore the fortunes of the land as they were at first,' says the Lord. – Jeremiah 33:11
Now as soon as all the people who were with Ishmael saw Johanan the son of Kareah and all the commanders of the forces that were with him, they were joyful. – Jeremiah 41:13
So joy and rejoicing are removed From the fruitful field, and from the land of Moab. And I have eliminated the wine from the wine presses; No one will tread them with shouting, The shouting will not be shouts of joy. – Jeremiah 48:33
How the city of praise has not been deserted, The town of My joy! – Jeremiah 49:25
Then heaven and earth and everything that is in them Will shout for joy over Babylon, Because the destroyers will come to her from the north," Declares the Lord. Jeremiah 51:48
Bible Verses About Joy in Lamentations
They have heard that I groan; There is no one to comfort me, All my enemies have heard of my disaster; They are joyful that You have done it. Oh, that You would bring the day which You have proclaimed, So that they will become like me. – Lamentations 1:21
All who pass along the way Clap their hands in ridicule at you; They hiss and shake their heads At the daughter of Jerusalem: "Is this the city of which they said, 'Perfect in beauty, A joy to all the earth'?" – Lamentations 2:15
Rejoice and be joyful, daughter of Edom, Who lives in the land of Uz; But the cup will pass to you as well, You will become drunk and expose yourself. – Lamentations 4:21
The joy of our hearts has ended; Our dancing has been turned into mourning. –
Lamentations 5:15
Bible Verses About Joy in Ezekiel
Your doom has come to you, you inhabitant of the land. The time has come, the day is near—panic rather than joyful shouting on the mountains. – Ezekiel 7:7
'As for you, son of man, will it not be on the day when I take from them their stronghold, the joy of their splendor, that which is precious in their eyes and their heart's longing, their sons and their daughters, – Ezekiel 24:25
therefore the Lord God says this: "Certainly in the fire of My jealousy I have spoken against the rest of the nations, and against all Edom, who appropriated My land for themselves as a possession with wholehearted joy and with contempt of soul, in order to make its pastureland plunder." – Ezekiel 36:5
Bible Verses About Joy in Hosea
I will also put an end to all her joy, Her feasts, her new moons, her Sabbaths, And all her festivals. – Hosea 2:11
Bible Verses About Joy in Joel
The vine has dried up And the fig tree has withered; The pomegranate, the palm also, and the apple tree, All the trees of the field have dried up. Indeed, joy has dried up From the sons of mankind. – Joel 1:12
Has food not been cut off before our eyes, and joy and rejoicing from the house of our God? – Joel 1:16
Do not fear, land; shout for joy and rejoice, For the Lord has done great things. – Joel 2:21
So shout for joy, you sons of Zion, And rejoice in the Lord your God; For He has given you the early rain for your vindication. And He has brought down for you the rain, The early and latter rain as before. – Joel 2:23
Bible Verses About Joy in Habakkuk
The Chaldeans bring all of them up with a hook, Drag them away with their net, And gather them together in their fishing net. Therefore they rejoice and are joyful. – Habakkuk 1:15
Bible Verses About Joy in Zephaniah
Shout for joy, daughter of Zion! Shout in triumph, Israel! Rejoice and triumph with all your heart, Daughter of Jerusalem! – Zephaniah 3:14
The Lord your God is in your midst, A victorious warrior. He will rejoice over you with joy, He will be quiet in His love, He will rejoice over you with shouts of joy. – Zephaniah 3:17
Bible Verses About Joy in Zechariah
Shout for joy and rejoice, daughter of Zion; for behold I am coming and I will dwell in your midst," declares the Lord. – Zechariah 2:10
"The Lord of armies says this: 'The fast of the fourth, the fast of the fifth, the fast of the seventh, and the fast of the tenth months will become joy, jubilation, and cheerful festivals for the house of Judah; so love truth and peace.' – Zechariah 8:19
Ephraim will be like a warrior, And their heart will be joyful as if from wine; Indeed, their children will see it and be joyful, Their heart will rejoice in the Lord. – Zechariah 10:7
Bible Verses About Joy in Matthew
When they saw the star, they rejoiced exceedingly with great joy. – Matthew 2:10
The one sown with seed on the rocky places, this is the one who hears the word and immediately receives it with joy; – Matthew 13:20
"The kingdom of heaven is like a treasure hidden in the field, which a man found and hid again; and from joy over it he goes and sells everything that he has, and buys that field. – Matthew 13:44
His master said to him, 'Well done, good and faithful slave. You were faithful with a few things, I will put you in charge of many things; enter the joy of your master.' – Matthew 25:21
His master said to him, 'Well done, good and faithful slave. You were faithful with a few things, I will put you in charge of many things; enter the joy of your master.' – Matthew 25:23
And they left the tomb quickly with fear and great joy, and ran to report to His disciples. – Matthew 28:8
Bible Verses About Joy in Mark
And in a similar way these are the ones sown with seed on the rocky places, who, when they hear the word, immediately receive it with joy; – Mark 4:16
Bible Verses About Joy in Luke
You will have joy and gladness, and many will rejoice over his birth. – Luke 1:14
For behold, when the sound of your greeting reached my ears, the baby leaped in my womb for joy. – Luke 1:44
And so the angel said to them, "Do not be afraid; for behold, I bring you good news of great joy which will be for all the people; – Luke 2:10
Rejoice on that day and jump for joy, for behold, your reward is great in heaven. For their fathers used to treat the prophets the same way. – Luke 6:23
Those on the rocky soil are the ones who, when they hear, receive the word with joy; and yet these do not have a firm root; they believe for a while, and in a time of temptation they fall away. – Luke 8:13
Now the seventy-two returned with joy, saying, "Lord, even the demons are subject to us in Your name!" – Luke 10:17
I tell you that in the same way, there will be more joy in heaven over one sinner who repents than over ninety-nine righteous people who have no need of repentance. – Luke 15:7
In the same way, I tell you, there is joy in the presence of the angels of God over one sinner who repents." – Luke 15:10
And he hurried and came down, and received Him joyfully. – Luke 19:6
And as soon as He was approaching, near the descent of the Mount of Olives, the whole crowd of the disciples began to praise God joyfully with a loud voice for all the miracles which they had seen, – Luke 19:37
While they still could not believe it because of their joy and astonishment, He said to them, "Have you anything here to eat?" – Luke 24:41
And they, after worshiping Him, returned to Jerusalem with great joy, – Luke 24:52
Bible Verses About Joy in John
He who has the bride is the groom; but the friend of the groom, who stands and listens to him, rejoices greatly because of the groom's voice. So this joy of mine has been made full. – John 3:29
These things I have spoken to you so that My joy may be in you, and that your joy may be made full. – John 15:11
Truly, truly I say to you that you will weep and mourn, but the world will rejoice; you will grieve, but your grief will be turned into joy! – John 16:20
Whenever a woman is in labor she has pain, because her hour has come; but when she gives birth to the child, she no longer remembers the anguish because of the joy that a child has been born into the world. – John 16:21
Therefore you too have grief now; but I will see you again, and your heart will rejoice, and no one is going to take your joy away from you. – John 16:22
Until now you have asked for nothing in My name; ask and you will receive, so that your joy may be made full. – John 16:24
But now I am coming to You; and these things I speak in the world so that they may have My joy made full in themselves. – John 17:13
Bible Verses About Joy in Acts
When she recognized Peter's voice, because of her joy she did not open the gate, but ran in and announced that Peter was standing in front of the gate. – Acts 12:14
And the disciples were continually filled with joy and with the Holy Spirit. – Acts 13:52
Therefore, after being sent on their way by the church, they were passing through both Phoenicia and Samaria, describing in detail the conversion of the Gentiles, and they were bringing great joy to all the brothers and sisters. – Acts 15:3
Bible Verses About Joy in Romans
For I joyfully agree with the law of God in the inner person, – Romans 7:22
for the kingdom of God is not eating and drinking, but righteousness and peace and joy in the Holy Spirit. – Romans 14:17
Now may the God of hope fill you with all joy and peace in believing, so that you will abound in hope by the power of the Holy Spirit. – Romans 15:13
so that I may come to you in joy by the will of God and relax in your company. – Romans 15:32
Bible Verses About Joy in 2 Corinthians
Not that we domineer over your faith, but we are workers with you for your joy; for in your faith you are standing firm. – 2 Corinthians 1:24
This is the very thing I wrote you, so that when I came, I would not have sorrow from those who ought to make me rejoice; having confidence in you all that my joy was the joy of you all. – 2 Corinthians 2:3
My confidence in you is great; my boasting in your behalf is great. I am filled with comfort; I am overflowing with joy in all our affliction. – 2 Corinthians 7:4
Because of this, we have been comforted. And besides our comfort, we rejoiced even much more for the joy of Titus, because his spirit has been refreshed by you all. – 2 Corinthians 7:13
that in a great ordeal of affliction their abundance of joy and their deep poverty overflowed in the wealth of their liberality. – 2 Corinthians 8:2
Bible Verses About Joy in Galatians
But the fruit of the Spirit is love, joy, peace, patience, kindness, goodness, faithfulness, – Galatians 5:22
Bible Verses About Joy in Philippians
always offering prayer with joy in my every prayer for you all, – Philippians 1:4
Convinced of this, I know that I will remain and continue with you all for your progress and joy in the faith, – Philippians 1:25
make my joy complete by being of the same mind, maintaining the same love, united in spirit, intent on one purpose. – Philippians 2:2
But even if I am being poured out as a drink offering upon the sacrifice and service of your faith, I rejoice and share my joy with you all. – Philippians 2:17
You too, I urge you, rejoice in the same way and share your joy with me. – Philippians 2:18
Receive him then in the Lord with all joy, and hold people like him in high regard, – Philippians 2:29
Therefore, my beloved brothers and sisters, whom I long to see, my joy and crown, stand firm in the Lord in this way, my beloved. – Philippians 4:1
Bible Verses About Joy in Colossians
strengthened with all power, according to His glorious might, for the attaining of all perseverance and patience; joyously – Colossians 1:11
Bible Verses About Joy in 1 Thessalonians
You also became imitators of us and of the Lord, having received the word during great affliction with the joy of the Holy Spirit, – 1 Thessalonians 1:6
For who is our hope, or joy or crown of pride, in the presence of our Lord Jesus at His coming? Or is it not indeed you? – 1 Thessalonians 2:19
For you are our glory and joy. – 1 Thessalonians 2:20
For what thanks can we give to God for you in return for all the joy with which we rejoice because of you before our God, – 1 Thessalonians 3:9
Bible Verses About Joy in 2 Timothy
longing to see you, even as I recall your tears, so that I may be filled with joy. – 2 Timothy 1:4
Bible Verses About Joy in Philemon
For I have had great joy and comfort in your love, because the hearts of the saints have been refreshed through you, brother. – Philemon 1:7
Bible Verses About Joy in Hebrews
You have loved righteousness and hated lawlessness; Therefore God, Your God, has anointed You With the oil of joy above Your companions." – Hebrews 1:9
For you showed sympathy to the prisoners and accepted joyfully the seizure of your property, knowing that you have for yourselves a better and lasting possession. – Hebrews 10:34
looking only at Jesus, the originator and perfecter of the faith, who for the joy set before Him endured the cross, despising the shame, and has sat down at the right hand of the throne of God. – Hebrews 12:2
Obey your leaders and submit to them—for they keep watch over your souls as those who will give an account—so that they may do this with joy, not groaning; for this would be unhelpful for you. – Hebrews 13:17
Bible Verses About Joy in James
Consider it all joy, my brothers and sisters, when you encounter various trials, – James 1:2
Be miserable, and mourn, and weep; let your laughter be turned into mourning, and your joy into gloom. – James 4:9
Bible Verses About Joy in 1 Peter
and though you have not seen Him, you love Him, and though you do not see Him now, but believe in Him, you greatly rejoice with joy inexpressible and full of glory, – 1 Peter 1:8
Bible Verses About Joy in 1 John
These things we write, so that our joy may be made complete. – 1 John 1:4
Bible Verses About Joy in 2 John
Though I have many things to write to you, I do not want to do so with paper and ink; but I hope to come to you and speak face to face, so that your joy may be made complete. – 2 John 1:12
Bible Verses About Joy in 3 John
I have no greater joy than this, to hear of my children walking in the truth. – 3 John 1:4
Bible Verses About Joy in Jude
Now to Him who is able to protect you from stumbling, and to make you stand in the presence of His glory, blameless with great joy, – Jude 1:24