The Bible is full of verses about prayer. From personal prayers to corporate prayers. From prayers of confession to prayers of jubilant rejoicing. The Psalms is a book of the Bible given for the purpose of prayer and praise.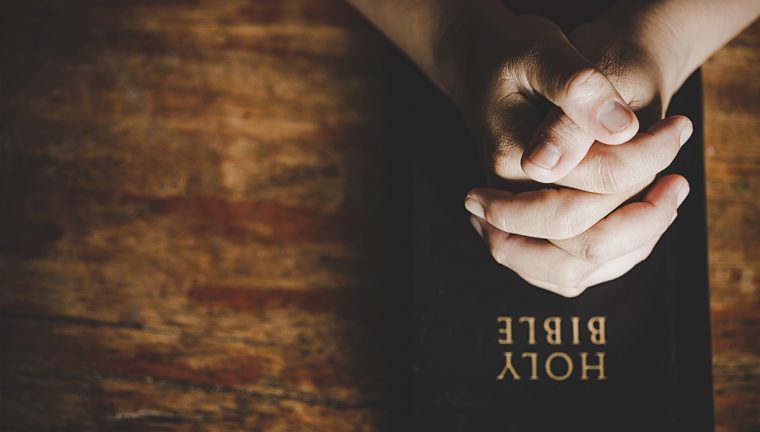 As you read Scripture, you will read the prayers of Moses, David, Jeremiah, and Jesus. You will receive guidance about how to pray as you read the Old Testament, the teachings of Jesus and the writings of the Apostles. We hope the selection of verses below will deepen your knowledge of prayer as you strive to grow in your own prayer life. (All verses are taken from the New American Standard Version of the Bible.)
What Does the Bible Say About Prayer?
Scripture says that prayer should be our first defense when we are faced with anxiety and trials. The following New Testament verses offer guidance on how to pray when feeling worried.
This is the confidence which we have before Him, that, if we ask anything according to His will, He hears us. And if we know that He hears us in whatever we ask, we know that we have the requests which we have asked from Him. – 1 John 5:14-15
Do not be anxious about anything, but in everything by prayer and pleading with thanksgiving let your requests be made known to God. And the peace of God, which surpasses all comprehension, will guard your hearts and minds in Christ Jesus. – Philippians 4:6-7
What Did Jesus Teach About Prayer?
Jesus taught extensively on the subject of prayer, contradicting the traditions of the religious leaders of His day. Below is a sample of His radical teachings on the subject.
It happened that while Jesus was praying in a certain place, when He had finished, one of His disciples said to Him, "Lord, teach us to pray, just as John also taught his disciples." And He said to them, "When you pray, say:

'Father, hallowed be Your name.
Your kingdom come.
Give us each day our [e]daily bread.
And forgive us our sins,
For we ourselves also forgive everyone who is indebted to us.
And do not lead us into temptation.'" – Luke 11:1-4
And whatever you ask in My name, this I will do, so that the Father may be glorified in the Son. If you ask Me anything in My name, I will do it. – John 14:13-14
"And when you pray, you are not to be like the hypocrites; for they love to stand and pray in the synagogues and on the street corners so that they will be seen by people. Truly I say to you, they have their reward in full. But as for you, when you pray, go into your inner room, close your door, and pray to your Father who is in secret; and your Father who sees what is done in secret will reward you.

"And when you are praying, do not use thoughtless repetition as the Gentiles do, for they think that they will be heard because of their many words. So do not be like them; for your Father knows what you need before you ask Him. – Matthew 6:5-8
What Does the Bible Say About Praying For Healing?
The Bible is full of promises about healing, encouraging us to simply ask in faith when we are suffering from various illnesses.
Is anyone among you sick? Then he must call for the elders of the church and they are to pray over him, anointing him with oil in the name of the Lord; 15 and the prayer of faith will restore the one who is sick, and the Lord will raise him up, and if he has committed sins, they will be forgiven him. – James 5:14-15
And He said to her, "Daughter, your faith has made you well; go in peace and be cured of your disease." – Mark 5:34
Every Mention of Prayer in the Bible
We've included all mentions of the word "prayer" in the NASB below. We hope reflecting on these verses will deepen your knowledge of God's Word!
Bible Verses About Prayer in 2 Samuel
For You, Lord of armies, God of Israel, have given a revelation to Your servant, saying, 'I will build you a house'; therefore Your servant has found courage to pray this prayer to You. – 2 Samuel 7:27
Then they buried the bones of Saul and his son Jonathan in the country of Benjamin in Zela, in the grave of his father Kish; So they did everything that the king commanded, and after that God responded to prayer for the land. – 2 Samuel 21:14
Then David built there an altar to the Lord, and he offered burnt offerings and peace offerings. And the Lord responded to prayer for the land, and the plague was withdrawn from Israel. – 2 Samuel 24:25
Bible Verses About Prayer in 1 Kings
Nevertheless, turn Your attention to the prayer of Your servant and to his plea, Lord, my God, to listen to the cry and to the prayer which Your servant prays before You today, – 1 Kings 8:28
so that Your eyes may be open toward this house night and day, toward the place of which You have said, 'My name shall be there,' to listen to the prayer which Your servant will pray toward this place. – 1 Kings 8:29
whatever prayer or plea is offered by any person or by all Your people Israel, each knowing the affliction of his own heart, and spreading his hands toward this house; – 1 Kings 8:38
then hear in heaven their prayer and their pleading, and maintain their cause. – 1 Kings 8:45
then hear their prayer and their pleading in heaven, Your dwelling place, and maintain their cause, – 1 Kings 8:49
When Solomon had finished praying this entire prayer and plea to the Lord, he stood up from the altar of the Lord, from kneeling on his knees with his hands spread toward heaven. – 1 Kings 8:54
And the Lord said to him, "I have heard your prayer and your plea which you have offered before Me; I have consecrated this house which you have built, by putting My name there forever, and My eyes and My heart will be there always. – 1 Kings 9:3
Bible Verses About Prayer in 2 Kings
Perhaps the Lord your God will hear all the words of Rabshakeh, whom his master the king of Assyria has sent to taunt the living God, and will avenge the words which the Lord your God has heard. Therefore, offer a prayer for the remnant that is left.'" – 2 Kings 19:4
"Return and say to Hezekiah the leader of My people, 'This is what the Lord, the God of your father David says: "I have heard your prayer, I have seen your tears; behold, I am going to heal you. On the third day you shall go up to the house of the Lord. – 2 Kings 20:5
Bible Verses About Prayer in 1 Chronicles
They were helped against them, and the Hagrites and all who were with them were handed over to them; for they cried out to God in the battle, and He answered their prayers because they trusted in Him. – 1 Chronicles 5:20
Bible Verses About Prayer in 2 Chronicles
Nevertheless, turn Your attention to the prayer of Your servant and to his plea, Lord, my God, to listen to the cry and to the prayer which Your servant prays before You; – 2 Chronicles 6:19
that Your eye will be open toward this house day and night, toward the place of which You have said that You would put Your name there, to listen to the prayer which Your servant shall pray toward this place. – 2 Chronicles 6:20
whatever prayer or plea is made by anyone or by all Your people Israel, each knowing his own affliction and his own pain, and spreading his hands toward this house, – 2 Chronicles 6:29
then hear from heaven their prayer and their pleading, and maintain their cause. – 2 Chronicles 6:35
then hear from heaven, from Your dwelling place, their prayer and pleadings, and maintain their cause, and forgive Your people who have sinned against You. – 2 Chronicles 6:39
"Now, my God, please, let Your eyes be open and Your ears attentive to the prayer offered in this place. – 2 Chronicles 6:40
Then the Lord appeared to Solomon at night and said to him, "I have heard your prayer and have chosen this place for Myself as a house of sacrifice. – 2 Chronicles 7:12
Now My eyes will be open and My ears attentive to the prayer offered in this place. – 2 Chronicles 7:15
Then the Levitical priests stood and blessed the people; and their voice was heard and their prayer came to His holy dwelling place, to heaven. – 2 Chronicles 30:27
Now the rest of the acts of Manasseh and his prayer to his God, and the words of the seers who spoke to him in the name of the Lord God of Israel, behold, they are among the records of the kings of Israel. – 2 Chronicles 33:18
His prayer also and how God was moved by him, and all his sin, his unfaithfulness, and the sites on which he built high places and erected the Asherim and the carved images, before he humbled himself, behold, they are written in the records of Hozai. – 2 Chronicles 33:19
Bible Verses About Prayer in Nehemiah
let Your ear now be attentive and Your eyes open, to hear the prayer of Your servant which I am praying before You now, day and night, on behalf of the sons of Israel Your servants, confessing the sins of the sons of Israel which we have committed against You; I and my father's house have sinned. – Nehemiah 1:6
Please, Lord, may Your ear be attentive to the prayer of Your servant and the prayer of Your servants who delight to revere Your name, and please make Your servant successful today and grant him mercy before this man." Now I was the cupbearer to the king. – Nehemiah 1:11
and Mattaniah the son of Mica, the son of Zabdi, the son of Asaph, who was the leader in beginning the thanksgiving at prayer, and Bakbukiah, the second among his kinsmen; and Abda the son of Shammua, the son of Galal, the son of Jeduthun. – Nehemiah 11:17
Bible Verses About Prayer in Job
Although there is no violence in my hands, And my prayer is pure. – Job 16:17
Bible Verses About Prayer in Psalm
For the music director; on stringed instruments. A Psalm of David.
Answer me when I call, God of my righteousness! You have relieved me in my distress; Be gracious to me and hear my prayer. – Psalm 4:1
In the morning, Lord, You will hear my voice; In the morning I will present my prayer to You and be on the watch. – Psalm 5:3
The Lord has heard my pleading, The Lord receives my prayer. – Psalm 6:9
A prayer of David.
Hear a just cause, Lord, give Your attention to my cry; Listen to my prayer, which is not from deceitful lips. – Psalm 17:1
But as for me, when they were sick, my clothing was sackcloth; I humbled my soul with fasting, But my prayer kept returning to me. – Psalm 35:13
"Hear my prayer, Lord, and listen to my cry for help; Do not be silent to my tears; For I am a stranger with You, One who lives abroad, like all my fathers. – Psalm 39:12
The Lord will send His goodness in the daytime; And His song will be with me in the night, A prayer to the God of my life. – Psalm 42:8
Hear my prayer, God; Listen to the words of my mouth. – Psalm 54:2
For the music director; on stringed instruments. A Maskil of David.
Listen to my prayer, God; And do not hide Yourself from my pleading. – Psalm 55:1
For the music director; on a stringed instrument. A Psalm of David.
Hear my cry, God; Give Your attention to my prayer. – Psalm 61:1
You who hear prayer, To You all mankind comes. – Psalm 65:2
But God has heard; He has given attention to the sound of my prayer. – Psalm 66:19
Blessed be God, Who has not turned away my prayer
Nor His favor from me. – Psalm 66:20
But as for me, my prayer is to You, Lord, at an acceptable time; God, in the greatness of Your mercy, Answer me with Your saving truth. – Psalm 69:13
The prayers of David the son of Jesse are ended. – Psalm 72:20
Lord God of armies, How long will You be angry with the prayer of Your people? – Psalm 80:4
Lord God of armies, hear my prayer; Listen, God of Jacob! Selah – Psalm 84:8
A prayer of David.
Incline Your ear, Lord, and answer me; For I am afflicted and needy. – Psalm 86:1
Listen, Lord, to my prayer; And give Your attention to the sound of my pleading! –
Psalm 86:6
Let my prayer come before You; Incline Your ear to my cry! – Psalm 88:2
But I, Lord, have cried out to You for help, And in the morning my prayer comes before You. – Psalm 88:13
A prayer of the afflicted when he is weak and pours out his complaint before the Lord. – Psalm 102:1
He has turned His attention to the prayer of the destitute And has not despised their prayer. – Psalm 102:17
In return for my love they act as my accusers; But I am in prayer. – Psalm 109:4
When he is judged, may he come out guilty, And may his prayer become sin. – Psalm 109:7
May my prayer be counted as incense before You; The raising of my hands as the evening offering. – Psalm 141:2
May the righteous strike me with mercy and discipline me; It is oil for the head; My head shall not refuse it, For my prayer is still against their evil deeds. – Psalm 141:5
Maskil of David, when he was in the cave. A prayer.
I cry out with my voice to the Lord; With my voice I implore the Lord for compassion. – Psalm 142:1
A Psalm of David.
Hear my prayer, Lord, Listen to my pleadings! Answer me in Your faithfulness, in Your righteousness! – Psalm 143:1
Bible Verses About Prayer in Proverbs
The sacrifice of the wicked is an abomination to the Lord, But the prayer of the upright is His delight. – Proverbs 15:8
The Lord is far from the wicked, But He hears the prayer of the righteous. – Proverbs 15:29
One who turns his ear away from listening to the Law, Even his prayer is an abomination. – Proverbs 28:9
Bible Verses About Prayer in Isaiah
So when you spread out your hands in prayer, I will hide My eyes from you; Yes, even though you offer many prayers, I will not be listening. Your hands are covered with blood. – Isaiah 1:15
Lord, they sought You in distress; They could only whisper a prayer, Your discipline was upon them. – Isaiah 26:16
Perhaps the Lord your God will hear the words of Rabshakeh, whom his master the king of Assyria has sent to taunt the living God, and will avenge the words which the Lord your God has heard. Therefore, offer a prayer for the remnant that is left.'" – Isaiah 37:4
"Go and say to Hezekiah, 'This is what the Lord, the God of your father David says: "I have heard your prayer, I have seen your tears; behold, I will add fifteen years to your life. – Isaiah 38:5
Even those I will bring to My holy mountain, And make them joyful in My house of prayer. Their burnt offerings and their sacrifices will be acceptable on My altar; For My house will be called a house of prayer for all the peoples." – Isaiah 56:7
Bible Verses About Prayer in Jeremiah
"As for you, do not pray for this people, and do not lift up a cry or prayer for them, and do not plead with Me; for I am not listening to you. – Jeremiah 7:16
"So as for you, do not pray for this people, nor lift up a cry or prayer for them; for I will not listen when they call to Me because of their disaster. – Jeremiah 11:14
Bible Verses About Prayer in Lamentations
Even when I cry out and call for help, He shuts out my prayer. – Lamentations 3:8
You have veiled Yourself with a cloud So that no prayer can pass through. – Lamentations 3:44
Bible Verses About Prayer in Daniel
All the commissioners of the kingdom, the prefects and the satraps, the counselors and the governors, have consulted together that the king should establish a statute and enforce an injunction that anyone who offers a prayer to any god or person besides you, O king, for thirty days, shall be thrown into the lions' den. – Daniel 6:7
Then these men came by agreement and found Daniel offering a prayer and imploring favor before his God. – Daniel 6:11
Then they approached and spoke before the king about the king's injunction: "Did you not sign an injunction that any person who offers a prayer to any god or person besides you, O king, for thirty days, is to be thrown into the lions' den?" The king replied, "The statement is true, according to the law of the Medes and Persians, which may not be revoked." – Daniel 6:12
Then they responded and spoke before the king, "Daniel, who is one of the exiles from Judah, pays no attention to you, O king, or to the injunction which you signed, but keeps offering his prayer three times a day." – Daniel 6:13
So I gave my attention to the Lord God, to seek Him by prayer and pleading, with fasting, sackcloth, and ashes. – Daniel 9:3
So now, our God, listen to the prayer of Your servant and to his pleas, and for Your sake, Lord, let Your face shine on Your desolate sanctuary. – Daniel 9:17
while I was still speaking in prayer, the man Gabriel, whom I had seen in the vision previously, came to me in my extreme weariness about the time of the evening offering. – Daniel 9:21
Bible Verses About Prayer in Jonah
While I was fainting away, I remembered the Lord, And my prayer came to You, Into Your holy temple. – Jonah 2:7
Bible Verses About Prayer in Habakkuk
A prayer of Habakkuk the prophet, according to Shigionoth. – Habakkuk 3:1
Bible Verses About Prayer in Matthew
And He *said to them, "It is written: 'My house will be called a house of prayer'; but you are making it a den of robbers." – Matthew 21:13
And whatever you ask in prayer, believing, you will receive it all." – Matthew 21:22
Bible Verses About Prayer in Mark
And He said to them, "This kind cannot come out by anything except prayer." – Mark 9:29
And He began to teach and say to them, "Is it not written: 'My house will be called a house of prayer for all the nations'? But you have made it a den of robbers." – Mark 11:17
who devour widows' houses, and for appearance's sake offer long prayers. These will receive all the more condemnation." – Mark 12:40
Bible Verses About Prayer in Luke
And the whole multitude of the people were in prayer outside at the hour of the incense offering. – Luke 1:10
But the angel said to him, "Do not be afraid, Zechariah, for your prayer has been heard, and your wife Elizabeth will bear you a son, and you shall name him John. – Luke 1:13
and then as a widow to the age of eighty-four. She did not leave the temple grounds, serving night and day with fasts and prayers. – Luke 2:37
And they said to Him, "The disciples of John often fast and offer prayers, the disciples of the Pharisees also do the same, but Yours eat and drink." – Luke 5:33
Now it was at this time that He went off to the mountain to pray, and He spent the whole night in prayer with God. – Luke 6:12
saying to them, "It is written: 'And My house will be a house of prayer,' but you have made it a den of robbers." – Luke 19:46
who devour widows' houses, and for appearance's sake offer long prayers. These will receive all the more condemnation." – Luke 20:47
When He rose from prayer, He came to the disciples and found them sleeping from sorrow, – Luke 22:45
Bible Verses About Prayer in Acts
All these were continually devoting themselves with one mind to prayer, along with the women, and Mary the mother of Jesus, and with His brothers. – Acts 1:14
They were continually devoting themselves to the apostles' teaching and to fellowship, to the breaking of bread and to prayer. – Acts 2:42
Now Peter and John were going up to the temple at the ninth hour, the hour of prayer. – Acts 3:1
But we will devote ourselves to prayer and to the ministry of the word." – Acts 6:4
And he looked at him intently and became terrified, and said, "What is it, lord?" And he said to him, "Your prayers and charitable gifts have ascended as a memorial offering before God. – Acts 10:4
and he *said, 'Cornelius, your prayer has been heard and your charitable gifts have been remembered before God. – Acts 10:31
So Peter was kept in the prison, but prayer for him was being made to God intensely by the church. – Acts 12:5
And on the Sabbath day we went outside the gate to a riverside, where we were thinking that there was a place of prayer; and we sat down and began speaking to the women who had assembled. – Acts 16:13
It happened that as we were going to the place of prayer, a slave woman who had a spirit of divination met us, who was bringing great profit to her masters by fortune-telling. – Acts 16:16
Bible Verses About Prayer in Romans
always in my prayers requesting if perhaps now, at last by the will of God, I will succeed in coming to you. – Romans 1:10
Brothers and sisters, my heart's desire and my prayer to God for them is for their salvation. – Romans 10:1
rejoicing in hope, persevering in tribulation, devoted to prayer, – Romans 12:12
Now I urge you, brothers and sisters, by our Lord Jesus Christ and by the love of the Spirit, to strive together with me in your prayers to God for me, – Romans 15:30
Bible Verses About Prayer in 1 Corinthians
Stop depriving one another, except by agreement for a time so that you may devote yourselves to prayer, and come together again so that Satan will not tempt you because of your lack of self-control. – 1 Corinthians 7:5
Bible Verses About Prayer in 2 Corinthians
if you also join in helping us through your prayers, so that thanks may be given by many persons in our behalf for the favor granted to us through the prayers of many. – 2 Corinthians 1:11
while they also, by prayer on your behalf, yearn for you because of the surpassing grace of God in you. – 2 Corinthians 9:14
Bible Verses About Prayer in Ephesians
do not cease giving thanks for you, while making mention of you in my prayers; – Ephesians 1:16
With every prayer and request, pray at all times in the Spirit, and with this in view, be alert with all perseverance and every request for all the saints, – Ephesians 6:18
Bible Verses About Prayer in Philippians
always offering prayer with joy in my every prayer for you all, – Philippians 1:4
for I know that this will turn out for my deliverance through your prayers and the provision of the Spirit of Jesus Christ, – Philippians 1:19
Do not be anxious about anything, but in everything by prayer and pleading with thanksgiving let your requests be made known to God. – Philippians 4:6
Bible Verses About Prayer in Colossians
Devote yourselves to prayer, keeping alert in it with an attitude of thanksgiving; – Colossians 4:2
Epaphras, who is one of your own, a bond-servant of Christ Jesus, sends you his greetings, always striving earnestly for you in his prayers, that you may stand mature and fully assured in all the will of God. – Colossians 4:12
Bible Verses About Prayer in 1 Thessalonians
We always give thanks to God for all of you, making mention of you in our prayers; – 1 Thessalonians 1:2
Bible Verses About Prayer in 1 Timothy
First of all, then, I urge that requests, prayers, intercession, and thanksgiving be made in behalf of all people, – 1 Timothy 2:1
for it is sanctified by means of the word of God and prayer. – 1 Timothy 4:5
Now she who is actually a widow and has been left alone has set her hope on God, and she continues in requests and prayers night and day. – 1 Timothy 5:5
Bible Verses About Prayer in 2 Timothy
I thank God, whom I serve with a clear conscience the way my forefathers did, as I constantly remember you in my prayers night and day, – 2 Timothy 1:3
Bible Verses About Prayer in Philemon
I thank my God always, making mention of you in my prayers, – Philemon 1:4
At the same time also prepare me a guest room, for I hope that through your prayers I will be given to you. – Philemon 1:22
Bible Verses About Prayer in Hebrews
In the days of His humanity, He offered up both prayers and pleas with loud crying and tears to the One able to save Him from death, and He was heard because of His devout behavior. – Hebrews 5:7
Bible Verses About Prayer in James
and the prayer of faith will restore the one who is sick, and the Lord will raise him up, and if he has committed sins, they will be forgiven him. – James 5:15
Therefore, confess your sins to one another, and pray for one another so that you may be healed. A prayer of a righteous person, when it is brought about, can accomplish much. – James 5:16
Bible Verses About Prayer in 1 Peter
You husbands in the same way, live with your wives in an understanding way, as with someone weaker, since she is a woman; and show her honor as a fellow heir of the grace of life, so that your prayers will not be hindered. – 1 Peter 3:7
For the eyes of the Lord are toward the righteous, And His ears attend to their prayer, But the face of the Lord is against evildoers." – 1 Peter 3:12
The end of all things is near; therefore, be of sound judgment and sober spirit for the purpose of prayer. – 1 Peter 4:7
Bible Verses About Prayer in Revelation
When He had taken the scroll, the four living creatures and the twenty-four elders fell down before the Lamb, each one holding a harp and golden bowls full of incense, which are the prayers of the saints. – Revelation 5:8
Another angel came and stood at the altar, holding a golden censer; and much incense was given to him, so that he might add it to the prayers of all the saints on the golden altar which was before the throne. – Revelation 8:3
And the smoke of the incense ascended from the angel's hand with the prayers of the saints before God. – Revelation 8:4