The Bible is filled with verses about marriage. Scripture holds marriage in highest regard, going so far as to call it a picture of the Gospel, Christ's relationship with His bride the Church. From the first marriage in the Garden of Eden to the Wedding Supper in John's Revelation, there is much to learn about this subject in the Bible.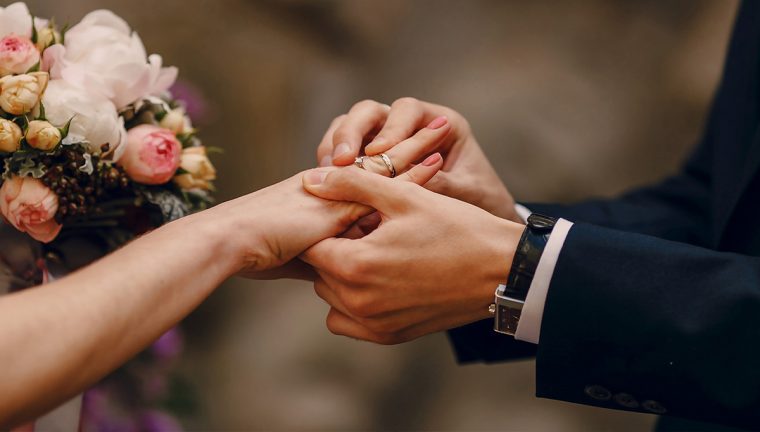 Whether you are wondering about how to improve your own marriage or are preparing to be married in the future, we hope that the verses below will help deepen your understanding of how God views marriage. (All verses are taken from the New American Standard Version of the Bible.)
What the Bible Says About Marriage
Marriage is to be held in honor among all, and the marriage bed is to be undefiled; for God will judge the sexually immoral and adulterers. – Hebrews 13:4
Do not be mismatched with unbelievers; for what do righteousness and lawlessness share together, or what does light have in common with darkness? – 2 Corinthians 6:14
Therefore, what God has joined together, no person is to separate." – Mark 10 :9
What the Bible Says about a Loving Marriage
God's intention is for marriages to be loving, with husbands being gentle to their wives and wives being supportive of their husbands.
Be kind to one another, compassionate, forgiving each other, just as God in Christ also has forgiven you. – Ephesians 4:32
Above all, keep fervent in your love for one another, because love covers a multitude of sins. – 1 Peter 4:8
Love is patient, love is kind, it is not jealous; love does not brag, it is not arrogant. It does not act disgracefully, it does not seek its own benefit; it is not provoked, does not keep an account of a wrong suffered, it does not rejoice in unrighteousness, but rejoices with the truth; it keeps every confidence, it believes all things, hopes all things, endures all things.

Love never fails; but if there are gifts of prophecy, they will be done away with; if there are tongues, they will cease; if there is knowledge, it will be done away with. – 1 Corinthians 13:4-8
What the Bible Says About Handling Conflict in Marriage
No matter how strong a marriage is, conflicts will arise. What determines a healthy marriage is how that conflict is handled.
You know this, my beloved brothers and sisters. Now everyone must be quick to hear, slow to speak, and slow to anger; – James 1:19
And He answered and said, "Have you not read that He who created them from the beginning made them male and female, and said, 'For this reason a man shall leave his father and his mother and be joined to his wife, and the two shall become one flesh'? So they are no longer two, but one flesh. Therefore, what God has joined together, no person is to separate." – Matthew 19:4-6
Every Mention of the Word "Marriage" in the Bible
We've included all mentions of the word "marriage" in the NASB below. We hope reflecting on these verses will deepen your knowledge of God's Word!
Bible Verses About Marriage in Genesis
But Hamor spoke with them, saying, "The soul of my son Shechem longs for your daughter; please give her to him in marriage. – Genesis 34:8
Demand of me ever so much bridal payment and gift, and I will give whatever you tell me; but give me the girl in marriage." – Genesis 34:12
"These men are friendly to us; therefore let them live in the land and trade in it, for behold, the land is large enough for them. We will take their daughters in marriage, and give our daughters to them. – Genesis 34:21
Bible Verses About Marriage in Leviticus
He shall not defile himself as a relative by marriage among his people, so as to profane himself. – Leviticus 21:4
Bible Verses About Marriage in Deuteronomy
"A man shall not take his father's wife in marriage, so that he does not uncover his father's garment. – Deuteronomy 22:30
Bible Verses About Marriage in Judges
He had thirty sons, and thirty daughters whom he gave in marriage outside the family, and he brought in thirty daughters from outside for his sons. And he judged Israel for seven years. – Judges 12:9
Now the men of Israel had sworn in Mizpah, saying, "None of us shall give his daughter to Benjamin in marriage." – Judges 21:1
Bible Verses About Marriage in 1 Kings
Now Solomon formed a marriage alliance with Pharaoh king of Egypt, and took Pharaoh's daughter and brought her to the city of David until he had finished building his own house and the house of the Lord, and the wall around Jerusalem. – 1 Kings 3:1
Now Hadad found great favor in the sight of Pharaoh, so that he gave him in marriage the sister of his own wife, the sister of Tahpenes the queen. – 1 Kings 11:19
Bible Verses About Marriage in 2 Kings
But Jehoash king of Israel sent messengers to Amaziah king of Judah, saying, "The thorn bush that was in Lebanon sent word to the cedar that was in Lebanon, saying, 'Give your daughter to my son in marriage.' But a wild animal that was in Lebanon passed by and trampled the thorn bush. – 2 Kings 14:9
Bible Verses About Marriage in 1 Chronicles
Sheshan gave his daughter to his servant Jarha in marriage, and she bore to him Attai. – 1 Chronicles 2:35
Bible Verses About Marriage in 2 Chronicles
Now Jehoshaphat had great riches and honor; and he allied himself by marriage to Ahab. – 2 Chronicles 18:1
Bible Verses About Marriage in Malachi
Yet you say, "For what reason?" Because the Lord has been a witness between you and the wife of your youth, against whom you have dealt treacherously, though she is your marriage companion and your wife by covenant. – Malachi 2:14
Bible Verses About Marriage in Matthew
In the resurrection, therefore, whose wife of the seven will she be? For they all had her in marriage." – Matthew 22:28
For in the resurrection they neither marry nor are given in marriage, but are like angels in heaven. – Matthew 22:30
For as in those days before the flood they were eating and drinking, marrying and giving in marriage, until the day that Noah entered the ark, – Matthew 24:38
Bible Verses About Marriage in Mark
For when they rise from the dead, they neither marry nor are given in marriage, but are like angels in heaven. – Mark 12:25
Bible Verses About Marriage in Luke
And there was a prophetess, Anna, the daughter of Phanuel, of the tribe of Asher. She was advanced in years and had lived with her husband for seven years after her marriage, – Luke 2:36
people were eating, they were drinking, they were marrying, and they were being given in marriage, until the day that Noah entered the ark, and the flood came and destroyed them all. – Luke 17:27
Jesus said to them, "The sons of this age marry and the women are given in marriage, – Luke 20:34
but those who are considered worthy to attain to that age and the resurrection from the dead, neither marry nor are given in marriage; – Luke 20:35
Bible Verses About Marriage in 1 Corinthians
So then, both the one who gives his own virgin in marriage does well, and the one who does not give her in marriage will do better. – 1 Corinthians 7:38
Bible Verses About Marriage in 1 Timothy
who forbid marriage and advocate abstaining from foods which God has created to be gratefully shared in by those who believe and know the truth. – 1 Timothy 4:3
Bible Verses About Marriage in Hebrews
marriage is to be held in honor among all, and the marriage bed is to be undefiled; for God will judge the sexually immoral and adulterers. – Hebrews 13:4
Bible Verses About Marriage in Revelation
Let's rejoice and be glad and give the glory to Him, because the marriage of the Lamb has come, and His bride has prepared herself." – Revelation 19:7