The Bible is full of verses about patience. Patience is the fourth fruit of the Spirit listed in Galatians 5:22-23. Scripture calls on us to wait patiently on God during trials.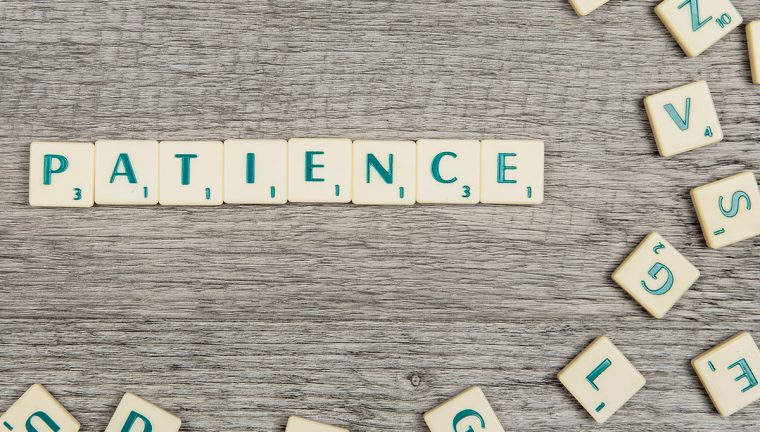 We hope that the collection of verses we've compiled below will be a great help to you as you strive to grow in patience. (All verses are taken from the New American Standard Version of the Bible.)
What the Bible Says About Patience
Patience is a vital part of the Christian life. Below are two examples from the New Testament that demonstrate how crucial patience is.
But the fruit of the Spirit is love, joy, peace, patience, kindness, goodness, faithfulness, gentleness, self-control; against such things there is no law. – Galatians 5:22-23
So, as those who have been chosen of God, holy and beloved, put on a heart of compassion, kindness, humility, gentleness, and patience; – Colossians 3:12
What Does the Bible Say About Having Patience With One Another
It can be tempting to grow annoyed with other people. But Scripture calls us to be patient with one another and to bear each other's burdens.
One who is slow to anger is better than the mighty,
And one who rules his spirit, than one who captures a city. – Proverbs 16:32
We urge you, brothers and sisters, admonish the unruly, encourage the fainthearted, help the weak, be patient with everyone. – 1 Thessalonians 5:14
You know this, my beloved brothers and sisters. Now everyone must be quick to hear, slow to speak, and slow to anger; – James 1:19
What Does the Bible Say About Patiently Waiting on the Lord?
Sometimes trials in life can seem never ending. When you feel like you are about to lose hope, Scripture provides encouragement to wait patiently on the Lord to renew your strength.
Rest in the Lord and wait patiently for Him;
Do not get upset because of one who is successful in his way,
Because of the person who carries out wicked schemes.
Cease from anger and abandon wrath;
Do not get upset; it leads only to evildoing.
For evildoers will be eliminated,
But those who wait for the Lord, they will inherit the land. – Psalm 37:7-9
The Lord is not slow about His promise, as some count slowness, but is patient toward you, not willing for any to perish, but for all to come to repentance. – 2 Peter 3:9
Every Mention of the Word "Patience" in the Bible
We've included all mentions of the word "patience" in the NASB below. We hope reflecting on these verses will deepen your knowledge of God's Word!
Bible Verses About Patience in Proverbs
Through patience a ruler may be persuaded, And a gentle tongue breaks bone. – Proverbs 25:15
Bible Verses About Patience in Ecclesiastes
The end of a matter is better than its beginning; Patience of spirit is better than arrogance of spirit. – Ecclesiastes 7:8
Bible Verses About Patience in Isaiah
Then he said, "Listen now, house of David! Is it too trivial a thing for you to try the patience of men, that you will try the patience of my God as well? – Isaiah 7:13
Bible Verses About Patience in Jeremiah
You know, Lord; Remember me, take notice of me, And take vengeance for me on my persecutors. Do not, in view of Your patience, take me away; Know that for Your sake I endure reproach. – Jeremiah 15:15
Bible Verses About Patience in Matthew
So the slave fell to the ground and prostrated himself before him, saying, 'Have patience with me and I will repay you everything.' – Matthew 18:26
So his fellow slave fell to the ground and began to plead with him, saying, 'Have patience with me and I will repay you.' – Matthew 18:29
Bible Verses About Patience in Romans
Or do you think lightly of the riches of His kindness and restraint and patience, not knowing that the kindness of God leads you to repentance? – Romans 2:4
What if God, although willing to demonstrate His wrath and to make His power known, endured with great patience objects of wrath prepared for destruction? – Romans 9:22
Bible Verses About Patience in 2 Corinthians
in purity, in knowledge, in patience, in kindness, in the Holy Spirit, in genuine love, – 2 Corinthians 6:6
Bible Verses About Patience in Galatians
But the fruit of the Spirit is love, joy, peace, patience, kindness, goodness, faithfulness, – Galatians 5:22
Bible Verses About Patience in Ephesians
with all humility and gentleness, with patience, bearing with one another in love, – Ephesians 4:2
Bible Verses About Patience in Colossians
Strengthened with all power, according to His glorious might, for the attaining of all perseverance and patience; joyously – Colossians 1:11
So, as those who have been chosen of God, holy and beloved, put on a heart of compassion, kindness, humility, gentleness, and patience; – Colossians 3:12
Bible Verses About Patience in 1 Timothy
Yet for this reason I found mercy, so that in me as the foremost sinner Jesus Christ might demonstrate His perfect patience as an example for those who would believe in Him for eternal life. – 1 Timothy 1:16
Bible Verses About Patience in 2 Timothy
Now you followed my teaching, conduct, purpose, faith, patience, love, perseverance, – 2 Timothy 3:10
preach the word; be ready in season and out of season; correct, rebuke, and exhort, with great patience and instruction. – 2 Timothy 4:2
Bible Verses About Patience in James
As an example, brothers and sisters, of suffering and patience, take the prophets who spoke in the name of the Lord. – James 5:10
Bible Verses About Patience in 1 Peter
For what credit is there if, when you sin and are harshly treated, you endure it with patience? But if when you do what is right and suffer for it you patiently endure it, this finds favor with God. – 1 Peter 2:20
who once were disobedient when the patience of God kept waiting in the days of Noah, during the construction of the ark, in which a few, that is, eight persons, were brought safely through the water. – 1 Peter 3:20
Bible Verses About Patience in 2 Peter
and regard the patience of our Lord as salvation; just as also our beloved brother Paul, according to the wisdom given him, wrote to you, – 2 Peter 3:15