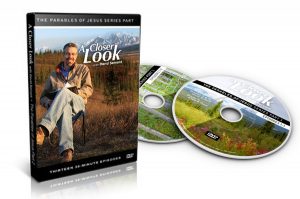 Jesus often spoke to His followers in parables in order that they might understand the mysteries of the kingdom of God. In this video teaching series, David Servant takes a closer look at nine of Jesus' parables that were specifically directed towards believers. They include the parables of The Sower and the Soils, The Wheat and the Tares, The Hidden Treasure, The Unforgiving Servant, The Laborers in the Vineyard, The Good Samaritan, The Rich Fool, The Unrighteous Steward, and The Rich Man and Lazarus.
David makes no attempt to alter or soften the challenging messages contained within any of Jesus' parables. The result is a thought-provoking study that is perfect for personal devotions, group Bible studies, and home churches.
The four-DVD set in an attractive compact case includes thirteen 30-minute teachings that were filmed in the Alaskan wilderness. Also included are short and interesting side-trips as the camera follows David to some of Alaska's most interesting places. You can order your copy below for $35, which includes free shipping in the U.S. The Parables of Jesus DVD Series, Part 2 is also available for purchase by clicking here.
Product Details

Publisher: Heaven's Family
Episodes: 13 Episodes on 4 DVDs
Location: Filmed in Alaska
Price: $35.00 (free shipping)
These prices are for books and videos shipped within the United States only. For prices on international orders, please
contact us
. Also contact us for discounted pricing on orders of 10 or more copies.