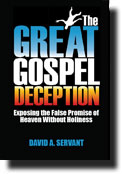 All of the links below will take you to consecutive chapters of a book by David Servant titled The Great Gospel Deception. This book examines the modern gospel that is so popular in America and around the globe, but that is often lacking when compared to the gospel of the Bible. The primary difference is that the modern gospel portrays a grace that is foreign to Scripture, a grace that is actually a license to sin. Whereas the gospel of the Bible reveals a grace from God that offers people a limited time to repent and a promise of freedom from sin. Jesus told the woman caught in adultery, "I do not condemn you, either. Go. From now on sin no more" (John 8:11). You can be certain that if that woman continued in her sin, when she stood at Christ's judgment seat after her death, she did not hear the same words again. Likewise, God is graciously giving every person a limited opportunity to repent, so that each person will stand before Him forgiven and striving to follow Him to "enter through the narrow gate" (Matt. 7:13).
Chapter 1: The Unrighteous Shall Not Inherit This introduction and first chapter lay a biblical foundation that proves that heaven is only for obedient followers of Christ, no matter how much faith they may claim to have. True saving faith is followed by works of obedience. Truly born-again people are set free from sin's dominion.
Chapter 2: The Immoral "Christian" This chapter shows that no immoral person, even if he claims to be a Christian, will enter heaven. This chapter also exposes the hypocrisy of many professing Christians who appear outwardly pure but inwardly are lustful and thus heading for hell.
Chapter 3: The Greedy "Christian" This chapter defines what greed is (you may be surprised) and shows that no greedy person will enter heaven. Jesus warned that many who think they are His sheep really are goats, and their true nature is revealed by what they do with their money. Greedy people are actually idolaters. This chapter also outlines practical steps for better stewardship.
Chapter 4: The Uncommitted "Christian" This fourth chapter exposes the false belief that one can be a believer in Christ without being a disciple of Christ. True Christians are committed to Jesus and deny themselves for His sake and the sake of the gospel. This chapter also considers modern teaching regarding so-called "carnal Christians."
Chapter 5: The Antinomian "Christian" Many professing Christians unfortunately think that because salvation is received by faith, keeping God's laws has nothing to do with salvation. Scripture teaches, however, that faith and works cannot be separated. What many today call legalism, God calls "the holiness without which no one will see the Lord" (Heb. 12:14).
Chapter 6: Jesus' Greatest Salvation Sermon The Sermon on the Mount is Jesus' longest sermon of record, in which Jesus makes it very clear that only those who do the will of His Father will enter the kingdom of heaven. He warned that our righteousness must exceed that of the Scribes and Pharisees or hell is our destiny. In this important sermon, Jesus revealed that His followers must possess an inward holiness that manifests itself outward actions.
Chapter 7: Jesus' Greatest Salvation Sermon Continues Christians are not "under the law of Moses," but they are definitely "under the law of Christ." Jesus continues to expound upon His law in the Sermon on the Mount.
Chapter 8: Sanctification: Perfecting Holiness Salvation begins with repentance and continues with on-going repentance, the process known as progressive sanctification. True believers "hunger and thirst for righteousness," and this hunger is evident by their disciplining themselves for the purpose of godliness. This chapter lists every commandment Jesus has given us to obey.
Chapter 9: Striving Against Sin We grow in holiness as we cooperate, as an act of our will, with the indwelling Holy Spirit.
Chapter 10: Beware of False Teachers Jesus warned us that the outstanding characteristic of false teachers is their diminishing the importance of holiness. We are told by Jesus to look at the example that spiritual leaders are setting before us and know if they are wolves in sheep's clothing.
Chapter 11: The Assurance of Salvation It is possible to be assured right now if we are truly saved, and in his first epistle, John tells us three tests by which we can make that determination. He makes it clear that there is definitely a link between obedience to the Lord and possession assurance of our salvation.
Chapter 12: Revival When? This final chapter is an impassioned cry for the church's return to a biblical gospel that calls people to a living faith that actually saves. Only when the church does embrace the gospel of Jesus and His apostles will there be any hope of true revival.