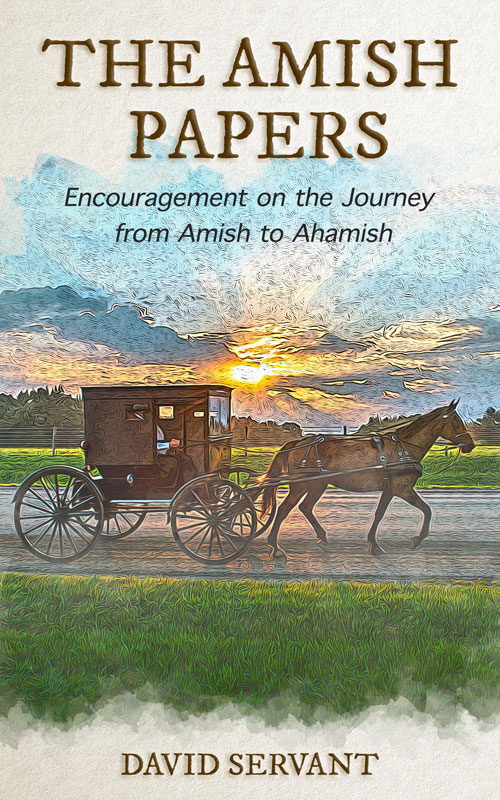 My wife and I live in the midst of Pennsylvania's third-largest Amish community, near Smicksburg, Pennsylvania. We relocated there in early 2021 after three local Amish carpenters remodeled an 1890 barn I inherited which has now become our year-round residence as well as a retreat center and meeting place.
We grew to love and appreciate those Amish carpenters and their families, but it eventually dawned on us that none of them had experienced what all their Anabaptist ancestors four centuries ago cherished as the centerpiece of their faith. That is, none of them had been born again and indwelt by the Holy Spirit. They were moral to some degree, and they kept all the Amish rules of their community (at least when in public), but they were, to borrow a New Testament-based phrase, "spiritually dead." They had no desire to discuss spiritual matters or the Bible. They had no desire to share their faith because they really had no faith worth sharing…no gospel to spread. They had no assurance of salvation, but only hoped to be good enough to be accepted by God and permitted into heaven.
So, naturally, my wife and I tried to bring some light into their darkness. We consequently initiated spiritual conversations…that always went nowhere. We frequently talked about our faith and what God was doing in and through us. They listened politely, but our efforts never sparked a meaningful conversation. I even went so far as to offer to pay them their same hourly wage to have a weekly one-hour Bible study during their work hours at my barn, at which we would all share our thoughts about some of Jesus' parables. They flatly turned me down.
I eventually discovered that one of them was an Amish bishop, and he had been for decades. When I asked him if I could visit his church gathering some Sunday to hear him preach, he became very angry and accused me of harassing him and trying to "infiltrate" his church! I was soon told by my Amish friends that they would no longer work for me. I could only think of the "hard soil" about which Jesus warned us in His Parable of the Sower and the Soils.
Having since interfaced with hundreds of similarly- hardened Amish hearts, I realize that my three Amish carpenter friends represented tens of thousands of other Amish people across North America who are living in spiritual darkness, blinded by centuries of tradition and social pressure. How our hearts break for them!
Yet I've also discovered that some Amish hearts are opening. The blinders are falling from their hearts and minds. It is for them that I've compiled the chapters in this book, to help them on their spiritual journey from being Amish to becoming "Ahamish."
What does it mean to become "Ahamish"?  That is a word I coined to describe the Amish person who discovers the biblical truths that were universally believed by the early Anabaptists, all of which can be found in the 1632 Dordrecht Confession. At that discovery, the darkness lifts, the Holy Spirit arrives, and the born-again Amish person says, "Aha!" From that point onward, he views his life as "before Christ" and "after Christ." He has become a "new creation" (2 Cor. 5:17), just like any other person, Amish or non-Amish, who is born again (see John 3:1-16).
Thankfully, God has connected my wife and I to some Ahamish folks who live in a different Amish community about 30 minutes from where we live. When we first met them, they consisted of about six adults. Now, less than a year later, they consist of about 30 adults, plus all their children. They have subsequently been excommunicated from their Amish community for "adopting a new faith." The truth, however, is that they have embraced an old faith—that of their Anabaptist ancestors four centuries ago, and that of the New Testament apostles as well as the Lord Jesus Christ. They have been born again and indwelt by the Holy Spirit. And their faith is now reaching out across North America and even to other places around the world.
All of the chapters in this book were written at different times over the past few years that I have been interfacing with Amish people. I have placed those chapters in the chronological order in which they were written, and I have added a little background information at the beginning of each chapter. Together, I hope they will not only provide encouragement for those on the journey from Amish to Ahamish, but also help equip those who are trying to spread biblical light into the darkness of the Amish world, perhaps even among their Amish relatives and friends. One thing is certain: No Amish person will believe what they have never had a chance to believe. It is up to those of us who have some connection to the Amish world to give them that opportunity. As you spread the truth, may God lead you to some receptive hearts!
David Servant
March 2023
Chapter 1: An Honest Look at the 1632 Dordrecht Confession of Faith 
Chapter 2: What Does it Really Mean to be Born Again? 
Chapter 3: Unless You Become Like a Child 
Chapter 4: Born Again and Amish 
Chapter 5: Amish or Ahamish? 
Chapter 6: Why Even Good Amish People, and Not Just Bad Amish People, Need to Repent and be Born Again 
Chapter 7: To Everyone Who is Hoping to be Good Enough to Get into Heaven 
Chapter 8: A Tale of Two Ordnungs 
Chapter 9: The 2022 Johnsonburg Confession 
Chapter 10: Does This Sound Like You? 
Chapter 11: The Truth About the Johnsonburg Awakening 
Chapter 12: My Apology, Replies to My Letter, and Hope for Family Reconciliation 
Chapter 13: Regarding the Traditions You Were Taught 
Chapter 14: To Those Who Have "Broken Their Lifetime Vows" to the Amish Church 
Chapter 15: Regarding Honoring Your Parents 
Chapter 16: Coping with Amish Family Rejection 
Chapter 17: Regarding the Ominous Predictions about Your Children by Your Still-Amish Family 
Chapter 18: Are You "Worldly" Like They Accuse You? 
Chapter 19: The Amish Prison Uniform 
Chapter 20: Women's Head Coverings in Corinth: Are the Amish Doing it Right?