No matter what business you work for or what your job title is, teamwork is critical to your success. Working well with clients, colleagues, your boss and other coworkers can help you finish your work more quickly while also creating a pleasant environment for yourself and others. A healthy, high-functioning workplace is often one that stresses teamwork.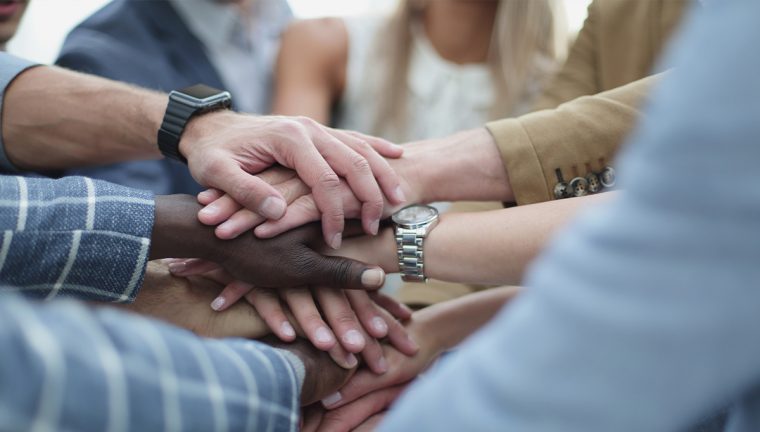 God's Word says much about working together, and not just in a corporate setting. In Scripture, we find wisdom about how to work well with others in ministry and in the Church.
The Bible verses below will help you better understand teamwork and the skills you need to develop to work well with others.

What the Bible Says About Working Together
If the foot says, "Because I am not a hand, I am not a part of the body," it is not for this reason any less a part of the body. – 1 Corinthians 12:15
But to each one is given the manifestation of the Spirit for the common good. – 1 Corinthians 12:7
The Importance of Love in Working Together
Below are two Bible verses about the important role that love plays in working well with others.
In addition to all these things put on love, which is the perfect bond of unity. – Colossians 3:14
25 so that there may be no division in the body, but that the parts may have the same care for one another. – 1 Corinthians 12:25
Why We Need To Work Together Despite Our Differences
God sometimes requires us to work with people we struggle to get along with. Below are several verses that provide guidance on this subject.
For just as we have many parts in one body and all the body's parts do not have the same function, – Romans 12:4
Make my joy complete by being of the same mind, maintaining the same love, united in spirit, intent on one purpose. – Philippians 2:2
But now God has arranged the parts, each one of them in the body, just as He desired. – 1 Corinthians 12:18
Every Mention of the Word "Working" in the Bible
We've included all mentions of the word "working" in the NASB below. We hope reflecting on these verses will deepen your knowledge of God's Word!
Bible Verses About Working in Exodus
Who is like You among the gods, Lord? Who is like You, majestic in holiness, Awesome in praises, working wonders? – Exodus 15:11
Then God said, "Behold, I am going to make a covenant. Before all your people I will perform miracles which have not been produced in all the earth nor among any of the nations; and all the people among whom you live will see the working of the Lord, for it is a fearful thing that I am going to perform with you. – Exodus 34:10
to create designs for working in gold, in silver, and in bronze, – Exodus 35:32
Bible Verses About Working in 2 Chronicles
Then they handed it over to the workmen who had the oversight of the house of the Lord, and the workmen who were working in the house of the Lord used it to restore and repair the house. – 2 Chronicles 34:10
Bible Verses About Working in Ecclesiastes
on the day that the watchmen of the house tremble, and strong men are bent over, the grinders stop working because they are few, and those who look through windows grow dim; – Ecclesiastes 12:3
Bible Verses About Working in Isaiah
The craftsman of iron shapes a cutting tool and does his work over the coals, fashioning it with hammers and working it with his strong arm. He also gets hungry and his strength fails; he drinks no water and becomes weary. – Isaiah 44:12
Bible Verses About Working in Ezekiel
'This is what the Lord God says: "The gate of the inner courtyard facing east shall be shut for the six working days; but it shall be opened on the Sabbath day and opened on the day of the new moon. – Ezekiel 46:1
Bible Verses About Working in John
But He answered them, "My Father is working until now, and I Myself am working." – John 5:17
Bible Verses About Working in Acts
In everything I showed you that by working hard in this way you must help the weak and remember the words of the Lord Jesus, that He Himself said, 'It is more blessed to give than to receive.' " – Acts 20:35
Bible Verses About Working in 1 Corinthians
and we labor, working with our own hands; when we are verbally abused, we bless; when we are persecuted, we endure it; – 1 Corinthians 4:12
Or do only Barnabas and I have no right to refrain from working? – 1 Corinthians 9:6
Bible Verses About Working in 2 Corinthians
And working together with Him, we also urge you not to receive the grace of God in vain— for He says, "At a favorable time I listened to you, And on a day of salvation I helped you." Behold, now is "a favorable time," behold, now is "a day of salvation"— giving no reason for taking offense in anything, so that the ministry will not be discredited, … – 2 Corinthians 6:1
Bible Verses About Working in Galatians
For in Christ Jesus neither circumcision nor uncircumcision means anything, but faith working through love. – Galatians 5:6
Bible Verses About Working in Ephesians
and what is the boundless greatness of His power toward us who believe. These are in accordance with the working of the strength of His might – Ephesians 1:19
in which you previously walked according to the course of this world, according to the prince of the power of the air, of the spirit that is now working in the sons of disobedience. – Ephesians 2:2
of which I was made a minister, according to the gift of God's grace which was given to me according to the working of His power. – Ephesians 3:7
from whom the whole body, being fitted and held together by what every joint supplies, according to the proper working of each individual part, causes the growth of the body for the building up of itself in love. – Ephesians 4:16
Bible Verses About Working in Colossians
having been buried with Him in baptism, in which you were also raised with Him through faith in the working of God, who raised Him from the dead. – Colossians 2:12
Bible Verses About Working in 1 Thessalonians
For you recall, brothers and sisters, our labor and hardship: it was by working night and day so as not to be a burden to any of you, that we proclaimed to you the gospel of God. – 1 Thessalonians 2:9
Bible Verses About Working in 2 Thessalonians
nor did we eat anyone's bread without paying for it, but with labor and hardship we kept working night and day so that we would not be a burden to any of you; – 2 Thessalonians 3:8
Bible Verses About Working in 2 Timothy
The hard-working farmer ought to be the first to receive his share of the crops. – 2 Timothy 2:6
Bible Verses About Working in Hebrews
equip you in every good thing to do His will, working in us that which is pleasing in His sight, through Jesus Christ, to whom be the glory forever and ever. Amen. – Hebrews 13:21
Bible Verses About Working in James
You see that faith was working with his works, and as a result of the works, faith was perfected; – James 2:22