The Bible is full of verses about peace. And with all of the chaos in our world today, we need these promises for peace more than ever. If you feel overwhelmed by the noise in the media or your own life's circumstances, God offers an escape for you in His Word.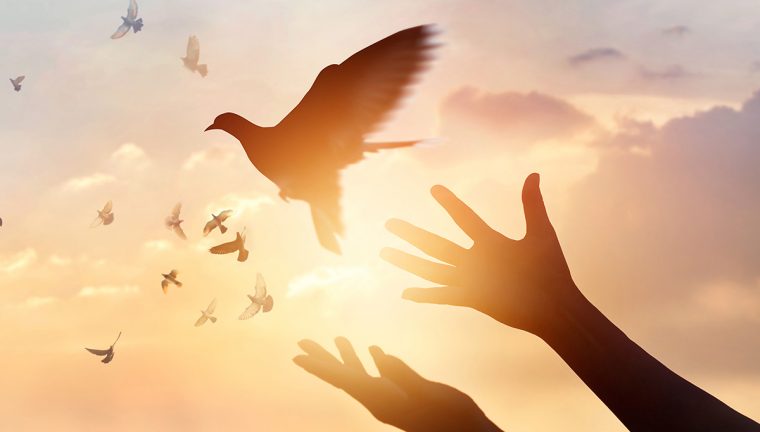 We hope that the collection of verses about peace below will be a great encouragement to you, whatever you are facing today. (All verses are taken from the New American Standard Version of the Bible.)
What the Bible Says About Peace
God calls His people to pursue lives of peace, imitating Him.
not returning evil for evil or insult for insult, but giving a blessing instead; for you were called for the very purpose that you would inherit a blessing. For,

"The one who desires life, to love and see good days,
Must keep his tongue from evil and his lips from speaking deceit.
He must turn away from evil and do good;
He must seek peace and pursue it. – 1 Peter 3:9-11
for God is not a God of confusion, but of peace. – 1 Corinthians 14:33
What the Bible Says About Peace During Uncertain Times
No matter what circumstances you are facing, God calls you to trust Him and to receive His peace. His promise for peace is one that you can fully rely on.
Do not be anxious about anything, but in everything by prayer and pleading with thanksgiving let your requests be made known to God. And the peace of God, which surpasses all comprehension, will guard your hearts and minds in Christ Jesus. – Philippians 4:6-7
Behold, God is my salvation,
I will trust and not be afraid;
For the Lord God is my strength and song,
And He has become my salvation." – Isaiah 12:2
For the mountains may be removed and the hills may shake,
But My favor will not be removed from you,
Nor will My covenant of peace be shaken,"
Says the Lord who has compassion on you. – Isaiah 54:10
What the Bible Says About Peacemakers
Those who desire to be disciples of Christ must be willing to make peace.
Blessed are the peacemakers, for they will be called sons of God. – Matthew 5:9
And the fruit of righteousness is sown in peace by those who make peace. – James 3:18
Deceit is in the heart of those who devise evil,
But counselors of peace have joy. – Proverbs 12:20
Every Mention of the Word "Peace" in the Bible
We've included all mentions of the word "peace" in the NASB below. We hope reflecting on these verses will deepen your knowledge of God's Word!
Bible Verses About Peace in Genesis
As for you, you shall go to your fathers in peace; you will be buried at a good old age. – Genesis 15:15
that you will do us no harm, just as we have not touched you and have done to you nothing but good, and have sent you away in peace. You are now the blessed of the Lord." – Genesis 26:29
In the morning they got up early and exchanged oaths; then Isaac sent them away, and they left him in peace. – Genesis 26:31
But he said, "peace be to you, do not be afraid. Your God and the God of your father has given you treasure in your sacks; your money was in my possession." Then he brought Simeon out to them. – Genesis 43:23
But he said, "Far be it from me to do this. The man in whose possession the cup has been found, he shall be my slave; but as for you, go up in peace to your father." – Genesis 44:17
Bible Verses About Peace in Exodus
Then Moses departed and returned to his father-in-law Jethro, and said to him, "Please, let me go, that I may return to my brothers who are in Egypt, and see if they are still alive." And Jethro said to Moses, "Go in peace." – Exodus 4:18
If you do this thing and God so commands you, then you will be able to endure, and all these people also will go to their places in peace." – Exodus 18:23
You shall make an altar of earth for Me, and you shall sacrifice on it your burnt offerings and your peace offerings, your sheep and your oxen; in every place where I cause My name to be remembered, I will come to you and bless you. – Exodus 20:24
And he sent young men of the sons of Israel, and they offered burnt offerings and sacrificed bulls as peace offerings to the Lord. – Exodus 24:5
It shall be for Aaron and his sons as their portion forever from the sons of Israel, for it is a contribution; and it shall be a contribution from the sons of Israel from the sacrifices of their peace offerings, their contribution to the Lord. – Exodus 29:28
So the next day they got up early and offered burnt offerings, and brought peace offerings; and the people sat down to eat and to drink, and got up to engage in lewd behavior. – Exodus 32:6
Bible Verses About Peace in Leviticus
'Now if his offering is a sacrifice of peace offerings, if he is going to offer from the herd, whether male or female, he shall offer it without defect before the Lord. – Leviticus 3:1
From the sacrifice of the peace offerings he shall then present an offering by fire to the Lord, the fat that covers the entrails and all the fat that is on the entrails, – Leviticus 3:3
But if his offering for a sacrifice of peace offerings to the Lord is from the flock, he shall offer it, male or female, without defect. – Leviticus 3:6
From the sacrifice of peace offerings he shall then bring as an offering by fire to the Lord, its fat, the entire fat tail which he shall remove close to the backbone, the fat that covers the entrails, and all the fat that is on the entrails, – Leviticus 3:9
(just as it is removed from the ox of the sacrifice of peace offerings); and the priest is to offer them up in smoke on the altar of burnt offering. – Leviticus 4:10
And he shall offer all its fat up in smoke on the altar as in the case of the fat of the sacrifice of peace offerings. So the priest shall make atonement for him regarding his sin, and he will be forgiven. – Leviticus 4:26
Then he shall remove all its fat, just as the fat was removed from the sacrifice of peace offerings; and the priest shall offer it up in smoke on the altar as a soothing aroma to the Lord. So the priest shall make atonement for him, and he will be forgiven. – Leviticus 4:31
Then he shall remove all its fat, just as the fat of the lamb is removed from the sacrifice of the peace offerings, and the priest shall offer it up in smoke on the altar, on the offerings by fire to the Lord. So the priest shall make atonement for him regarding his sin which he has committed, and he will be forgiven. – Leviticus 4:35
The fire on the altar shall be kept burning on it. It shall not go out, but the priest shall burn wood on it every morning; and he shall lay out the burnt offering on it, and offer up in smoke the fat portions of the peace offerings on it. – Leviticus 6:12
'Now this is the law of the sacrifice of peace offerings which shall be presented to the Lord. – Leviticus 7:11
With the sacrifice of his peace offerings for thanksgiving, he shall present his offering with cakes of leavened bread. – Leviticus 7:13
Of this he shall present one of every offering as a contribution to the Lord; it shall belong to the priest who sprinkles the blood of the peace offerings. – Leviticus 7:14
'Now as for the flesh of the sacrifice of his thanksgiving peace offerings, it shall be eaten on the day of his offering; he shall not leave any of it over until morning. – Leviticus 7:15
So if any of the flesh of the sacrifice of his peace offerings is ever eaten on the third day, he who offers it will not be accepted, and it will not be credited to him. It will be an unclean thing, and the person who eats it shall bear his punishment. – Leviticus 7:18
But the person who eats the flesh of the sacrifice of peace offerings which belong to the Lord, when he is unclean, that person shall be cut off from his people. – Leviticus 7:20
When anyone touches anything unclean, whether human uncleanness, or an unclean animal, or any unclean detestable thing, and eats of the flesh of the sacrifice of peace offerings which belong to the Lord, that person shall be cut off from his people.'" – Leviticus 7:21
"Speak to the sons of Israel, saying, 'He who offers the sacrifice of his peace offerings to the Lord shall bring his offering to the Lord from the sacrifice of his peace offerings. – Leviticus 7:29
And you shall give the right thigh to the priest as a contribution from the sacrifices of your peace offerings. – Leviticus 7:32
The one among the sons of Aaron who offers the blood of the peace offerings and the fat, the right thigh shall be his as his portion. – Leviticus 7:33
For I have taken from the sons of Israel the breast of the wave offering and the thigh of the contribution from the sacrifices of their peace offerings, and have given them to Aaron the priest and to his sons as their allotted portion forever from the sons of Israel. – Leviticus 7:34
This is the law of the burnt offering, the grain offering, the sin offering and the guilt offering, and the ordination offering and the sacrifice of peace offerings, – Leviticus 7:37
and an ox and a ram for peace offerings, to sacrifice before the Lord, and a grain offering mixed with oil; for today the Lord will appear to you.'" – Leviticus 9:4
Then he slaughtered the ox and the ram, the sacrifice of peace offerings which was for the people; and Aaron's sons brought the blood to him, and he sprinkled it around on the altar. – Leviticus 9:18
Then Aaron lifted up his hands toward the people and blessed them, and he stepped down after making the sin offering, the burnt offering, and the peace offerings. – Leviticus 9:22
The breast of the wave offering, however, and the thigh of the offering you may eat in a clean place, you and your sons and your daughters with you; for they have been given as your allotted portion and your sons' allotted portion from the sacrifices of the peace offerings of the sons of Israel. -Leviticus 10:14
This shall be done so that the sons of Israel will bring their sacrifices which they were sacrificing in the open field—so that they will bring them to the Lord at the doorway of the tent of meeting to the priest, and sacrifice them as sacrifices of peace offerings to the Lord. – Leviticus 17:5
'Now when you offer a sacrifice of peace offerings to the Lord, you shall offer it so that you may be accepted. – Leviticus 19:5
When someone offers a sacrifice of peace offerings to the Lord to fulfill a special vow or for a voluntary offering, of the herd or of the flock, it must be without defect to be accepted; there shall be no defect in it. – Leviticus 22:21
You shall also offer one male goat as a sin offering, and two male lambs one year old as a sacrifice of peace offerings. – Leviticus 23:19
I shall also grant peace in the land, so that you may lie down, with no one to make you afraid. I shall also eliminate harmful animals from the land, and no sword will pass through your land. – Leviticus 26:6
Bible Verses About Peace in Numbers
And he shall present his offering to the Lord: one male lamb a year old without defect as a burnt offering, one ewe lamb a year old without defect as a sin offering, one ram without defect as a peace offering, – Numbers 6:14
He shall also offer the ram as a sacrifice of peace offerings to the Lord, together with the basket of unleavened bread; the priest shall also offer its grain offering and its drink offering. – Numbers 6:17
The Nazirite shall then shave his consecrated head of hair at the entrance of the tent of meeting, and take the consecrated hair of his head and put it on the fire which is under the sacrifice of peace offerings. – Numbers 6:18
The Lord lift up His face to you, And give you peace.' – Numbers 6:26
and for the sacrifice of peace offerings, two oxen, five rams, five male goats, and five male lambs one year old. This was the offering of Nahshon the son of Amminadab. – Numbers 7:17
and for the sacrifice of peace offerings, two oxen, five rams, five male goats, and five male lambs one year old. This was the offering of Nethanel the son of Zuar. – Numbers 7:23
and for the sacrifice of peace offerings, two oxen, five rams, five male goats, and five male lambs one year old. This was the offering of Eliab the son of Helon. – Numbers 7:29
and for the sacrifice of peace offerings, two oxen, five rams, five male goats, and five male lambs one year old. This was the offering of Elizur the son of Shedeur. – Numbers 7:35
and for the sacrifice of peace offerings, two oxen, five rams, five male goats, and five male lambs one year old. This was the offering of Shelumiel the son of Zurishaddai. – Numbers 7:41
and for the sacrifice of peace offerings, two oxen, five rams, five male goats, and five male lambs one year old. This was the offering of Eliasaph the son of Deuel. – Numbers 7:47
and for the sacrifice of peace offerings, two oxen, five rams, five male goats, and five male lambs one year old. This was the offering of Elishama the son of Ammihud. – Numbers 7:53
and for the sacrifice of peace offerings, two oxen, five rams, five male goats, and five male lambs one year old. This was the offering of Gamaliel the son of Pedahzur. – Numbers 7:59
and for the sacrifice of peace offerings, two oxen, five rams, five male goats, and five male lambs one year old. This was the offering of Abidan the son of Gideoni. – Numbers 7:65
and for the sacrifice of peace offerings, two oxen, five rams, five male goats, and five male lambs one year old. This was the offering of Ahiezer the son of Ammishaddai. – Numbers 7:71
and for the sacrifice of peace offerings, two oxen, five rams, five male goats, and five male lambs one year old. This was the offering of Pagiel the son of Ochran. – Numbers 7:77
and for the sacrifice of peace offerings, two oxen, five rams, five male goats, and five male lambs one year old. This was the offering of Ahira the son of Enan. – Numbers 7:83
and all the oxen for the sacrifice of peace offerings totaled twenty-four bulls, all the rams, sixty, the male goats, sixty, and the male lambs one year old, sixty. This was the dedication offering for the altar after it was anointed. – Numbers 7:88
Also on the day of your joy and at your appointed feasts, and on the first days of your months, you shall blow the trumpets over your burnt offerings, and over the sacrifices of your peace offerings; and they shall be as a reminder of you before your God. I am the Lord your God." – Numbers 10:10
And when you prepare a bull as a burnt offering or a sacrifice, to fulfill a special vow, or for peace offerings to the Lord, – Numbers 15:8
Therefore say, 'Behold, I am giving him My covenant of peace; – Numbers 25:12
'You shall present these to the Lord at your appointed times, besides your vowed offerings and your voluntary offerings, for your burnt offerings, your grain offerings, your drink offerings, and for your peace offerings.'" – Numbers 29:39
Bible Verses About Peace in Deuteronomy
"So I sent messengers from the wilderness of Kedemoth to Sihon king of Heshbon with words of peace, saying, – Deuteronomy 2:26
"When you approach a city to fight against it, you shall offer it terms of peace. – Deuteronomy 20:10
And if it agrees to make peace with you and opens to you, then all the people who are found in it shall become your forced labor and serve you. – Deuteronomy 20:11
However, if it does not make peace with you, but makes war against you, then you shall besiege it. – Deuteronomy 20:12
You shall never seek their peace or their prosperity all your days. – Deuteronomy 23:6
and you shall sacrifice peace offerings and eat there, and rejoice before the Lord your God. – Deuteronomy 27:7
Among those nations you will find no peace, and there will be no resting place for the sole of your foot; but there the Lord will give you a trembling heart, failing of eyes, and despair of soul. – Deuteronomy 28:65
Bible Verses About Peace in Joshua
just as Moses the servant of the Lord had commanded the sons of Israel, as it is written in the Book of the Law of Moses, an altar of uncut stones on which no one had wielded an iron tool; and they offered burnt offerings on it to the Lord, and sacrificed peace offerings. – Joshua 8:31
And Joshua made peace with them and made a covenant with them, to let them live; and the leaders of the congregation swore an oath to them. – Joshua 9:15
Now it came about when Adoni-zedek king of Jerusalem heard that Joshua had captured Ai, and had utterly destroyed it (just as he had done to Jericho and its king, so he had done to Ai and its king), and that the inhabitants of Gibeon had made peace with Israel and were within their land, – Joshua 10:1
"Come up to me and help me, and let's attack Gibeon, for it has made peace with Joshua and with the sons of Israel." – Joshua 10:4
that all the people returned to the camp, to Joshua at Makkedah in peace. No one uttered a word against any of the sons of Israel. – Joshua 10:21
There was not a city which made peace with the sons of Israel except the Hivites living in Gibeon; they took them all in battle. – Joshua 11:19
If we have built us an altar to turn away from following the Lord, or if to offer a burnt offering or grain offering on it, or if to offer sacrifices of peace offerings on it, may the Lord Himself demand it. – Joshua 22:23
rather, it shall be a witness between us and you and between our generations after us, that we are to perform the service of the Lord before Him with our burnt offerings, our sacrifices, and with our peace offerings, so that your sons will not say to our sons in time to come, "You have no portion in the Lord."' –
Joshua 22:27
Bible Verses About Peace in Judges
Now Sisera fled on foot to the tent of Jael the wife of Heber the Kenite, because there was peace between Jabin the king of Hazor and the house of Heber the Kenite. – Judges 4:17
But the Lord said to him, "peace to you, do not be afraid; you shall not die."
– Judges 6:23
Then Gideon built an altar there to the Lord and named it The Lord is peace. To this day it is still in Ophrah of the Abiezrites. – Judges 6:24
And the king of the sons of Ammon said to the messengers of Jephthah, "It is because Israel took my land when they came up from Egypt, from the Arnon as far as the Jabbok and the Jordan; so return them peaceably now." – Judges 11:13
And the priest said to them, "Go in peace; your way in which you are going has the Lord's approval." – Judges 18:6
Then the old man said, "peace to you. Only let me take care of all your needs; however, do not spend the night in the public square." – Judges 19:20
Then all the sons of Israel and all the people went up and came to Bethel, and they wept and remained there before the Lord, and fasted that day until evening. And they offered burnt offerings and peace offerings before the Lord. – Judges 20:26
And it came about the next day that the people got up early and built an altar there, and offered burnt offerings and peace offerings. – Judges 21:4
Then the whole congregation sent word and spoke to the sons of Benjamin who were at the rock of Rimmon, and proclaimed peace to them. – Judges 21:13
Bible Verses About Peace in 1 Samuel
Then Eli answered and said, "Go in peace; and may the God of Israel grant your request that you have asked of Him." – 1 Samuel 1:17
The cities which the Philistines had taken from Israel were restored to Israel, from Ekron even to Gath; and Israel recovered their territory from the hand of the Philistines. So there was peace between Israel and the Amorites. – 1 Samuel 7:14
And you shall go down ahead of me to Gilgal; and behold, I will be coming down to you to offer burnt offerings and sacrifice peace offerings. You shall wait seven days until I come to you and inform you of what you should do." – 1 Samuel 10:8
So all the people went to Gilgal, and there they made Saul king before the Lord in Gilgal. There they also offered sacrifices of peace offerings before the Lord; and there Saul and all the men of Israel rejoiced greatly. – 1 Samuel 11:15
So Saul said, "Bring me the burnt offering and the peace offerings." And he offered the burnt offering. – 1 Samuel 13:9
So Samuel did what the Lord told him, and he came to Bethlehem. Then the elders of the city came trembling to meet him and said, "Do you come in peace?" – 1 Samuel 16:4
And he said, "In peace; I have come to sacrifice to the Lord. Consecrate yourselves and come with me to the sacrifice." He also consecrated Jesse and his sons and invited them to the sacrifice. – 1 Samuel 16:5
and this is what you shall say: 'Have a long life, peace to you, and peace to your house, and peace to all that you have! -1 Samuel 25:6
So David accepted from her hand what she had brought him, and said to her, "Go up to your house in peace. See, I have listened to you and granted your request." – 1 Samuel 25:35
Now then, return and go in peace, so that you will not do anything wrong in the sight of the governors of the Philistines." – 1 Samuel 29:7
Bible Verses About Peace in 2 Samuel
Abner said to David, "Let me set out and go and gather all Israel to my lord the king, so that they may make a covenant with you, and that you may be king over all that your soul desires." So David let Abner go, and he went in peace. – 2 Samuel 3:21
And behold, the servants of David and Joab came from a raid and brought a large amount of plunder with them; but Abner was not with David in Hebron, since he had let him go, and he had gone in peace. – 2 Samuel 3:22
When Joab and all the army that was with him arrived, they informed Joab, saying, "Abner the son of Ner came to the king, and he has let him go on his way, and he has gone in peace." – 2 Samuel 3:23
Now they brought in the ark of the Lord and set it in its place inside the tent which David had pitched for it; and David offered burnt offerings and peace offerings before the Lord. – 2 Samuel 6:17
When David had finished offering the burnt offering and the peace offerings, he blessed the people in the name of the Lord of armies. – 2 Samuel 6:18
When all the kings, servants of Hadadezer, saw that they had been defeated by Israel, they made peace with Israel and served them. So the Arameans were afraid to help the sons of Ammon anymore. – 2 Samuel 10:19
The king said to him, "Go in peace." So he got up and went to Hebron. – 2 Samuel 15:9
The king also said to Zadok the priest, "Are you not a seer? Return to the city in peace, and your two sons with you, your son Ahimaaz and Jonathan the son of Abiathar. – 2 Samuel 15:27
and I will bring all the people back to you. The return of everyone depends on the man whom you are seeking; then all the people will be at peace." – 2 Samuel 17:3
Then Mephibosheth the grandson of Saul came down to meet the king; but he had neither tended to his feet, nor trimmed his mustache, nor washed his clothes since the day the king departed until the day he came home in peace. – 2 Samuel 19:24
I am one of those who are ready for peace and faithful in Israel. You are trying to destroy a city, even a mother in Israel. Why would you swallow up the inheritance of the Lord?" – 2 Samuel 20:19
Then David built there an altar to the Lord, and he offered burnt offerings and peace offerings. And the Lord responded to prayer for the land, and the plague was withdrawn from Israel. –
Bible Verses About Peace in 1 Kings
"Now you yourself also know what Joab the son of Zeruiah did to me, what he did to the two commanders of the armies of Israel, to Abner the son of Ner and to Amasa the son of Jether, whom he killed; he also shed the blood of war in peace. And he put the blood of war on his belt that was on his waist, and on his sandals that were on his feet. – 1 Kings 2:5
So act as your wisdom dictates, and do not let his gray hair go down to Sheol in peace. – 1 Kings 2:6
Now Adonijah the son of Haggith came to Bathsheba the mother of Solomon. So she said, "Do you come peacefully?" And he said, "peacefully." – 1 Kings 2:13
So their blood shall return on the head of Joab and on the head of his descendants forever; but for David and his descendants, and his house and his throne, may there be peace from the Lord forever." – 1 Kings 2:33
Then Solomon awoke, and behold, it was a dream. And he came to Jerusalem and stood before the ark of the covenant of the Lord, and offered burnt offerings and made peace offerings, and held a feast for all his servants. – 1 Kings 3:15
For he was ruling over everything west of the Euphrates River, from Tiphsah even to Gaza, over all the kings west of the River; and he had peace on all sides surrounding him. – 1 Kings 4:24
And the Lord gave wisdom to Solomon, just as He promised him; and there was peace between Hiram and Solomon, and the two of them made a covenant. – 1 Kings 5:12
And Solomon offered for the sacrifice of peace offerings, which he offered to the Lord, twenty-two thousand oxen and 120,000 sheep. So the king and all the sons of Israel dedicated the house of the Lord. – 1 Kings 8:63
On the same day the king consecrated the middle of the courtyard that was in front of the house of the Lord, because there he offered the burnt offering, the grain offering, and the fat of the peace offerings; for the bronze altar that was before the Lord was too small to hold the burnt offering, the grain offering, and the fat of the peace offerings. – 1 Kings 8:64
Now three times a year Solomon offered burnt offerings and peace offerings on the altar which he had built for the Lord, burning incense with them on the altar which was before the Lord. So he finished the house. – 1 Kings 9:25
Then he said, "If they have come out for peace, take them alive; or if they have come out for war, take them alive as well." – 1 Kings 20:18
So he said, "I saw all Israel Scattered on the mountains, Like sheep that have no shepherd. And the Lord said, 'These people have no master. Each of them is to return to his house in peace.'" – 1 Kings 22:17
Jehoshaphat also made peace with the king of Israel. – 1 Kings 22:44
Bible Verses About Peace in 2 Kings
He said to him, "Go in peace." So he went some distance from him. – 2 Kings 5:19
Now the watchman was standing on the tower in Jezreel and he saw the company of Jehu as he came, and he said, "I see a company." And Joram said, "Take a horseman and send him to meet them and have him ask, 'Is your intention peace?'" – 2 Kings 9:17
So a horseman went to meet him and said, "This is what the king says: 'Is your intention peace?'" But Jehu said, "How is peace any business of yours? Turn and follow me." And the watchman reported, "The messenger came to them, but he did not return." – 2 Kings 9:18
Then he sent a second horseman, and he came to them and said, "This is what the king says: 'Is your intention peace?'" And Jehu answered, "How is peace any business of yours? Turn and follow me." – 2 Kings 9:19
When Joram saw Jehu, he said, "Is your intention peace, Jehu?" And he answered, "What 'peace,' so long as your mother Jezebel's acts of prostitution and witchcraft are so many?" – 2 Kings 9:22
As Jehu entered the gate, she said, "Is your intention peace, Zimri, his master's murderer?" – 2 Kings 9:31
So all the people of the land rejoiced and the city was peaceful. For they had put Athaliah to death with the sword at the king's house. – 2 Kings 11:20
and burned his burnt offering and his meal offering, and poured out his drink offering and sprinkled the blood of his peace offerings on the altar. – 2 Kings 16:13
Do not listen to Hezekiah, for this is what the king of Assyria says: "Make your peace with me and come out to me, and eat, each one, from his vine and each from his fig tree, and drink, each one, the waters of his own cistern, – 2 Kings 18:31
Then Hezekiah said to Isaiah, "The word of the Lord which you have spoken is good." For he thought, "Is it not good, if there will be peace and security in my days?" – 2 Kings 20:19
Therefore, behold, I am going to gather you to your fathers, and you will be gathered to your grave in peace, and your eyes will not look at all the devastation that I am going to bring on this place.'" So they brought back word to the king. – 2 Kings 22:20
Bible Verses About Peace in 1 Chronicles
They found pasture that was rich and good, and the land was spread out on both sides, and peaceful and undisturbed; for those who lived there previously were Hamites. – 1 Chronicles 4:40
David went out to meet them, and said to them, "If you come peacefully to help me, my heart shall be united with you; but if to betray me to my enemies, since there is no wrong in my hands, may the God of our fathers look on it and decide." – 1 Chronicles 12:17
Then the Spirit covered Amasai like clothing, the chief of the thirty; and he said, "We are yours, David, And are with you, son of Jesse! peace, peace to you, And peace to him who helps you; Indeed, your God helps you!" Then David received them and made them captains of the troops. – 1 Chronicles 12:18
And they brought in the ark of God and placed it inside the tent which David had pitched for it, and they offered burnt offerings and peace offerings before God. – 1 Chronicles 16:1
When David had finished offering the burnt offering and the peace offerings, he blessed the people in the name of the Lord. – 1 Chronicles 16:2
So when the servants of Hadadezer saw that they had been defeated by Israel, they made peace with David and served him. So the Arameans were not willing to help the sons of Ammon anymore. – 1 Chronicles 19:19
Then David built an altar there to the Lord, and offered burnt offerings and peace offerings. And he called to the Lord, and He answered him with fire from heaven on the altar of burnt offering. – 1 Chronicles 21:26
Behold, a son will be born to you, who shall be a man of rest, and I will give him rest from all his enemies on every side; for his name will be Solomon, and I will give peace and quiet to Israel in his days. – 1 Chronicles 22:9
Bible Verses About Peace in 2 Chronicles
Then Solomon consecrated the middle of the courtyard that was before the house of the Lord, for he offered the burnt offerings and the fat of the peace offerings there, because the bronze altar which Solomon had made was not able to contain the burnt offering, the grain offering, and the fat. – 2 Chronicles 7:7
In those times there was no peace for him who went out or him who came in, because many disturbances afflicted all the inhabitants of the lands. – 2 Chronicles 15:5
So he said, "I saw all Israel Scattered on the mountains, Like sheep that have no shepherd. And the Lord said, 'These people have no master. Each of them is to return to his house in peace.'" – 2 Chronicles 18:16
So the kingdom of Jehoshaphat was at peace, for his God gave him rest on all sides. – 2 Chronicles 20:30
There were also many burnt offerings with the fat of the peace offerings and the drink offerings for the burnt offerings. So the service of the house of the Lord was established again. – 2 Chronicles 29:35
Then Hezekiah spoke encouragingly to all the Levites who showed good insight in the things of the Lord. So they ate for the appointed seven days, sacrificing peace offerings and giving thanks to the Lord God of their fathers. – 2 Chronicles 30:22
And Hezekiah appointed the divisions of the priests and the Levites by their divisions, each according to his service, both the priests and the Levites, for burnt offerings and for peace offerings, to serve and to give thanks and to praise in the gates of the camp of the Lord. – 2 Chronicles 31:2
He set up the altar of the Lord and sacrificed peace offerings and thanksgiving offerings on it; and he ordered Judah to serve the Lord God of Israel. – 2 Chronicles 33:16
"Behold, I will gather you to your fathers, and you will be gathered to your grave in peace, so your eyes will not see all the evil which I am bringing on this place and its inhabitants."'" And they brought back word to the king. – 2 Chronicles 34:28
Bible Verses About Peace in Ezra
Then the king sent a response to Rehum the commander, Shimshai the scribe, and to the rest of their colleagues who live in Samaria and in the rest of the provinces beyond the Euphrates River: "peace. And now, – Ezra 4:17
They sent the report to him in which it was written as follows: "To Darius the king, all peace. – Ezra 5:7
"Artaxerxes, king of kings, to Ezra the priest, the scribe of the Law of the God of heaven, perfect peace. And now – Ezra 7:12
So now do not give your daughters to their sons nor take their daughters for your sons, and never seek their peace or their prosperity, so that you may be strong and may eat the good things of the land, and leave it as an inheritance to your sons forever.' – Ezra 9:12
Bible Verses About Peace in Esther
He sent letters to all the Jews, to the 127 provinces of the kingdom of Ahasuerus, namely, words of peace and truth, – Esther 9:30
Bible Verses About Peace in Job
For you will be in league with the stones of the field, And the animals of the field will be at peace with you. – Job 5:23
Sounds of terror are in his ears; While he is at peace the destroyer comes upon him. – Job 15:21
"Be reconciled with Him, and be at peace; Thereby good will come to you. – Job 22:21
"Dominion and awe belong to Him Who makes peace in His heights. – Job 25:2
Bible Verses About Peace in Psalm
In peace I will both lie down and sleep, For You alone, Lord, have me dwell in safety. – Psalm 4:8
Do not drag me away with the wicked And with those who practice injustice, Who speak peace with their neighbors, While evil is in their hearts. – Psalm 28:3
The Lord will give strength to His people; The Lord will bless His people with peace. – Psalm 29:11
Turn from evil and do good; Seek peace and pursue it. – Psalm 34:14
For they do not speak peace, But they devise deceitful words against those who are quiet in the land. – Psalm 35:20
Observe the blameless person, and look at the upright; For the person of peace will have a future. – Psalm 37:37
He will redeem my soul in peace from the battle which is against me, For they are many who are aggressive toward me. – Psalm 55:18
He has put forth his hands against those who were at peace with him; He has violated his covenant. – Psalm 55:20
May their table before them become a snare; And when they are at peace, may it become a trap. – Psalm 69:22
May the mountains bring peace to the people, And the hills, in righteousness. – Psalm 72:3
May the righteous flourish in his days, As well as an abundance of peace, until the moon is no more. – Psalm 72:7
I will hear what God the Lord will say; For He will speak peace to His people, to His godly ones; And may they not turn back to foolishness. – Psalm 85:8
Graciousness and truth have met together; Righteousness and peace have kissed each other. – Psalm 85:10
Those who love Your Law have great peace, And nothing causes them to stumble. – Psalm 119:165
Too long has my soul had its dwelling With those who hate peace. – Psalm 120:6
I am for peace, but when I speak, They are for war. – Psalm 120:7
Pray for the peace of Jerusalem: "May they prosper who love you. – Psalm 122:6
May peace be within your walls, And prosperity within your palaces." – Psalm 122:7
For the sake of my brothers and my friends, I will now say, "May peace be within you." – Psalm 122:8
But as for those who turn aside to their crooked ways, The Lord will lead them away with those who practice injustice. peace be upon Israel. – Psalm 125:5
Indeed, may you see your children's children. peace be upon Israel! – Psalm 128:6
He makes peace in your borders; He satisfies you with the finest of the wheat. – Psalm 147:14
Bible Verses About Peace in Proverbs
For length of days and years of life And peace they will add to you. – Proverbs 3:2
Her ways are pleasant ways, And all her paths are peace. – Proverbs 3:17
"I was due to offer peace offerings; Today I have paid my vows. – Proverbs 7:14
Deceit is in the heart of those who devise evil, But counselors of peace have joy. – Proverbs 12:20
When a person's ways are pleasing to the Lord, He causes even his enemies to make peace with him. – Proverbs 16:7
Bible Verses About Peace in Ecclesiastes
A time to love and a time to hate; A time for war and a time for peace.
– Ecclesiastes 3:8
Bible Verses About Peace in Song of Solomon
"I was a wall, and my breasts were like towers; Then I became in his eyes as one who finds peace. – Song of Solomon 8:10
Bible Verses About Peace in Isaiah
For a Child will be born to us, a Son will be given to us; And the government will rest on His shoulders; And His name will be called Wonderful Counselor, Mighty God, Eternal Father, Prince of peace. – Isaiah 9:6
There will be no end to the increase of His government or of peace On the throne of David and over his kingdom, To establish it and to uphold it with justice and righteousness From then on and forevermore. The zeal of the Lord of armies will accomplish this. – Isaiah 9:7
The steadfast of mind You will keep in perfect peace, Because he trusts in You. – Isaiah 26:3
Lord, You will establish peace for us, Since You have also performed for us all our works – Isaiah 26:12
Or let him rely on My protection, Let him make peace with Me, Let him make peace with Me." – Isaiah 27:5
And the work of righteousness will be peace, And the service of righteousness, quietness and confidence forever. – Isaiah 32:17
Then my people will live in a peaceful settlement, In secure dwellings, and in undisturbed resting places; – Isaiah 32:18
Behold, their brave men cry out in the streets, The ambassadors of peace weep bitterly. – Isaiah 33:7
Then Hezekiah said to Isaiah, "The word of the Lord which you have spoken is good." For he thought, "For there will be peace and truth in my days." – Isaiah 39:8
Who is blind but My servant, Or so deaf as My messenger whom I send? Who is so blind as one who is at peace with Me, Or so blind as the servant of the Lord? – Isaiah 42:19
"There is no peace for the wicked," says the Lord. – Isaiah 48:22
How delightful on the mountains Are the feet of one who brings good news, Who announces peace And brings good news of happiness, Who announces salvation, And says to Zion, "Your God reigns!" – Isaiah 52:7
For the mountains may be removed and the hills may shake, But My favor will not be removed from you, Nor will My covenant of peace be shaken," Says the Lord who has compassion on you. – Isaiah 54:10
For you will go out with joy And be led in peace; The mountains and the hills will break into shouts of joy before you, And all the trees of the field will clap their hands. – Isaiah 55:12
He enters into peace; They rest in their beds, Each one who walked in his upright way. – Isaiah 57:2
Creating the praise of the lips. peace, peace to him who is far away and to him who is near," Says the Lord, "and I will heal him." – Isaiah 57:19
"There is no peace," says my God, "for the wicked." – Isaiah 57:21
They do not know the way of peace, And there is no justice in their tracks; They have made their paths crooked, Whoever walks on them does not know peace. – Isaiah 59:8
Instead of bronze I will bring gold, And instead of iron I will bring silver, And instead of wood, bronze, And instead of stones, iron. And I will make peace your administrators, And righteousness your overseers. – Isaiah 60:17
For this is what the Lord says: "Behold, I extend peace to her like a river, And the glory of the nations like an overflowing stream; And you will be nursed, you will be carried on the hip and rocked back and forth on the knees. – Isaiah 66:12
Bible Verses About Peace in Jeremiah
Then I said, "Oh, Lord God! Surely You have utterly deceived this people and Jerusalem, saying, 'You will have peace'; yet a sword touches the throat." – Jeremiah 4:10
They have healed the brokenness of My people superficially, Saying, 'peace, peace,' But there is no peace. – Jeremiah 6:14
They have healed the brokenness of the daughter of My people superficially, Saying, 'peace, peace,' But there is no peace. – Jeremiah 8:11
We waited for peace, but no good came; For a time of healing, but behold, terror! – Jeremiah 8:15
Their tongue is a deadly arrow; It speaks deceit; With his mouth one speaks peace to his neighbor, But inwardly he sets an ambush for him. – Jeremiah 9:8
"If you have run with infantrymen and they have tired you out, How can you compete with horses? If you fall down in a land of peace, How will you do in the thicket by the Jordan? – Jeremiah 12:5
On all the bare heights in the wilderness Destroyers have come, For the sword of the Lord is devouring From one end of the land even to the other; There is no peace for anyone. – Jeremiah 12:12
But I said, "Oh, Lord God! Behold, the prophets are telling them, 'You will not see a sword, nor will you have famine; on the contrary, I will give you lasting peace in this place.'" – Jeremiah 14:13
Have You completely rejected Judah? Or have You loathed Zion? Why have You stricken us so that we are beyond healing? We waited for peace, but nothing good came; And for a time of healing, but behold, terror! – Jeremiah 14:19
For this is what the Lord says: "Do not enter a house of mourning, or go to mourn or to console them; for I have withdrawn My peace from this people," declares the Lord, "and My favor and compassion. – Jeremiah 16:5
They keep saying to those who despise Me, 'The Lord has said, "You will have peace"'; And as for everyone who walks in the stubbornness of his own heart, They say, 'Disaster will not come on you.' – Jeremiah 23:17
And the peaceful grazing places are devastated Because of the fierce anger of the Lord. – Jeremiah 25:37
As for the prophet who prophesies of peace, when the word of the prophet comes to pass, then that prophet will be known as one whom the Lord has truly sent." – Jeremiah 28:9
"For this is what the Lord says: 'I have heard a sound of terror, Of fear, and there is no peace. – Jeremiah 30:5
And do not fear, Jacob My servant,' declares the Lord, 'And do not be dismayed, Israel; For behold, I am going to save you from far away, And your descendants from the land of their captivity. And Jacob will return and be at peace, without anxiety, And no one will make him afraid. – Jeremiah 30:10
Behold, I am going to bring to it healing and a remedy, and I will heal them; and I will reveal to them an abundance of peace and truth. – Jeremiah 33:6
It will be to Me a name of joy, praise, and glory before all the nations of the earth, which will hear of all the good that I do for them, and they will be frightened and tremble because of all the good and all the peace that I make for it.' – Jeremiah 33:9
You will die in peace; and as spices were burned for your fathers, the former kings who were before you, so they will burn spices for you; and they will mourn for you, crying, "Oh, my lord!"' For I have spoken the word," declares the Lord. – Jeremiah 34:5
"Moab has been at ease since his youth; He has also been peaceful, like wine on its dregs, And he has not been poured from vessel to vessel, Nor has he gone into exile. Therefore he retains his flavor, And his aroma has not changed. – Jeremiah 48:11
Bible Verses About Peace in Lamentations
My soul has been excluded from peace; I have forgotten happiness. – Lamentations 3:17
Bible Verses About Peace in Ezekiel
When anguish comes, they will seek peace, but there will be none. – Ezekiel 7:25
It is definitely because they have misled My people by saying, 'peace!' when there is no peace. And when anyone builds a wall, behold, they plaster it over with whitewash; – Ezekiel 13:10
along with the prophets of Israel who prophesy to Jerusalem, and who see a vision of peace for her when there is no peace,' declares the Lord God. – Ezekiel 13:16
"And I will make a covenant of peace with them and eliminate harmful animals from the land, so that they may live securely in the wilderness and sleep in the woods. – Ezekiel 34:25
And I will make a covenant of peace with them; it will be an everlasting covenant with them. And I will place them and multiply them, and set My sanctuary in their midst forever. – Ezekiel 37:26
When they have completed the days, it shall be that on the eighth day and onward, the priests shall offer your burnt offerings on the altar, and your peace offerings; and I will accept you,' declares the Lord God." – Ezekiel 43:27
and one sheep from each flock of two hundred from the watering places of Israel—for a grain offering, for a burnt offering, and for peace offerings, to make atonement for them," declares the Lord God. – Ezekiel 45:15
And it shall be the prince's part to provide the burnt offerings, the grain offerings, and the drink offerings, at the feasts, on the new moons, and on the Sabbaths, at all the appointed feasts of the house of Israel; he shall provide the sin offering, the grain offering, the burnt offering, and the peace offerings, to make atonement for the house of Israel." – Ezekiel 45:17
The prince shall enter by way of the porch of the gate from outside and stand by the post of the gate. Then the priests shall provide his burnt offering and his peace offerings, and he shall worship at the threshold of the gate and then go out; but the gate shall not be shut until the evening. – Ezekiel 46:2
And when the prince provides a voluntary offering, a burnt offering, or peace offerings as a voluntary offering to the Lord, the gate facing east shall be opened for him. And he shall provide his burnt offering and his peace offerings as he does on the Sabbath day. Then he shall go out, and the gate shall be shut after he goes out. – Ezekiel 46:12
Bible Verses About Peace in Daniel
Nebuchadnezzar the king to all the peoples, nations, and populations of all languages who live in all the earth: "May your peace be great! – Daniel 4:1
Then Darius the king wrote to all the peoples, nations, and populations of all languages who were living in all the land: "May your peace be great! – Daniel 6:25
And he said, "You who are treasured, do not be afraid. peace be to you; take courage and be courageous!" Now as soon as he spoke to me, I felt strengthened and said, "May my lord speak, for you have strengthened me." – Daniel 10:19
And he will set his mind on coming with the power of his entire kingdom, bringing with him a proposal of peace which he will put into effect; he will also give him the daughter of women to ruin it. But she will not take a stand for him or be on his side. – Daniel 11:17
Bible Verses About Peace in Amos
Even though you offer up to Me burnt offerings and your grain offerings, I will not accept them; And I will not even look at the peace offerings of your fattened oxen. – Amos 5:22
Bible Verses About Peace in Obadiah
All the people allied with you Will send you to the border, And the people at peace with you Will deceive you and overpower you. They who eat your bread Will set an ambush for you. (There is no understanding in him.) – Obadiah 1:7
Bible Verses About Peace in Micah
This is what the Lord says concerning the prophets who lead my people astray: When they have something to bite with their teeth, They cry out, "peace!" But against him who puts nothing in their mouths They declare holy war. – Micah 3:5
This One will be our peace. When the Assyrian invades our land, When he tramples on our citadels, Then we will raise against him Seven shepherds and eight leaders of people. – Micah 5:5
Bible Verses About Peace in Nahum
Behold, on the mountains, the feet of him who brings good news, Who announces peace! Celebrate your feasts, Judah, Pay your vows. For never again will the wicked one pass through you; He is eliminated completely. – Nahum 1:15
Bible Verses About Peace in Haggai
'The latter glory of this house will be greater than the former,' says the Lord of armies, 'and in this place I will give peace,' declares the Lord of armies." – Haggai 2:9
Bible Verses About Peace in Zechariah
Yes, it is He who will build the temple of the Lord, and He who will bear the majesty and sit and rule on His throne. So He will be a priest on His throne, and the counsel of peace will be between the two offices."' – Zechariah 6:13
For before those days there was no wage for man nor any wage for animal; and for him who went out or came in there was no peace because of his enemies, and I sent all the people against one another. – Zechariah 8:10
'For there will be the seed of peace: the vine will yield its fruit, the land will yield its produce, and the heavens will provide their dew; and I will give to the remnant of this people all these things as an inheritance. – Zechariah 8:12
These are the things which you shall do: speak the truth to one another; judge with truth and judgment for peace at your gates. – Zechariah 8:16
"The Lord of armies says this: 'The fast of the fourth, the fast of the fifth, the fast of the seventh, and the fast of the tenth months will become joy, jubilation, and cheerful festivals for the house of Judah; so love truth and peace.'
– Zechariah 8:19
And I will eliminate the chariot from Ephraim And the horse from Jerusalem; And the bow of war will be eliminated. And He will speak peace to the nations; And His dominion will be from sea to sea, And from the Euphrates River to the ends of the earth. – Zechariah 9:10
Bible Verses About Peace in Malachi
"My covenant with him was one of life and peace, and I gave them to him as an object of reverence; so he revered Me and was in awe of My name. – Malachi 2:5
True instruction was in his mouth and injustice was not found on his lips; he walked with Me in peace and justice, and he turned many back from wrongdoing. – Malachi 2:6
Bible Verses About Peace in Matthew
"Blessed are the peacemakers, for they will be called sons of God. – Matthew 5:9
If the house is worthy, see that your blessing of peace comes upon it. But if it is not worthy, take back your blessing of peace. – Matthew 10:13
"Do not think that I came to bring peace on the earth; I did not come to bring peace, but a sword. – Matthew 10:34
Bible Verses About Peace in Mark
And He said to her, "Daughter, your faith has made you well; go in peace and be cured of your disease." – Mark 5:34
Salt is good; but if the salt becomes unsalty, with what will you make it salty again? Have salt in yourselves, and be at peace with one another." – Mark 9:50
Bible Verses About Peace in Luke
To shine on those who sit in darkness and the shadow of death, To guide our feet into the way of peace." – Luke 1:79
"Glory to God in the highest, And on earth peace among people with whom He is pleased." – Luke 2:14
"Now, Lord, You are letting Your bond-servant depart in peace, According to Your word; – Luke 2:29
And He said to the woman, "Your faith has saved you; go in peace." – Luke 7:50
And He said to her, "Daughter, your faith has made you well; go in peace." – Luke 8:48
And whatever house you enter, first say, 'peace be to this house.' – Luke 10:5
And if a man of peace is there, your peace will rest upon him; but if not, it will return to you. – Luke 10:6
Do you think that I came to provide peace on earth? No, I tell you, but rather division; – Luke 12:51
Otherwise, while the other is still far away, he sends a delegation and requests terms of peace. – Luke 14:32
shouting: "Blessed is the King, the One who comes in the name of the Lord; peace in heaven and glory in the highest!" – Luke 19:38
saying, "If you had known on this day, even you, the conditions for peace! But now they have been hidden from your eyes. – Luke 19:42
Now while they were telling these things, Jesus Himself suddenly stood in their midst and *said to them, "peace be to you." – Luke 24:36
Bible Verses About Peace in John
peace I leave you, My peace I give you; not as the world gives, do I give to you. Do not let your hearts be troubled, nor fearful. – John 14:27
These things I have spoken to you so that in Me you may have peace. In the world you have tribulation, but take courage; I have overcome the world." – John 16:33
Now when it was evening on that day, the first day of the week, and when the doors were shut where the disciples were together due to fear of the Jews, Jesus came and stood in their midst, and *said to them, "peace be to you." – John 20:19
So Jesus said to them again, "peace be to you; just as the Father has sent Me, I also send you." – John 20:21
Eight days later His disciples were again inside, and Thomas was with them. Jesus *came, the doors having been shut, and stood in their midst and said, "peace be to you." – John 20:26
Bible Verses About Peace in Acts
And on the following day he appeared to them as they were fighting each other, and he tried to reconcile them to peace, by saying, 'Men, you are brothers, why are you injuring each other?' – Acts 7:26
So the church throughout Judea, Galilee, and Samaria enjoyed peace, as it was being built up; and as it continued in the fear of the Lord and in the comfort of the Holy Spirit, it kept increasing. – Acts 9:31
The word which He sent to the sons of Israel, preaching peace through Jesus Christ (He is Lord of all)— Acts 10:36
Now he was very angry with the people of Tyre and Sidon; and with one mind they came to him, and having won over Blastus the king's chamberlain, they were asking for peace, because their country was supported with grain from the king's country. – Acts 12:20
After they had spent time there, they were sent away from the brothers and sisters in peace to those who had sent them out. – Acts 15:33
And the jailer reported these words to Paul, saying, "The chief magistrates have sent word that you be released. So come out now and go in peace." – Acts 16:36
After Paul had been summoned, Tertullus began accusing him, saying to the governor, "Since we have attained great peace through you, and since reforms are being carried out for this nation by your foresight, – Acts 24:2
Bible Verses About Peace in Romans
to all who are beloved of God in Rome, called as saints: Grace to you and peace from God our Father and the Lord Jesus Christ. – Romans 1:7
but glory, honor, and peace to everyone who does what is good, to the Jew first and also to the Greek. – Romans 2:10
And they have not known the way of peace." – Romans 3:17
Therefore, having been justified by faith, we have peace with God through our Lord Jesus Christ, – Romans 5:1
For the mind set on the flesh is death, but the mind set on the Spirit is life and peace, – Romans 8:6
If possible, so far as it depends on you, be at peace with all people. – Romans 12:18
for the kingdom of God is not eating and drinking, but righteousness and peace and joy in the Holy Spirit. – Romans 14:17
So then we pursue the things which make for peace and the building up of one another. – Romans 14:19
Now may the God of hope fill you with all joy and peace in believing, so that you will abound in hope by the power of the Holy Spirit. – Romans 15:13
Now the God of peace be with you all. Amen. – Romans 15:33
The God of peace will soon crush Satan under your feet. The grace of our Lord Jesus be with you. – Romans 16:20
Bible Verses About Peace in 1 Corinthians
Grace to you and peace from God our Father and the Lord Jesus Christ. – 1 Corinthians 1:3
Yet if the unbelieving one is leaving, let him leave; the brother or the sister is not under bondage in such cases, but God has called us in peace. – 1 Corinthians 7:15
for God is not a God of confusion, but of peace. As in all the churches of the saints, – 1 Corinthians 14:33
So do not look down on him, anyone. But send him on his way in peace, so that he may come to me; for I expect him with the brothers. – 1 Corinthians 16:11
Bible Verses About Peace in 2 Corinthians
Grace to you and peace from God our Father and the Lord Jesus Christ. – 2 Corinthians 1:2
Finally, brothers and sisters, rejoice, mend your ways, be comforted, be like-minded, live in peace; and the God of love and peace will be with you. – 2 Corinthians 13:11
Bible Verses About Peace in Galatians
Grace to you and peace from God the Father and our Lord Jesus Christ, – Galatians 1:3
But the fruit of the Spirit is love, joy, peace, patience, kindness, goodness, faithfulness, – Galatians 5:22
And all who will follow this rule, peace and mercy be upon them, and upon the Israel of God. – Galatians 6:16
Bible Verses About Peace in Ephesians
Grace to you and peace from God our Father and the Lord Jesus Christ. – Ephesians 1:2
For He Himself is our peace, who made both groups into one and broke down the barrier of the dividing wall, – Ephesians 2:14
by abolishing in His flesh the hostility, which is the Law composed of commandments expressed in ordinances, so that in Himself He might make the two one new person, in this way establishing peace; – Ephesians 2:15
And He came and preached peace to you who were far away, and peace to those who were near; – Ephesians 2:17
being diligent to keep the unity of the Spirit in the bond of peace. – Ephesians 4:3
and having strapped on your feet the preparation of the gospel of peace; – Ephesians 6:15
peace be to the brothers and sisters, and love with faith, from God the Father and the Lord Jesus Christ. – Ephesians 6:23
Bible Verses About Peace in Philippians
Grace to you and peace from God our Father and the Lord Jesus Christ. – Philippians 1:2
And the peace of God, which surpasses all comprehension, will guard your hearts and minds in Christ Jesus. – Philippians 4:7
As for the things you have learned and received and heard and seen in me, practice these things, and the God of peace will be with you. – Philippians 4:9
Bible Verses About Peace in Colossians
To the saints and faithful brothers and sisters in Christ who are at Colossae: Grace to you and peace from God our Father. – Colossians 1:2
and through Him to reconcile all things to Himself, whether things on earth or things in heaven, having made peace through the blood of His cross. – Colossians 1:20
Let the peace of Christ, to which you were indeed called in one body, rule in your hearts; and be thankful. – Colossians 3:15
Bible Verses About Peace in 1 Thessalonians
Paul, Silvanus, and Timothy, To the church of the Thessalonians in God the Father and the Lord Jesus Christ: Grace to you and peace. – 1 Thessalonians 1:1
While they are saying, "peace and safety!" then sudden destruction will come upon them like labor pains upon a pregnant woman, and they will not escape. – 1 Thessalonians 5:3
and that you regard them very highly in love because of their work. Live in peace with one another. – 1 Thessalonians 5:13
Now may the God of peace Himself sanctify you entirely; and may your spirit and soul and body be kept complete, without blame at the coming of our Lord Jesus Christ. – 1 Thessalonians 5:23
Bible Verses About Peace in 2 Thessalonians
Grace to you and peace from God our Father and the Lord Jesus Christ. – 2 Thessalonians 1:2
Now we command and exhort such persons in the Lord Jesus Christ to work peacefully and eat their own bread. – 2 Thessalonians 3:12
Now may the Lord of peace Himself continually grant you peace in every circumstance. The Lord be with you all! – 2 Thessalonians 3:16
Bible Verses About Peace in 1 Timothy
To Timothy, my true son in the faith: Grace, mercy, and peace from God the Father and Christ Jesus our Lord. – 1 Timothy 1:2
Bible Verses About Peace in 2 Timothy
To Timothy, my beloved son: Grace, mercy, and peace from God the Father and Christ Jesus our Lord. – 2 Timothy 1:2
Now flee from youthful lusts and pursue righteousness, faith, love, and peace with those who call on the Lord from a pure heart. – 2 Timothy 2:22
Bible Verses About Peace in Titus
To Titus, my true son in a common faith: Grace and peace from God the Father and Christ Jesus our Savior. – Titus 1:4
Bible Verses About Peace in Philemon
Grace to you and peace from God our Father and the Lord Jesus Christ. – Philemon 1:3
Bible Verses About Peace in Hebrews
to whom also Abraham apportioned a tenth of all the spoils, was first of all, by the translation of his name, king of righteousness, and then also king of Salem, which is king of peace. – Hebrews 7:2
By faith the prostitute Rahab did not perish along with those who were disobedient, after she had welcomed the spies in peace. – Hebrews 11:31
For the moment, all discipline seems not to be pleasant, but painful; yet to those who have been trained by it, afterward it yields the peaceful fruit of righteousness. – Hebrews 12:11
Pursue peace with all people, and the holiness without which no one will see the Lord. – Hebrews 12:14
Now may the God of peace, who brought up from the dead the great Shepherd of the sheep through the blood of the eternal covenant, that is, Jesus our Lord, – Hebrews 13:20
Bible Verses About Peace in James
and one of you says to them, "Go in peace, be warmed and be filled," yet you do not give them what is necessary for their body, what use is that? – James 2:16
But the wisdom from above is first pure, then peace-loving, gentle, reasonable, full of mercy and good fruits, impartial, free of hypocrisy. – James 3:17
And the fruit of righteousness is sown in peace by those who make peace. – James 3:18
Bible Verses About Peace in 1 Peter
according to the foreknowledge of God the Father, by the sanctifying work of the Spirit, to obey Jesus Christ and be sprinkled with His blood: May grace and peace be multiplied to you. – 1 Peter 1:2
He must turn away from evil and do good; He must seek peace and pursue it. – 1 Peter 3:11
Greet one another with a kiss of love. peace be to you all who are in Christ. – 1 Peter 5:14
Bible Verses About Peace in 2 Peter
Grace and peace be multiplied to you in the knowledge of God and of Jesus our Lord, – 2 Peter 1:2
Therefore, beloved, since you look for these things, be diligent to be found spotless and blameless by Him, at peace, – 2 Peter 3:14
Bible Verses About Peace in 2 John
Grace, mercy, and peace will be with us, from God the Father and from Jesus Christ, the Son of the Father, in truth and love. – 2 John 1:3
Bible Verses About Peace in 3 John
peace be to you. The friends greet you. Greet the friends by name. – 3 John 1:15
Bible Verses About Peace in Jude
May mercy, peace, and love be multiplied to you. – Jude 1:2
Bible Verses About Peace in Revelation
John to the seven churches that are in Asia: Grace to you and peace from Him who is, and who was, and who is to come, and from the seven spirits who are before His throne, – Revelation 1:4
And another, a red horse, went out; and to him who sat on it, it was granted to take peace from the earth, and that people would kill one another; and a large sword was given to him. – Revelation 6:4