From the creation of man in Genesis to the end of the world in Revelation, music is a prominent theme in the Bible.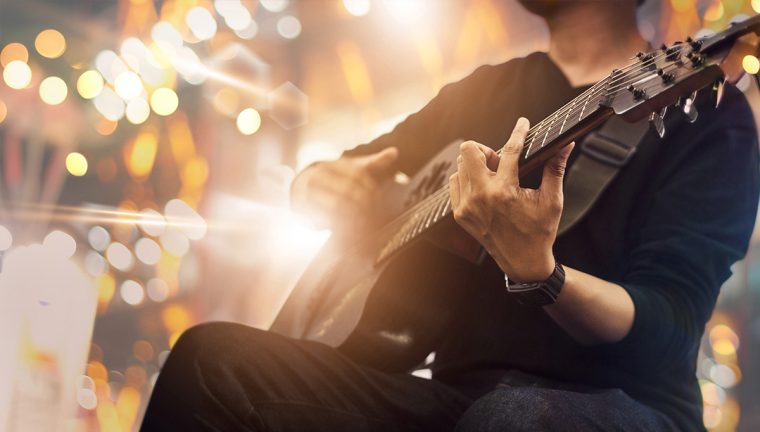 Below is a collection of Bible verses about music. We've also included every mention of the word "music" in the NASB translation. We hope that these scriptures are a help to you as study what God's Word has to say on this subject.
What the Bible Says About Music
God created music, like all things, for His glory. The Bible reveals that music exists to exalt Him.
Come, let's sing for joy to the Lord,
Let's shout joyfully to the rock of our salvation. – Psalm 95:1
in unison when the trumpeters and the singers were to make themselves heard with one voice to praise and to glorify the Lord, and when they raised their voices accompanied by trumpets, cymbals, and other musical instruments, and when they praised the Lord saying, "He indeed is good for His kindness is everlasting," then the house, the house of the Lord, was filled with a cloud, – 2 Chronicles 5:13
Bible Verse About Praising God Through Music
The more you study the Bible, the clearer it becomes that music ultimately exists to praise and glorify God.
My lips will shout for joy when I sing praises to You;
And my soul, which You have redeemed. – Psalm 71:23
speaking to one another in psalms and hymns and spiritual songs, singing and making melody with your hearts to the Lord; – Ephesians 5:19
Praise God in His sanctuary;
Praise Him in His mighty expanse.
Praise Him for His mighty deeds;
Praise Him according to His excellent greatness.

Praise Him with trumpet sound;
Praise Him with harp and lyre.
Praise Him with tambourine and dancing;
Praise Him with stringed instruments and flute.
Praise Him with loud cymbals;
Praise Him with resounding cymbals. – Psalm 150:1-5
What the Bible Says About Praising God During Challenging Times
Even when life becomes difficult, God calls us to continue praising Him for His faithfulness and His unchanging character.
The Lord is my strength and song,
And He has become my salvation;
This is my God, and I will praise Him;
My father's God, and I will exalt Him. – Exodus 15:2
You are my hiding place; You keep me from trouble;
You surround me with songs of deliverance. – Psalm 32:7
Every Mention of the Word "Music" in the Bible
We've included all mentions of the word "music" in the NASB below. We hope reflecting on these verses will deepen your knowledge of God's Word!
Bible Verses About Music in 1 Samuel
May our lord now command your servants who are before you. Have them search for a man who is a skillful musician on the harp; and it shall come about whenever the evil spirit from God is upon you, that he shall play the harp with his hand, and you will become well." – 1 Samuel 16:16
Then one of the young men responded and said, "Behold, I have seen a son of Jesse the Bethlehemite who is a skillful musician, a valiant mighty man, a warrior, skillful in speech, and a handsome man; and the Lord is with him." – 1 Samuel 16:18
Now it happened as they were coming, when David returned from killing the Philistine, that the women came out of all the cities of Israel, singing and dancing, to meet King Saul, with tambourines, with joy and with other musical instruments. – 1 Samuel 18:6
Bible Verses About Music in 2 Kings
But now bring me a musician." And it came about, when the musician played, that the hand of the Lord came upon him. – 2 Kings 3:15
Bible Verses About Music in 1 Chronicles
Then David spoke to the chiefs of the Levites to appoint their relatives as the singers, with musical instruments, harps, lyres, and cymbals, playing to raise sounds of joy. – 1 Chronicles 15:16
Asaph the chief, and second to him Zechariah, then Jeiel, Shemiramoth, Jehiel, Mattithiah, Eliab, Benaiah, Obed-edom, and Jeiel, with musical instruments, harps, and lyres; also Asaph played loud-sounding cymbals, – 1 Chronicles 16:5
Bible Verses About Music in 2 Chronicles
in unison when the trumpeters and the singers were to make themselves heard with one voice to praise and to glorify the Lord, and when they raised their voices accompanied by trumpets, cymbals, and other musical instruments, and when they praised the Lord saying, "He indeed is good for His kindness is everlasting," then the house, the house of the Lord, was filled with a cloud, – 2 Chronicles 5:13
The priests stood at their posts, and the Levites also, with the musical instruments for the Lord, which King David had made for giving praise to the Lord—"for His faithfulness is everlasting"—whenever David gave praise through their ministry; the priests on the other side blew trumpets and all Israel was standing. – 2 Chronicles 7:6
She looked, and behold, the king was standing by his pillar at the entrance, and the captains and the trumpeters were beside the king. And all the people of the land rejoiced and blew trumpets, the singers with their musical instruments leading the praise. Then Athaliah tore her clothes and said, "Conspiracy! Conspiracy!" – 2 Chronicles 23:13
The Levites stood with the musical instruments of David, and the priests with the trumpets. – 2 Chronicles 29:26
The men did the work faithfully with foremen over them to supervise: Jahath and Obadiah, the Levites of the sons of Merari, Zechariah and Meshullam of the sons of the Kohathites, and the Levites, all who were skillful with musical instruments. – 2 Chronicles 34:12
Bible Verses About Music in Nehemiah
and his kinsmen, Shemaiah, Azarel, Milalai, Gilalai, Maai, Nethanel, Judah, and Hanani, with the musical instruments of David the man of God. And Ezra the scribe went before them. – Nehemiah 12:36
Bible Verses About Music in Psalms
For the music director; on stringed instruments. A Psalm of David.
Answer me when I call, God of my righteousness! You have relieved me in my distress; Be gracious to me and hear my prayer. – Psalm 4:1
For the music director; for flute accompaniment. A Psalm of David.
Listen to my words, Lord, Consider my sighing. – Psalm 5:1
For the music director; with stringed instruments, upon an eight-string lyre. A Psalm of David.
Lord, do not rebuke me in Your anger, Nor discipline me in Your wrath. – Psalm 6:1
For the music director; on the Gittith. A Psalm of David.
Lord, our Lord, How majestic is Your name in all the earth, You who have displayed Your splendor above the heavens! – Psalm 8:1
For the music director; on Muth-labben. A Psalm of David.
I will give thanks to the Lord with all my heart; I will tell of all Your wonders. – Psalm 9:1
For the music director. A Psalm of David.
In the Lord I take refuge; How can you say to my soul, "Flee as a bird to your mountain? – Psalm 11:1
For the music director; upon an eight-stringed lyre. A Psalm of David.
Help, Lord, for the godly person has come to an end, For the faithful have disappeared from the sons of mankind. – Psalm 12:1
For the music director. A Psalm of David.
How long, Lord? Will You forget me forever? How long will You hide Your face from me? – Psalm 13:1
For the music director. A Psalm of David.
The fool has said in his heart, "There is no God." They are corrupt, they have committed detestable acts; There is no one who does good. – Psalm 14:1
For the music director. A Psalm of David, the servant of the Lord, who spoke to the Lord the words of this song on the day that the Lord rescued him from the hand of all his enemies and from the hand of Saul. And he said,
"I love You, Lord, my strength." – Psalm 18:1
For the music director. A Psalm of David.
The heavens tell of the glory of God; And their expanse declares the work of His hands. -Psalm 19:1
For the music director. A Psalm of David.
May the Lord answer you on a day of trouble! May the name of the God of Jacob protect you! – Psalm 20:1
For the music director. A Psalm of David.
Lord, in Your strength the king will be glad, And in Your salvation how greatly he will rejoice! – Psalm 21:1
For the music director; upon Aijeleth Hashshahar. A Psalm of David.
My God, my God, why have You forsaken me? Far from my help are the words of my groaning. – Psalm 22:1
For the music director. A Psalm of David.
In You, Lord, I have taken refuge; Let me never be put to shame; In Your righteousness rescue me. – Psalm 31:1
For the music director. A Psalm of David the servant of the Lord.
Wrongdoing speaks to the ungodly within his heart; There is no fear of God before his eyes. – Psalm 36:1
For the music director, for Jeduthun. A Psalm of David.
I said, "I will keep watch over my ways So that I do not sin with my tongue; I will keep watch over my mouth as with a muzzle While the wicked are in my presence." – Psalm 39:1
For the music director. A Psalm of David.
I waited patiently for the Lord; And He reached down to me and heard my cry. – Psalm 40:1
For the music director. A Psalm of David.
Blessed is one who considers the helpless; The Lord will save him on a day of trouble. – Psalm 41:1
For the music director. A Maskil of the sons of Korah.
As the deer pants for the water brooks, So my soul pants for You, God. – Psalm 42:1
For the music director. A Maskil of the sons of Korah.
God, we have heard with our ears, Our fathers have told us The work that You did in their days, In the days of old. – Psalm 44:1
For the music director; according to the Shoshannim. A Maskil of the sons of Korah. A Song of Love.
My heart is moved with a good theme; I address my verses to the King; My tongue is the pen of a ready writer. – Psalm 45:1
For the music director. A Psalm of the sons of Korah, set to Alamoth. A Song.
God is our refuge and strength, A very ready help in trouble. – Psalm 46:1
For the music director. A Psalm of the sons of Korah.
Clap your hands, all you peoples; Shout to God with a voice of joy. – Psalm 47:1
For the music director. A Psalm of the sons of Korah.
Hear this, all peoples; Listen, all inhabitants of the world, – Psalm 49:1
For the music director. A Psalm of David, when Nathan the prophet came to him, after he had gone in to Bathsheba.
Be gracious to me, God, according to Your faithfulness; According to the greatness of Your compassion, wipe out my wrongdoings. – Psalm 51:1
For the music director. A Maskil of David, when Doeg the Edomite came and told Saul and said to him, "David has come to the house of Ahimelech."
Why do you boast in evil, you mighty man? The faithfulness of God endures all day long. – Psalm 52:1
For the music director; according to Mahalath. A Maskil of David.
The fool has said in his heart, "There is no God." They are corrupt, and have committed abominable injustice; There is no one who does good. – Psalm 53:1
For the music director; on stringed instruments. A Maskil of David, when the Ziphites came and said to Saul, "Is David not keeping himself hidden among us?"
Save me, God, by Your name, And vindicate me by Your power. – Psalm 54:1
For the music director; on stringed instruments. A Maskil of David.
Listen to my prayer, God; And do not hide Yourself from my pleading. – Psalm 55:1
For the music director; according to Jonath elem rehokim. A Mikhtam of David, when the Philistines seized him in Gath.
Be gracious to me, God, for a man has trampled upon me; Fighting all day long he oppresses me. – Psalm 56:1
For the music director; set to Al-tashheth. A Mikhtam of David, when he fled from Saul in the cave.
Be gracious to me, God, be gracious to me, For my soul takes refuge in You; And in the shadow of Your wings I will take refuge Until destruction passes by. – Psalm 57:1
For the music director; set to Al-tashheth. A Mikhtam of David.
Do you indeed speak righteousness, you gods? Do you judge fairly, you sons of mankind? – Psalm 58:1
For the music director; set to Al-tashheth. A Mikhtam of David, when Saul sent men and they watched the house in order to kill him.
Rescue me from my enemies, my God; Set me securely on high away from those who rise up against me. – Psalm 59:1
For the music director; according to Shushan Eduth. A Mikhtam of David, to teach; when he fought with Aram-naharaim and Aram-zobah, and Joab returned, and killed twelve thousand of Edom in the Valley of Salt.
God, You have rejected us. You have broken us; You have been angry; restore us! – Psalm 60:1
For the music director; on a stringed instrument. A Psalm of David.
Hear my cry, God; Give Your attention to my prayer. – Psalm 61:1
For the music director; according to Jeduthun. A Psalm of David.
My soul waits in silence for God alone; From Him comes my salvation. – Psalm 62:1
For the music director. A Psalm of David.
Hear my voice, God, in my complaint; Protect my life from dread of the enemy. – Psalm 64:1
For the music director. A Psalm of David. A Song.
There will be silence before You, and praise in Zion, God, And the vow will be fulfilled for You. – Psalm 65:1
For the music director. A Song. A Psalm.
Shout joyfully to God, all the earth; – Psalm 66:1
For the music director; with stringed instruments. A Psalm. A Song.
God be gracious to us and bless us, And cause His face to shine upon us— Selah – Psalm 67:1
For the music director. A Psalm of David. A Song.
May God arise, may His enemies be scattered, And may those who hate Him flee from His presence. – Psalm 68:1
The singers went on, the musicians after them, In the midst of the young women beating tambourines. – Psalm 68:25
For the music director; according to Shoshannim. A Psalm of David.
Save me, God, For the waters have threatened my life. – Psalm 69:1
For the music director. A Psalm of David; for a memorial.
God, hurry to save me; Lord, hurry to help me! – Psalm 70:1
For the music director; set to Al-tashheth. A Psalm of Asaph, a Song.
We give thanks to You, God, we give thanks, For Your name is near; People declare Your wondrous works. – Psalm 75:1
For the music director; on stringed instruments. A Psalm of Asaph, a Song.
God is known in Judah; His name is great in Israel. – Psalm 76:1
For the music director; according to Jeduthun. A Psalm of Asaph.
My voice rises to God, and I will cry aloud; My voice rises to God, and He will listen to me. – Psalm 77:1
For the music director; set to El Shoshannim; Eduth. A Psalm of Asaph.
Listen, Shepherd of Israel, Who leads Joseph like a flock; You who are enthroned above the cherubim, shine forth! – Psalm 80:1
For the music director; on the Gittith. A Psalm of Asaph.
Sing for joy to God our strength; Shout joyfully to the God of Jacob. – Psalm 81:1
For the music director; on the Gittith. A Psalm of the sons of Korah.
How lovely are Your dwelling places, Lord of armies! – Psalm 84:1
For the music director. A Psalm of the sons of Korah.
Lord, You showed favor to Your land; You restored the fortunes of Jacob.
– Psalm 85:1
A Song. A Psalm of the sons of Korah. For the music director; according to Mahalath Leannoth. A Maskil of Heman the Ezrahite.
Lord, the God of my salvation, I have cried out by day and in the night before You. – Psalm 88:1
With the ten-stringed lute and with the harp, With resounding music on the lyre. – Psalm 92:3
For the music director. A Psalm of David.
God of my praise, Do not be silent! – Psalm 109:1
For the music director. A Psalm of David.
Lord, You have searched me and known me. – Psalm 139:1
For the music director. A Psalm of David.
Rescue me, Lord, from evil people; Protect me from violent men – Psalm 140:1
Bible Verses About Music in Isaiah
Your pride and the music of your harps Have been brought down to Sheol; Maggots are spread out as your bed beneath you And worms are your covering.' – Isaiah 14:11
And every blow of the rod of punishment, Which the Lord will lay on him, Will be with the music of tambourines and lyres; And in battles, brandishing weapons, He will fight them. – Isaiah 30:32
Bible Verses About Music in Lamentations
Elders are absent from the gate, Young men from their music. – Lamentations 5:14
Bible Verses About Music in Daniel
that at the moment you hear the sound of the horn, flute, lyre, trigon, psaltery, bagpipe, and all kinds of musical instruments, you are to fall down and worship the golden statue that Nebuchadnezzar the king has set up. – Daniel 3:5
Therefore as soon as all the peoples heard the sound of the horn, flute, lyre, trigon, psaltery, bagpipe, and all kinds of musical instruments, all the peoples, nations, and populations of all languages fell down and worshiped the golden statue that Nebuchadnezzar the king had set up. – Daniel 3:7
You, O king, have made a decree that every person who hears the sound of the horn, flute, lyre, trigon, psaltery, and bagpipe, and all kinds of musical instruments, is to fall down and worship the golden statue. – Daniel 3:10
Now if you are ready, at the moment you hear the sound of the horn, flute, lyre, trigon, psaltery and bagpipe, and all kinds of musical instruments, to fall down and worship the statue that I have made, very well. But if you do not worship, you will immediately be thrown into the midst of a furnace of blazing fire; and what god is there who can rescue you from my hands?" – Daniel 3:15
Bible Verses About Music in Luke
"Now his older son was in the field, and when he came and approached the house, he heard music and dancing. – Luke 15:25
Bible Verses About Music in Revelation
And the sound of harpists, musicians, flute players, and trumpeters will never be heard in you again; and no craftsman of any craft will ever be found in you again; and the sound of a mill will never be heard in you again; – Revelation 18:22