It was pointed out to me that the title of last month's E-teaching, Jesus, the Greatest Prosperity Preacher, was a phrase also used by a popular prosperity preacher in one of his teaching articles. He used that phrase, however, not as I did, but rather as a serious claim that Jesus was in fact just like him and other modern prosperity preachers—but Jesus was the greatest! This, in my opinion, was a terrible slur against Jesus. Jesus was the absolute antithesis of greedy prosperity preachers.
Since that particular prosperity preacher has duped so many people into helping him live his opulent lifestyle, I thought it might be worthwhile this month to examine his entire article in which he makes his outrageous claim. By so doing, it will not only reveal how he has abused Scripture to prove that Jesus was like modern day prosperity preachers, but it will also be a lesson in what questions should be going through our minds when we listen to any Bible teacher, so that we may avoid being duped by anyone about anything.
His article is titled, The Gospel to the Poor. He begins:
Is prosperity a blessing God intends for all of us to have? Is it truly His will for every one of His children to prosper?
A great many people would tell you the answer to that question is "No." Bless their hearts! Not one of them realizes that the greatest prosperity preacher of all was the Lord Jesus Himself (emphasis added):
So there is his claim.
As we read through his article (and consider his lifestyle), we'll see that his definition of prosperity is "continually gaining more material possessions." And according to him, there are only two possible viewpoints in the matter. Either you are for or against the idea that God wants all His people to gain more material possessions continually.
That is an argumentative technique known as a "false dilemma." Too few alternatives are offered, none of which is correct, but you are expected to choose one.
There is, in fact, a third viewpoint that he fails to mention.
What "a great many people" object to is not the idea that God will supply the legitimate needs of His obedient children, or that He will often give them more than they need so they'll have something to give, or that He will return their giving so that they'll have even more to give. What they object to is the idea of doing something Jesus commanded His followers not to do, and that is to lay up treasures on earth.
More specifically, they object to the idea of living in lavish self-indulgence while others are starving. Even more specifically, they object to the idea that God would be pleased for them to live in an 18,000 square-foot house with a twenty-million dollar jet parked out back at their own private airport (along with seven other personal aircraft), twenty-one motor vehicles, seven motorcycles (one of which is worth $25,000), and a cigarette racing boat (parked in the lake out back)—just like the prosperity preacher who wrote the article under consideration.
Below is a bird's-eye view of his house (thanks to Google Earth).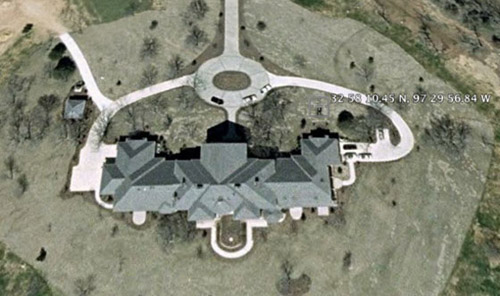 His house is 18,000 square feet by the footprint, so it could actually be 36,000 feet of living space if it is two stories throughout. So we're already beginning to see the difference between this prosperity preacher and Jesus, whom he claims was "the greatest prosperity preacher," but who said of Himself, "The foxes have holes, and the birds of the air have nests; but the Son of Man has nowhere to lay His head" (Matt. 8:20).
Because his ministry obtained "church status" from the I.R.S., this particular prosperity preacher doesn't have to reveal his salary publicly. But eleven years ago he received $364,577 from his ministry. His wife, who also works for the ministry, received $292,593 the same year. That's a total of $657,170—eleven years ago—and there's little doubt that they've continued to "prosper" since then. Their combined income puts them in the top .001% of the world's people (see www.globalrichlist.com). How does that compare to the "world's greatest prosperity preacher" when He walked this earth?
But back to his article. He continues with a scripture, Luke 4:17-19, that "proves" his amazing claim:
"And when he had opened the book, he found the place where it was written, The Spirit of the Lord is upon me, because he hath anointed me to preach the gospel to the poor; he hath sent me to heal the brokenhearted, to preach deliverance to the captives, and recovering of sight to the blind, to set at liberty them that are bruised, To preach the acceptable year of the Lord" (Luke 4:17-19).
Let's look at each point Jesus said He was anointed to preach:
• To the captives, deliverance
• To the brokenhearted, healing
• To the blind, recovery of sight
• To the poor, the gospel (or the good news that He was anointed)
Too often, we just skim over that last point, assuming that when the scripture says Jesus preached "the gospel" to the poor, it means He preached the new birth to them. But that's not what's really being said there.
In this scripture, we see Jesus speaking to specific groups about their specific needs and His Anointing to change their situation with the power of God (Acts 10:34-38).
He was telling blind people they didn't have to be blind anymore. He was bringing healing to the brokenhearted. He was telling captives they could finally be free.
So what good news do you think He was telling the poor?
He was telling them they didn't have to be poor anymore!
That sounds like it might be logical. But is it biblical? Can you think of one example found anywhere in any of the four Gospels of Jesus telling the poor that they didn't have to be poor anymore? There is no such example.
Moreover, Jesus didn't say in Luke 4:17 that He was anointed to tell the poor that they didn't have to be poor any longer. Rather, He plainly said that He was anointed to preach "the gospel" to the poor. "The gospel" has been pretty well defined in the New Testament! And we find plenty of examples of Jesus preaching it. He told everyone, rich and poor, "Repent, for the kingdom of heaven is at hand" (Matt. 4:17). Mark declared that message was "the gospel of God" (see Mark 1:14-15). The good news is that God offers forgiveness to those who repent.
So the idea that "the gospel" that Jesus preached to the poor was that they didn't need to be poor any longer, based on Jesus' words in Luke 4:17-19, is an obvious twisting of Scripture by that prosperity preacher.
We've preached the new birth to the poor. We've preached the Baptism in the Holy Spirit to the poor. Recently, we've even begun to preach healing to the poor. But we haven't told them they don't have to be poor anymore!
Please understand me. I am not saying the poor need to hear that God is able to prosper them. What they need to hear is that God will prosper them. That's a whole different message. It takes faith to believe that one. And there's only one place to get that kind of faith: from the Word of God.
Before any of us will truly believe that God is willing to pull us out of our poverty and into prosperity, we must understand: God's will, God's why and God's way.
Keep in mind that when he writes of "the poor" and being "pulled out of poverty," he is not speaking to the half of the world's population that lives on less than two dollars a day. Rather, he is speaking to people who for the most part live in the richest nations of the world. Many of them may think they're poor as they compare themselves to those who are even richer than they are, but by a true comparison, they're in the top 10% of the world's wealthiest people, which only requires an annual income of at least $25,100 (see www.globalrichlist.com). Isn't it funny that any among the richest 10% of the world's people would think that they need God to "pull them out of their poverty"?
God's Will
Throughout the Scriptures, God has shown us that it is His will to prosper His people. He demonstrated it in the Garden of Eden when He placed Adam there and surrounded him with every material blessing he could possibly need. He proved it again when He prospered Abraham almost beyond belief.
If Adam were alive today and living as he originally did, he would be considered to be extremely poor. God certainly supplied his most basic needs. He had food and covering. But Adam could not have lived at a standard much higher than any subsistence farmer in the Third World today.
This is a common modus operandi of prosperity preachers. They'll find a promise or example of God supplying someone's needs and turn it into a a justification for their greed. Abraham is another case in point.
I can't help but chuckle when I hear prosperity preachers say that they are believing to become "rich like Abraham." Abraham lived in a tent all of his life. He was a tribal chieftain, and He ultimately owned lots of livestock, requiring that he employ a fairly large work force. He provided jobs for hundreds of people, a virtuous thing, and to that end, he needed lots of silver and gold. God supplied what he needed. If you own a company that employes hundreds of people, you'll need lots of money for your payroll too. But no one can accuse Abraham of living in lavish self indulgence in a tent!
God's desire to prosper His people is repeatedly evident in His dealings with the nation of Israel. Just read what God said to them in Deuteronomy 8:6-18 as they entered the Promised Land:
Thou shalt keep the commandments of the Lord thy God, to walk in his ways, and to fear him. For the Lord thy God bringeth thee into a good land, a land of brooks of water, of fountains and depths that spring out of valleys and hills; A land of wheat, and barley, and vines, and fig trees, and pomegranates; a land of oil olive, and honey; A land wherein thou shalt eat bread without scarceness, thou shalt not lack any thing in it; a land whose stones are iron, and out of whose hills thou mayest dig brass. When thou hast eaten and art full, then thou shalt bless the Lord thy God for the good land which he hath given thee…. remember the Lord thy God: for it is he that giveth thee power to get wealth, that he may establish his covenant which he sware unto thy fathers…"
Obviously at that time it was God's will to prosper His people in every possible way. Has God changed since then? No! The Bible says He and His Anointing are the same yesterday, today and forever.
Clearly, Deuteronomy 8:16-18 reveals that the redeemed slaves of Egypt could anticipate that God would take care of their needs in Canaan's land. They would have plenty to eat and drink. And they'd have some metal that they could dig out of the ground. That was "wealth" according to God. So here is another promise that God will supply His peoples' needs.
And, incidentally, contained within the same Law of Moses in which we find Deuteronomy 8, we also find numerous commandments regarding Israel's responsibility to care for orphans, widows and the poor. So obviously God was not promising that all of His people would be wealthy, or else there would have been no poor people who needed such care. And He obviously expected those who had more than they needed to care for those who had less than they needed.
In Psalm 35:27, the Lord gives us further proof that it is His will to prosper His people. He tells us outright that the "Lord…hath pleasure in the prosperity of his servant."
Does that mean that God delights in His children who live in 18,000 square-foot houses and fly around in private $20 million jets? Or does that perhaps mean that God delights in meeting the needs of his obedient servants as well as giving them even more so they can have enough to take care of the needs of others and thus glorify Him? And could the word "prosperity" refer to other kinds of prosperity beyond just owning material things?
If you want still more scriptural evidence that God's will for us is prosperity, look at 3 John 2: "Beloved, I wish above all things that thou mayest prosper and be in health, even as thy soul prospereth."
3 John 2 was written to Gaius, a man who was sacrificially living for the sake of the gospel, opening his house to missionaries and supporting their ministries (see 3 John 3-8). So of course John wished that Gaius would prosper. But was it so that Gaius could live extravagantly at the expense of missionaries who were in need? I think not.
It IS God's will for you to prosper! That's why Paul said in Ephesians 1:3, God has "…blessed us in Christ (the Anointed One and His anointing) with every spiritual (Holy Spirit-given) blessing in the heavenly realm!" (The Amplified Bible).
Some people have let the word "spiritual" in that verse throw them. "God's not talking about material blessings," they say, "just spiritual." But let me tell you something: You can't separate those two. That's why Jesus says, "But seek ye first the kingdom of God, and his righteousness; and all these things shall be added unto you" (Matthew 6:33). He knows the spiritual realm will bring blessing in the material realm.
(I have to confess that that word, "spiritual," certainly threw me. I thought it meant "spiritual.")
Without commenting on his reasoning that being blessed with every spiritual blessing in the heavenly places is somehow a promise of material, earthly blessing, I must say something about his misuse of Matthew 6:33. Read in context, we see that Jesus was once again promising that His obedient followers need not worry about food or clothing (see Matt. 6:25-32). And just seconds before He made that promise, He forbade His followers to lay up treasures on earth and warned them that those who do so are servants of mammon and full of darkness (see Matt. 6:19-24). Those verses, however, will never be mentioned by prosperity preachers (unless they twist them).
God is a spirit and He created the material world. Since the moment God spoke it into existence, the world has been governed by spiritual forces. The physical world cannot operate independently from the spiritual world. What happens in the one is simply a reflection of what happens in the other.
Look at Psalm 112:1 and 3 and you'll see what I mean: "Praise ye the Lord. Blessed is the man that feareth the Lord, that delighteth greatly in his commandments….Wealth and riches shall be in his house: and his righteousness endureth for ever."
Your spiritual standing profoundly affects your financial standing. That's why, when you get hold of the gospel and begin to prosper spiritually, you can begin to prosper physically and materially as well.
I wish he had quoted the rest of Psalm 112 to give us a better idea of what characterizes the man who fears the Lord:
He is gracious and compassionate and righteous. It is well with the man who is gracious and lends….He has given freely to the poor, his righteousness endures forever (Psa. 112:4,5, 9).
So this man who fears the Lord and who has wealth and riches in his house is a man who lends and "gives freely to the poor." The wealth in his house doesn't stay there for long. It is there to be given away. And when he gives it away, God gives Him more to give away.
And is it possible that the "wealth and riches" that are in his house might be referring to something other than material wealth and riches—since it is quite obvious that millions of believers around the world who fear the Lord and greatly delight in His commandments are not materially rich, but in fact are all spiritually rich on earth and can look forward to eternal heavenly riches?
Considering the context of Psalm 112:3 within the entire Bible, should we not consider anything Jesus had to say in this same regard, for example, about "true riches" (Luke 16:11)? Or what about Jesus' story about a man who was materially rich, but not "rich toward God" (see Luke 12:16-21)? What about His words to a church that considered themselves to be "wealthy and in need of nothing" but whom He considered "wretched, miserable and poor" (Rev. 3:17)? Or how about His words to another church, to whom He said, "I know your poverty, but you are rich" (Rev. 2:9)? Don't all these passages and many more indicate that what constitutes riches and wealth in God's eyes is not necessarily earthly wealth at all?
When people embrace the idea that, as this prosperity preacher wrote, "Your spiritual standing profoundly affects your financial standing," then suddenly we can measure one's spiritual standing by looking at his financial standing. Suddenly, the poor, "whom God has chosen to be rich in faith" (Jas 2:5), and who are blessed because "theirs is the kingdom of heaven" (Luke 6:20), are judged to be less spiritual, while the rich are judged to be more spiritual. And that is exactly what has happened in circles that embrace such ideas.
According to the Word of God, we not only have hope through Jesus in the kingdom to come, but also we have hope in the here and now. So many believers don't understand that. They continue to make some kind of artificial separation, putting material things on one side and spiritual things on the other.
Certainly God wants to save people from hell and get them into heaven, but He also wants to save them from the hell the devil has created right here on this earth. In fact, the word soteria (translated "salvation" in English) literally means deliverance from temporary evils.
God wants people to have that deliverance now! That's why He's instructed me to take this message to the poorest people in the world.
There have been some who've tried to discourage me from obeying that instruction. "You can preach that prosperity stuff in the United States, but don't you preach it over here," they said. "It won't work. Our people are too poor."
But I'm doing it anyway, and it's working in the most poverty-stricken nations in the world, just like God said it would. As a matter of fact, most of the time it works better there than it does in America.
I'm not sure exactly what he means when he says, "It's working in the most poverty-stricken nations in the world." I have some experience ministering in dozens of impoverished nations, and I've seen his brand of prosperity preaching work for "ministers" who "make it work" for them just the same way as he does: by twisting Scripture and receiving offerings from those who want to "make it work" for them too. And many of those African prosperity preachers become very wealthy and live like kings, demonstrating their incredible greed right in the midst of abject poverty. And just as in the U.S., those kinds of ministers in Africa attract greedy and often wealthy people. In Nigeria, for example, Christianity has practically been reduced to nothing more than the American prosperity message.
The reason is simple. In many "less civilized" countries, people still realize how closely physical things and spiritual things are related. When someone stands up in front of an African tribesman, for example, and says that through Jesus he has a blood covenant with Almighty God, he knows far more about what that means than the average American ever will. He's been cutting covenants for years with the blood of chickens and goats. So when he finds out God's blood has been shed for him, he is immediately interested and very excited.
For example, if a man from a country in Africa goes to a tent meeting and is saved, it's the first time in his life he's had any hope. He gets baptized. Next thing you know someone's showing him how to pray in the Name of Jesus according to the covenant of blood. Glory to God, he's so excited he can hardly stand it.
Then, on top of it all, you tell him God wants to prosper him!
Prosperity doesn't mean a Cadillac to this guy. It means God will show him how to get some water on his scorched village. It means God will do something about the alkaline poison that's ruined his land. It means God will show him how to grow crops so his family can prosper instead of starve to death.
Should you really tell a man like that, a man in one of the poorest countries in the world, a man with no natural hope at all, that God wants to prosper His people? You bet you should! Then you should tell him why.
Now this is interesting. He just claimed a few paragraphs earlier that his prosperity message works better in poverty-stricken nations in the world than it does in America. But now he writes that poor Africans should not expect to prosper with Cadillacs (as we should expect), but only expect to prosper to the degree that they'll have enough food and won't starve. It sounds to me that his particular brand of prosperity preaching may actually not work better in poverty-stricken nations as he claims.
And again, we see him making no distinction between trusting God to supply needs and trusting God to supply greeds. His definition of prosperity is to continually gain more material possessions regardless of how many you currently own.
Sinners who are truly impoverished and who repent and are born again, in Africa and elsewhere, generally do begin to prosper. They no longer waste their money on vices, and they become honest and industrious. Not to mention the fact that God opens up doors of opportunity for them or provides their needs in other ways. So they begin to prosper. And once their own needs are met and they are blessed with more than they need, they should then begin caring for the needs of others to whatever degree they can.
But what about rich sinners—those who already have more than they need—who repent and are born again? Should they start believing God to prosper them even more so that they can lay up more treasures on earth, living more greedily than before? No, part of their repentance means repenting of their previous greed. Now God expects them to start caring for the needs of the poor. He expects them to stop laying up their treasures on earth, as they had been previously doing, and start laying them up in heaven.
This is not some obscure concept in Scripture. That is the gospel that John the Baptist preached (see Luke 3:11). And do you remember Jesus' encounter with the rich, young ruler? The man would not repent of his greed and begin to lay up treasure in heaven, and thus he could not have eternal life (see Mark 10:17-25). Remember the conversion of Zaccheus? He repented of his greed and pledged to start laying up his treasure in heaven, and Jesus said that he was saved that day (see Luke 19:1-9). Remember Jesus' story of the rich man and Lazarus? The rich man laid up his treasure on earth and did not care for the poor, and so he died and went to hell (see Luke 16:19-31). Remember Jesus' parable of the rich fool? He laid up his treasure on earth rather than heaven and died young. Jesus didn't lead us to believe that fool went to heaven (see Luke 12:15-21). And did Jesus tell His followers to believe God for more riches? No, He told them to sell what they had and give it to charity (see Luke 12:33).
Knowing these things. Paul told Timothy to instruct the rich to be "rich in good works" and lay up treasures in heaven—that they might "lay hold of eternal life":
Instruct those who are rich in this present world [that is, rich in only one sense] not to be conceited or to fix their hope on the uncertainty of riches, but on God, who richly supplies us with all things to enjoy. Instruct them to do good, to be rich in good works, to be generous and ready to share, storing up for themselves the treasure of a good foundation for the future, so that they may take hold of that which is life indeed [some versions say, "that they may lay hold of eternal life"]. 1Tim. 6:17- 19
When we read the account of the early church in the book of Acts, we see that God prospered the poorest in the church through the giving of those who had more than they needed. Ultimately there was not a needy person among them (see Acts 4:32-35). That is biblical prosperity. The very poor believers (those without food and shelter) rose from their poverty through the sacrifices of those who, by their giving, became richer in heaven. Everybody prospered in some way!
God's Why
What is God's reason for prospering His people? Is it so we can be more comfortable? So we can buy bigger cars and finer houses? Be honest now. Our ideas about money have been shaped by a world that pursues prosperity strictly for reasons of selfishness and greed.
This could be the most interesting part of his article. He states that God's reason for prospering His people is not so they can buy bigger cars and finer houses, and he indicates that if we think that, our ideas about money have been shaped by a world that pursues prosperity strictly for reasons of selfishness and greed. Let's take one more look at his house:

Hmm. It seems like he's just admitted that he's selfish and greedy.
But the Word of God provides us with two entirely different purposes. Look again at Deuteronomy 8:18, and you'll see the first one: "But thou shalt remember the Lord thy God: for it is he that giveth thee power to get wealth, that he may establish his covenant…"
God intends for us to use the wealth He gives us to help establish His covenant on the earth. Jesus told us to go into all the world and preach the gospel, and that takes money, whether you're preaching it from the pulpit of a local church, beneath a tent in Africa or on national television.
It is certainly true that most missionaries and evangelists need financial support if they are to devote themselves full time to their ministries. And Scripture teaches that we ought to be supporting such people (3 John 8). So I agree with him on this point. I wonder, however, how many missionaries and evangelists could have been supported with the $20 million that was spent on his latest jet?
You'll find God's second purpose for prosperity in Ephesians 4:28. "Let him that stole steal no more: but rather let him labour, working with his hands the thing which is good, that he may have to give to him that needeth."
+ Establishing God's covenant on the earth
+ Giving to those in need
That's what prosperity is really all about.
It's tragic how foreign that is to most people's thinking. I've actually heard people say, "I don't need much prosperity. I'm a simple person with a simple life. So I just ask God for enough to meet my needs."
They think that's humility, but it's not. It's selfishness! They could ask God for a million dollars, take out just enough to meet their simple needs, and give the rest away. But that doesn't even occur to them because, when it comes to money, they've been brainwashed by a world that says if you have it, you have to keep it!
Without realizing it, they're actually saying, "All I care about is meeting my own needs. I have no ambition to help meet anyone else's." That philosophy has crippled the ministry of Jesus Christ on the earth today. It has caused preachers to set aside their calling and get secular jobs just to survive. It has handicapped churches and stunted the growth of ministries that could have reached thousands for the Lord.
That portion of his article is actually good teaching. But to teach what one does not live is hypocrisy.
On top of it all, those same folks who are aren't willing to ask God for money to give into the ministry will criticize the first sign of prosperity they see in the life of a preacher. "My heavens," they'll gasp, "that preacher has an airplane!"
It never occurs to them that he can reach more people for Jesus that way. That plane may have multiplied that preacher's capacity for ministry by 70 percent, but they'll never know it. They'll be too busy worrying and fussing over what could happen if the preacher gets too comfortable.
If a preacher who needs to fly around can justify his own airplane (and I'm not sure very many, if any, can, from a stewardship standpoint), can any preacher justify the need for a $20 million jet, along with the enormous costs required to operate and maintain it? Could more be done to advance the kingdom of God with that $20 million? That same money could support 33,000 native evangelists in rural China and India for an entire year. Is the comfort gained and time saved for one preacher by means of a $20 million jet more important than the total ministry needs of 33,000 other preachers who are proclaiming the gospel where it has not yet been heard? $20 million could provide the needs of 83,000 orphans for an entire year in developing nations.
If you're wise, you'll want the ministers of God to be comfortable. One of them may run across your son or your daughter out there somewhere in need of spiritual help. When he does, you'd better hope he's not so uncomfortable that he can't think of anything to say to them.
Take care of the preachers who've blessed you. Take care of your pastor. He's the shepherd and the bishop of your soul. Don't make him work nights just to make ends meet. Pay him well so he'll have plenty of time to spend in prayer and in the Word. Your spiritual well-being is wrapped up in his!
Making sure your pastor's needs are met is one thing. But helping him buy a mansion and a jet is another.
Some people say, "Well, Jesus' ministry was poor and He got along just fine." That's ridiculous. It would have been impossible for Jesus to be poor! All the way through the Old Testament, God promised material blessings to anyone who would walk perfect and upright before Him. If God had failed to bless Jesus financially, He would have been breaking His own Word.
Here's the Scripture twisting again. Indeed, Jesus was not poor because God met His needs. He had sufficient food and covering. God promised to meet the needs of those who would obey Him. But Jesus did not live in lavish self-indulgence. He lived simply and met the needs of others with His excess, perfectly loving His neighbor as Himself. If He was living lavishly as prosperity preachers claim, then Jesus was a huge hypocrite for not practicing what He preached to others.
In Luke 8:3, the Word records that many people "…ministered to and provided for Him (Jesus) and them out of their property and personal belongings" (The Amplified Bible). Jesus had so much money coming in and going out through His ministry that He had to appoint a treasurer. That's what Judas was. There was enough money in that treasury for Judas to steal from it without the money being missed.
More twisting of Scripture. Luke 8:3 indicates that Jesus and the twelve were supported by women who had more than they needed. Scripture never says that Jesus appointed anyone to be a treasurer over His ministry funds or that Judas was that treasurer. It only says that on at least two occasions Judas "had the money box" (or "bag" as some translations say), that the money in it was used to buy food for the disciples and support the poor, and that Judas pilfered what was put in that box or bag (see John 12:26, 13:29). That is all.
This prosperity preacher wants us to believe that the money Judas stole was not noticed, and that assumption then proves there was a lot of money in the box or bag. Really? If a few coins are stolen from a bag full of coins and no one notices, does that prove there is a lot of money in that bag?
And if Jesus was so wealthy, as prosperity preachers claim, and it is His will that everyone be wealthy, then surely He would have paid His staff well. So why would Judas betray Jesus for a thirty pieces of silver? (Some commentaries say it was equivalent to only $20.) That would be a pretty stupid move for someone who wants to retain his cushy staff position. (Maybe that's why Judas hung himself…as he tied the rope around his neck he was thinking, "What a fool I was, to forfeit a great steady income for a few quick bucks!")
But Jesus didn't store up all that money for Himself. He gave it to meet the needs of those around Him. He had such a reputation for giving that on the night of that last Passover, when Judas left so abruptly, the disciples assumed that Jesus had sent him out to give to the poor.
Can you imagine how much and how often Jesus must have given to the poor for the disciples to make that assumption? Jesus never built a worldly empire for Himself. But that doesn't mean He was poor. It means He was the greatest giver Who ever walked the face of this earth. And it's time we started following in His footsteps.
Those last two paragraphs are true. But is someone who lives in a 18,000 square-foot house following in Jesus' self-denying and generous footsteps? Jesus gave away everything He didn't need.
This prosperity preacher, like most, gives at least ten percent of his ministry income to other ministries. That is, he gives away other people's money that is given to his ministry. It amounts to millions of dollars, and for this he is often lauded. But such giving requires no sacrifice on his part, because it isn't his money in the first place, and giving it doesn't affect his enormous salary.
Most of his ministry's donors give to his ministry because they believe God will prosper them even more if they do. He doesn't need to hide his wealth from them. His wealth proves that his teaching "works."
And he is not the only preacher it is working for. On January 15, 2007, fifteen private jets filled with three dozen other prosperity preachers landed at his home airport to bring him some gifts to celebrate his forty years in ministry. They gave him 2.1 million dollars that day. They are apparently grateful to their teacher.
It's time we stopped piously pretending that money isn't important. It is. You know it and God knows it. Why do you think He said that where your money is, there will your heart be also? People's hearts are closely related to their pocketbooks.
So where is the heart of someone who lives in a 18,000 square-foot house, has a fleet of eight aircraft including a $20 million jet plus a private airport, and who owns 21 vehicles, 7 motorcycles, and a cigarette racing boat?
In fact, if you'll start giving, if you'll start taking care of the needs in other people's pocketbooks, you'll be far more likely to win their hearts. You may not be able to use money to buy a fellow into the kingdom of God, but you can certainly get his attention with it.
What do you think will happen to the heart of a starving nation when you bring in a 747 full of medicine and clothes and food in the Name of Jesus? What will happen when you bring in doctors and nurses for them free of charge?
I'll tell you what will happen. The hearts of those people will soften. They will be willing to listen to what you have to say about Jesus. In fact, they'll let you preach about anyone you want to if you will just keep them from starving. Believe me, a planeload of goods will go a long way toward getting a country full of poor people born again.
I have a friend, ___________, who has a wonderful ministry among the African people. Literally hundreds of thousands have been born again and baptized in the Holy Ghost in his meetings. A few years ago, he sat down and compared the number of people who'd been saved through that ministry with its expenses.
Do you know what he learned? He found it cost his ministry $3 to win a soul for the Lord Jesus Christ on the African continent.
Three dollars a soul! Don't ever let anyone tell you it's wrong for you to want to prosper. It's wrong for you not to want to prosper when that prosperity can mean the difference between heaven and hell for millions of people.
So why does a person who believes this keep so much of his wealth for his own personal indulgence and convenience? Instead of spending $20 million on a private jet, by his own admission he could have saved 6.6 million people from an eternity in hell—and had enough money left over to still fly first class on regular airlines everywhere he travels. Or why couldn't he be content with just flying around in his already-owned $3.4 million Cessna Citation 550 Bravo, or his $4.5 million Gulfstream, or even his Cessna Golden Eagle or Beech E-55?
When he first surveyed the land where his house, jets, ministry headquarters, and private airport now stand, God told him he was standing on ground that would become "the revival capital of the world." And he believes he's the resident prophet. In his case, however, "prophet" should be spelled "profit."
But false prophets also arose among the people, just as there will also be false teachers among you, who will secretly introduce destructive heresies…because of them the way of the truth will be maligned; and in their greed they will exploit you with false words; their judgment from long ago is not idle, and their destruction is not asleep (2 Pet. 2:1-3, emphasis added).
Beware of false prophets, who come to you in sheep's clothing, but inwardly are ravening wolves. By their fruits ye shall know them….Not every one that saith unto me, Lord, Lord, shall enter into the kingdom of heaven; but he that doeth the will of my Father who is in heaven (Matt. 7:15, 21, emphasis added).
---
For further information about the prosperity preacher who wrote the article I've critiqued, see:
www.wittenburgdoor.com/televangelism/scorecard
http://www2.arkansasonline.com/blogs/bible-blog/2007/jan/21/what-do-you-give-tel/
Regarding every Christian's responsibility to judge ministers see:
www.shepherdserve.org/e_teachings/2005_10
Regarding average salaries of pastors see:
www.christianitytoday.com/yc/2006/006/9.8
For more information about biblical stewardship, you can read David Servant's book titled, Through the Needle's Eye.