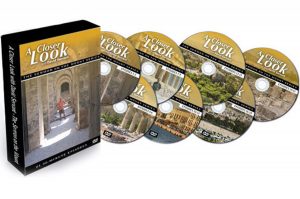 One day 2,000 years ago, Jesus hiked up a mountain on the northwestern corner of the Sea of Galilee and spoke to a multitude of His followers. It was His longest recorded sermon, containing priceless information for anyone who is serious about following Him. Jesus cleared up misconceptions, set standards of holiness, and exposed the false teaching of the scribes and Pharisees. When He finished, Scripture says that the multitudes were amazed at His words.
Filmed in Galilee near the very spot where Jesus spoke the original Sermon on the Mount, these twenty-one half-hour teachings by David Servant are an in-depth examination of the heart of Jesus' challenging and life-changing message. Each episode also includes an interesting side trip to a historical biblical site in Israel. These messages are perfect for group Bible studies or personal devotions.
Product Details

Publisher: Heaven's Family
Episodes: 21 Episodes on 7 DVD's
Location:Filmed in Galilee
Price: $45.00 (free shipping)
These prices are for books and videos shipped within the United States only. For prices on international orders, please
contact us
. Also contact us for discounted pricing on orders of 10 or more copies.