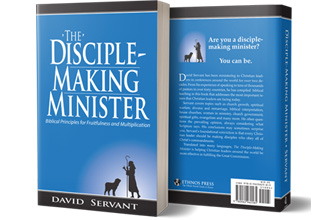 David Servant has been ministering to Christian leaders in conferences around the world for over two decades. From his experience of speaking to tens of thousands of pastors in over forty countries, he has compiled biblical teaching in this book that addresses the most important issues that Christian leaders are facing today.
Book Details

Publisher: Ethnos Printing
ISBN-13: 9780962962585
Pages: 489 pages
Soft Cover
Price: $19.95 (free shipping)
These prices are for books and videos shipped within the United States only. For prices on international orders, please
contact us
. Also contact us for discounted pricing on orders of 10 or more copies.