"Let the one who is taught the word share all good things with him who teaches" (Gal. 6:6)
Every month, tens of thousands of people around the world are being touched by David Servant's teaching ministry. Pastors in third-world countries who cannot afford biblical teaching… Persecuted Christians in restricted nations who are in need of encouragement… Viewers and readers with personal struggles and questions… Through his monthly e-teachings, his books, articles, devotionals and videos posted at this website, as well as his
YouTube channel
, David's teaching is touching lives and building up the body of Christ.
Although David is founder and president of
Heaven's Family—
a ministry 
that has been serving the poor around the world for two decades through donations totaling tens of millions of dollars—he prefers not to receive his salary from donations to
Heaven's Family
. Rather, he prefers to earn his living from his teaching ministry, relying on faithful supporters who have been touched and blessed by his teaching. Beyond his living expenses, donations to David Servant's teaching ministry also help expand the reach of David's teaching to those around the world who cannot afford to help. For example, his book,
The Disciple-Making Minister
, has been translated into many foreign languages. David is also involved in a fruitful evangelistic and teaching ministry to Amish people across North America.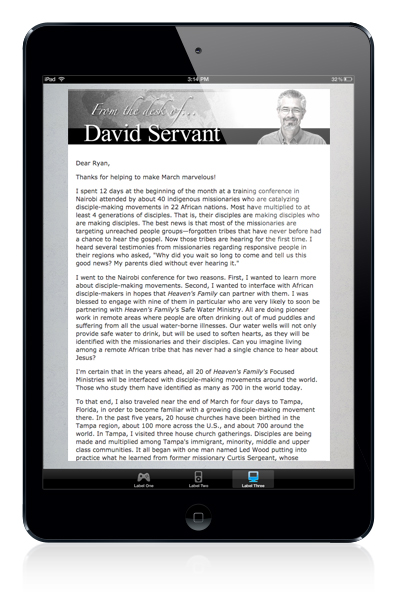 Would you join a very special group of people who support David's teaching ministry each month? In appreciation for their support, David writes a personal, monthly e-newsletter that is sent exclusively to his supporters. Since they are helping him bear fruit, he likes to keep them informed and up-to-date.
Any size monthly investment is appreciated! One-time gifts are also appreciated! Thank you!
*Your donations are fully tax-deductible in the U.S.